Actress Cobie Smulders got ovarian cancer at 25, actress Sofía Vergara got thyroid cancer at 28, and comedian Vanessa Bayer got leukemia at only 15. These are three examples of a broader trend towards more cases of cancer amongst young people.
Related: Cancer Rates Grew By 30% in Teens & Young Adults Over Last 40 Years; Researchers Call for More Focus On This Demographic
Read More
Recent research shows an alarming
rise in the number of cancer cases
being found in teenagers and young adults over the past four decades; kidney, thyroid, and gastrointestinal cancers are becoming more and more common in younger patients.
Actress Cobie Smulders Battled Ovarian Cancer at 25
In 2007, at just 25, cancer was the last thing on Cobie Smulders' mind.
The actress and How I Met Your Mother star was in the midst of producing the hit comedy's third season when she received a devastating diagnosis: ovarian cancer. She was only twenty-five at the time.
"I had tumors on both ovaries, and the cancer had spread into my lymph nodes and surrounding tissues," Smulders, now 38, told Women's Health.
Most women are diagnosed with ovarian cancer after menopause, with and estimated 5.3% of cases occurring in women under 34. Fortunately, 90 percent of ovarian cancer cases are curable if caught early. Genetic testing for certain mutations which may lead to ovarian cancer combined with close attention to your own body are the best ways to catch the disease early.
"I think it was messy mostly because I had a great fear of not being able to have kids," Smulders told People. "I've always loved children and I've always wanted one of my own, and so having that not being option, especially at such a young age – kids were very much not on my mind at 25, but I still wanted them one day – it was really hard and it was a really depressing thing to go through."
Related: Cobie Smulders Got Ovarian Cancer at 25; Now She Lives Life Like a True Survivor
Despite her and her doctors' fear that she may not be able to conceive naturally, she has given birth to two daughters since her diagnosis. Smulders announced that she was cancer-free in 2019.
Unfortunately, infertility is a possible side effect of these treatments, but medical experts encourage those battling ovarian cancer to consider their options.
Preserving Fertility During Ovarian Cancer Treatment

SNL Star Vanessa Bayer's Leukemia Diagnosis at 15 Shaped Her Life – and Her Comedy
Before she conquered the comedy world on Saturday Night Live, Vanessa Bayer, now 39, had already fought – and won – a very different kind of battle.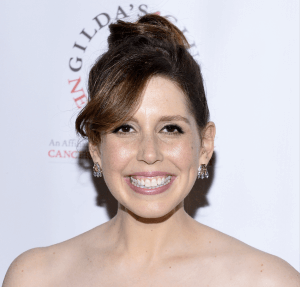 At just 15, Bayer was diagnosed with leukemia and began a two-and-a-half year journey to conquer the disease.
"I had a lot of support from my family and I was always very optimistic in general. I always felt like I was on a path to recovery," Bayer told The Huffington Post.
Leukemia, which is cancer that affects the bone marrow, has a number of symptoms that can be subtle and difficult to detect. For Bayer, she said the first warning sign was swelling in her eyes.
Related: Acute Myeloid Leukemia (AML): How Do I Make Treatment Decisions?
"I was getting sick and not getting better- this was all in ninth grade. I was having all of these issues and then I was diagnosed."
Biopsies, blood tests, and genetic testing are all used by doctors to diagnose and identify potential cases of leukemia.
To understand acute myeloid leukemia (AML), you have to know how bone marrow works, explains Dr. Mikkael Sekeres, director of the Cleveland Clinic Cancer Center Leukemia Program 
Looking back now, Bayer credits her cancer journey for allowing her to see the humor both in her medical battle and life more broadly.
"I just think in general in my comedy there were just so many funny and interesting and awkward moments when I was sick. I think that kind of getting through that made me be able to see funny things in all situations."
Related: Christina Applegate, 47, Remembers How Humor Got Her Through Breast Cancer — "I Laughed More in the Hospital Than I Ever Have in My Life"
Bayer has also praised fellow comedian and survivor Tig Notaro for her "amazing" comedy focusing on her own cancer journey.
Sofía Vergara Had Thyroid Cancer at 28
Best known for playing Gloria in Modern Family, Sofía Vergara, now 48, became a household name for many in America. What you might not know is that Sofía Vergara was diagnosed with thyroid cancer nearly a decade before her rise to stardom.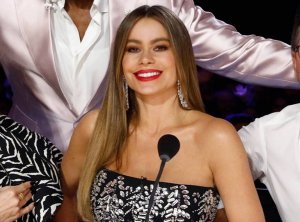 Related: Sofía Vergara Beat Thyroid Cancer at 28, Now Joins America's Got Talent: 'It's Hard' She Says of Cancer 'But You Learn From It'
At only 28, Vergara, who was living in Miami at the time with her son Manolo, was undergoing a routine checkup when the doctor found a lump in her neck. Her cancer fears were soon after confirmed.
Cancer of the thyroid, which is a small gland in the throat that regulates hormones which control the body's metabolism, is among the most common types of cancer found in young people. In fact, young women are three times as likely to contract the disease as their male counterparts.
Cancer as a Young Adult Is Different & In Some Ways More Complex: Survivor Mag Bujalski Explains
Common Symptoms of Thyroid Cancer
Doctors suggest reaching out for medical help if you are experiencing any of the following symptoms:
A lump in the neck, sometimes growing quickly
Swelling in the neck
Pain in the front of the neck, sometimes going up to the ears
Hoarseness or other voice changes that do not go away
Trouble swallowing
Trouble breathing
A constant cough that is not due to a cold
As a survivor, Vergara continues to remain vigilant and takes medication every day to regulate her thyroid.
Related: Actress Sofia Vergara Reveals Why She Kept Her Cancer Diagnosis A Secret For Years– Privacy Was a Priority
Learn more about SurvivorNet's rigorous medical review process.