Beating Breast Cancer and Having a Baby – Against All Odds
Gemma Isaac, 33, was diagnosed with breast cancer in 2019 following a test for the BRCA1 gene mutation.
She had a double mastectomy and radiation therapy to treat her disease, and was told her ovaries were "dead" and that she couldn't have more children; Isaac switched to a vegan diet which she believes "transformed" her reproductive system and allowed her to become pregnant again.
1 in 500 women in the U.S. have the BRCA1 or BRCA2 gene mutations, which increase the risk of developing breast and ovarian cancer.
Gemma Isaac, 33, was given the devastating news that her ovaries were "dead" while in treatment for breast cancer. She had a higher risk of
breast cancer
due to a family history of the disease. And after being tested for the
BRCA1 gene mutation
, Isaac was diagnosed with cancer. The then-mother-of-one was treated for her disease and later shifted to a vegan diet, which she credits with her ability to have another child.
Doctor Brushed Off 4-Year-Old Boy's Achy Legs Complaints as Growing Pains Only to Have Family Find Out Later He Actually Has Leukemia
Read More
The mom-of-two not only beat breast cancer, but she incredibly has used her experience to uplift others, too. Isaac co-founded, BRCA Sisters, "a support group helping young people affected by genetic cancers." Isaac said she wants other women to know that "the BRCA diagnosis is not a '
death sentence
'," reports
The Sun,
and that support through a positive BRCA test is possible.
Gemma's Breast Cancer Journey
Gemma Isaac was diagnosed with breast cancer after getting tested for the BRCA1 gene mutation, which increases the risk of developing breast and ovarian cancer. The then 31-year-old mom, whose daughter Ella had just turned one year old, had radiation therapy, and a double mastectomy to treat her disease. Due to the presence of the BRCA1 gene mutation, Isaac was also at a higher risk of ovarian cancer, and was asked to consider surgery to remove her ovaries. After meeting with a gynecolgist, she was told her ovaries were "dead." "It was the worst thing someone told me the whole time I was having my treatment," Isaac said.
Related: Motherhood After Chemotherapy — Yes, It's Possible; Here's What You Should Know About Fertility Preservation
Following the unwelcome news from the gynecologist, she turned to a vegan diet which "transformed her reproductive system." Miraculously, she was able to conceive again, and gave birth to a son named Jack. After giving birth, she eventually had her ovaries removed, due to cancer risk.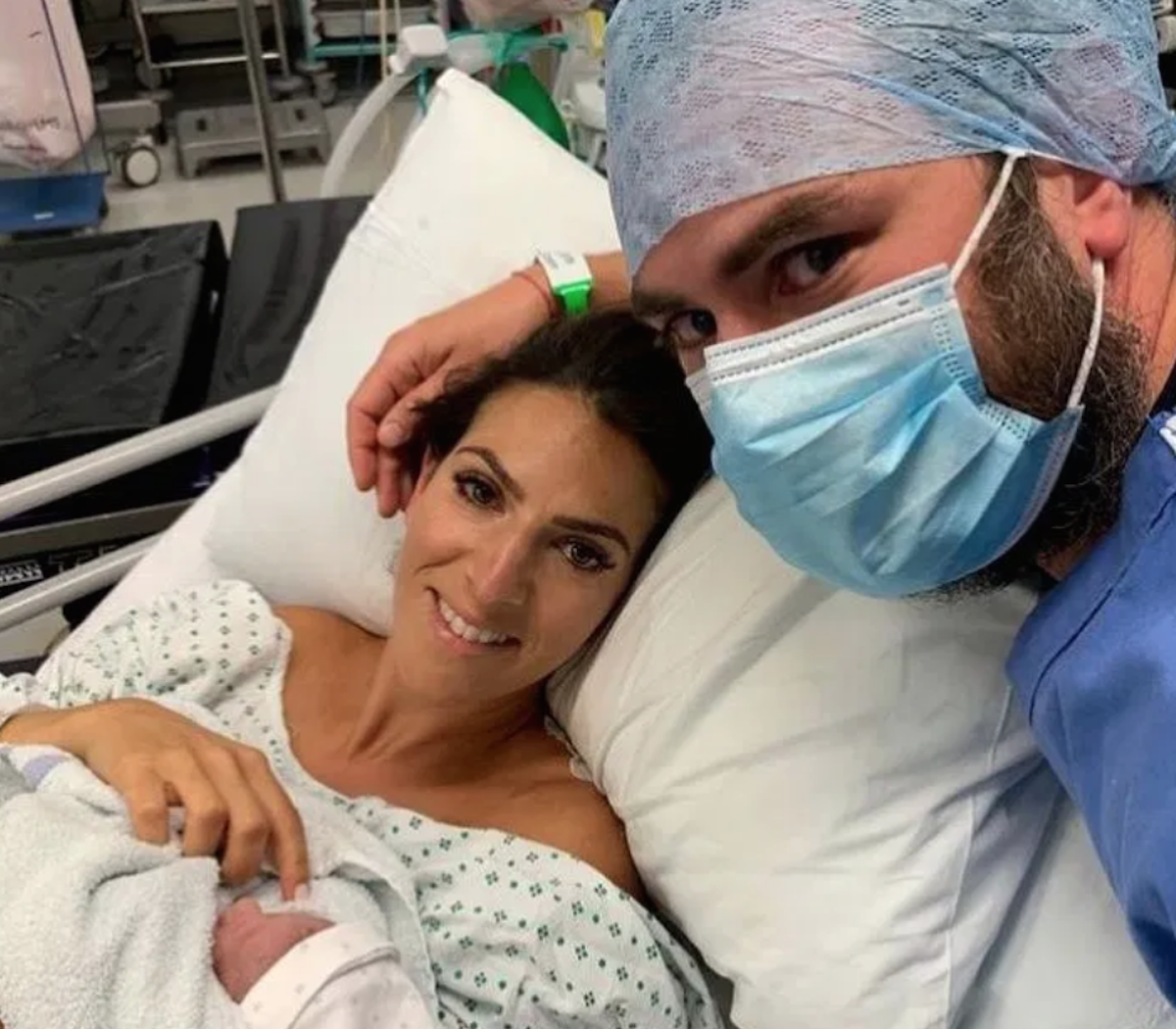 Isaac's treatment path – radiation and surgery – is a common one for women facing breast cancer. When considering a mastectomy, as some breast cancer patients do in the treatment process, Dr. Ann Partridge, an Oncologist at Dana-Farber Cancer Institute, looks at several factors, she said in a previous interview.
Related: Finally! A Comfortable Bra for Women After Breast Cancer Surgery
"So when I talk to a woman who comes to me and she has breast cancer," she said, "I evaluate what the standard options for treatment for her are, which typically include cutting out the cancer – which is either a lumpectomy if you can get it all with just a little scooping around of the area that's abnormal or a mastectomy for some women meaning taking the full breast because sometimes these lesions can be very extensive in the breast. And I'll talk to a woman about that and I'll say these are two main options or the big fork in the road."
When Should You Consider a Mastectomy?
Understanding the BRCA1 and BRCA2 Gene Mutations
Isaac is one of many women who carry the BRCA1 and BRCA2 gene mutations. Approximately 1 in 500 women in the U.S. carry this gene mutation, according to the CDC.  Dr. Rebecca Arend, an Associate Scientist at the University of Alabama-Birmingham, explained this gene mutation, which increases breast and ovarian cancer risks, in a previous interview. "If you think about DNA being a double helix, that we've all learned about in basic science, if you have a single strand break, a PARP enzyme is needed to repair that single strand break. If you have a PARP inhibitor, then you can't repair that single strand break."
Related: Please Ask For Genetic Testing If You've Been Diagnosed With Ovarian Cancer
Dr. Arend explained how a breakage leads to the gene mutation. "If you have a single strand break that's not repaired, that actually leads to a double strand break. So when both of the arms of the DNA helix are broken, then your body has normal mechanisms for repairing that. One of them is called homologous recombination. And that's your body's natural way of repairing that break. But if you have a BRCA mutation, you actually cannot repair that break. So it's a term that we call synthetic lethality. So if you use a PARP inhibitor in someone with a BRCA mutation, it's a perfect storm and the cell dies," she said.
Related: A Key Marker for Ovarian Cancer– What is CA-125?
It's not all bad news, though. Women with the BRCA gene mutations may be more responsive to certain types of cancer treatment, said Dr. Arend. "So the cancer doesn't continue to grow because you, A, couldn't repair the single strand break because of the PARP inhibitor, and then, B, you couldn't repair the double strand break because of your mutation. So in women with BRCA mutations, they are more likely to respond to PARP inhibitors than other women."
Learn more about SurvivorNet's rigorous medical review process.