Positivity and Faith on Your Health
Actor Terry Crews' wife, Rebecca Crews, 57, returned to hosting weekly prayer sessions after taking time off to rest following some medical procedures.
Crews was diagnosed with stage 1 breast cancer diagnosis in 2020 following a mammogram and ultrasound, and she is cancer-free after a double mastectomy.
Rebecca Crews says she leaned on her faith to help her through her cancer journey. She regularly hosts prayer sessions on social media.
In a study published in Cancer, 69% of cancer patients say that they rely on faith throughout cancer treatment and use prayer to call for good health.
Positivity can have an impact on not only good mental health to overcome adversity and everyday challenges but can also improve your health outcomes.
After taking time to rest from having some medical procedures done, actor Terry Crews' wife, Rebecca Crews, 57, has returned to hosting "Prayer Mondays" to the delight of her social media "family" looking for inspiration from the cancer survivor.
"Power in our prayer and power in our unified prayer," Crews said with a healthy smile.
Read More
Crews is known for her positivity and unyielding faith, and she often posts on social media to her online supporters she calls her "family." Just before restarting her weekly prayer session, the breast cancer warrior told her supporters they're "capable of achieving great things" if they "believe" in themselves.
View this post on Instagram
"We all have a unique set of talents and strengths that can help us overcome any challenge that comes our way. Always remember that you have the strength and resilience," she said in a post.
In recent weeks, Crews underwent some medical procedures. Though she did not go into detail about them, they included bone density tests and a CT scan on her heart. Her procedures left her fatigued which led her to cancel some prayer sessions to focus on her health.
She said she felt bad for skipping her much-anticipated prayer sessions.
"I know we're supposed to press through in ministry. Lord the ministry is first, but he said, no Rebecca, you're first," she explained in an Instagram post.
It's great to see Crews back to her regular routine after taking some much-needed time to rest.
Crews knows all about adversity and what it takes to power through it. She was diagnosed with stage 1 breast cancer in 2020 following a mammogram and ultrasound.
Stage 1 breast cancers are relatively small; they either have not spread to the lymph nodes or only a small area of cancer has spread to the sentinel lymph node. Treatment will likely be surgery and radiation following surgery, along with chemotherapy or some other therapy.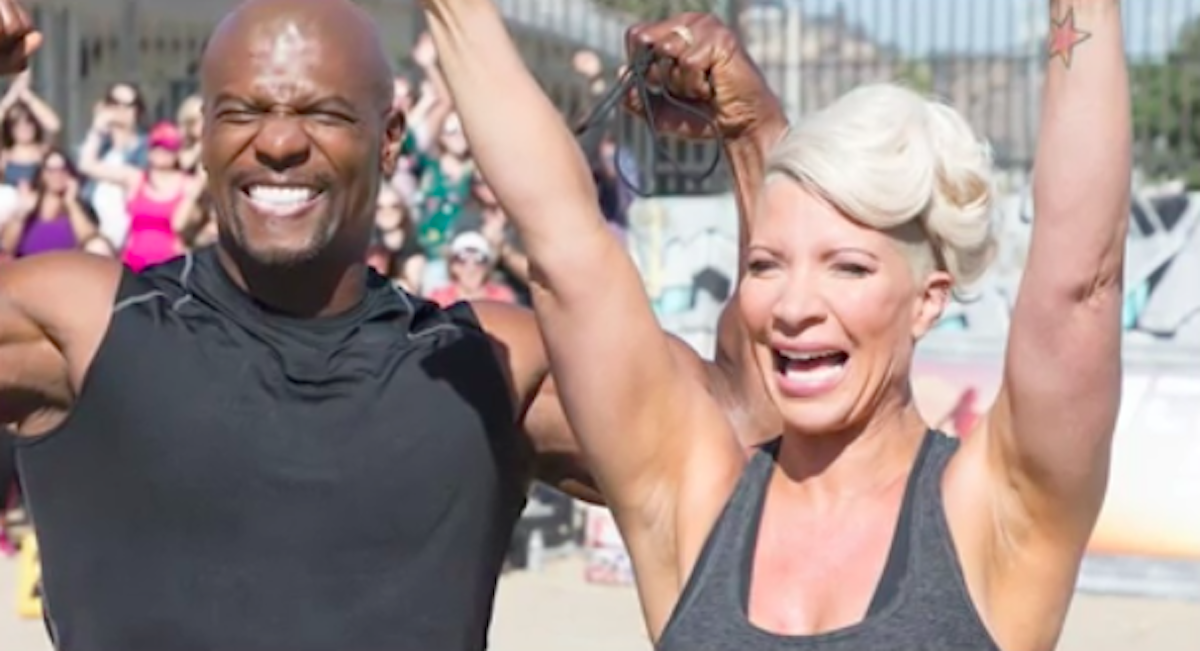 Crews underwent a double mastectomy procedure that involves removing both breasts to get rid of cancer. The procedure may also be performed as a preventative measure for women who are at a higher risk of developing breast cancer.
"A double mastectomy typically takes about two hours for the cancer part of the operation, the removing of the tissue," Dr. Elisa Port, Chief of Breast Surgery at Mount Sinai Health System, told SurvivorNet.
"The real length, the total length of the surgery, can often depend on what type of reconstruction [a patient] has," Dr. Port added.
During Rebecca Crews' cancer journey, she gave large amounts of credit to her faith in God and her loving and supportive husband, Terry, for helping her through her cancer fight.
Rebecca Crews remains free of the disease following her cancer treatment.
The Power of Positivity and Faith
Since beating cancer, her faith in herself and God was reaffirmed, and now it's become part of her personal mission, inspiring others. A day before restarting her prayer sessions, Crews told her "family" that sometimes adversity is what we need to grow.
"Sometimes dark and difficult times are exactly what we need to help us grow and become stronger. They challenge us to dig deep within ourselves and find the strength to keep going, even when we feel like giving up," she said in an Instagram post.
WATCH: A positive attitude, whether it comes from prayer or simply determination, can make a world of difference.
Positivity can have an impact on not only good mental health to overcome adversity and everyday challenges but it can also improve your health outcomes.
Johns Hopkins expert, Dr. Lisa R. Yanek studied the connection between heart health and keeping a positive mindset.
"Positive people from the general population were 13 percent less likely than their negative counterparts to have a heart attack or other coronary event," Dr. Yanek and her colleagues found in a study.
Mayo Clinic lists several health benefits that positive thinking may bring to your life. Some of the benefits include lower rates of depression and greater resistance to illnesses. Positive thinking also reduces your risk of death from cancer and infections.
As Crews can attest, positive thinking gives you an advantage to "better coping skills during hardships and times of stress," which is something the Mayo Clinic also lists as a benefit.
Dr. Wendy Schlessel Harpham is a non-Hodgkin's lymphoma survivor after being diagnosed in 1990. She's also the author of "Happiness in a Storm," a book written for people facing chronic illness promoting happiness and optimism.
According to The New York Times, after undergoing 15 years of cancer treatment, Dr. Harpham had been in remission since 2005. She resorted to keeping a positive mindset which included "surrounding herself with people who lifted her spirits" or "watching funny, uplifting movies" to improve her prognosis.
In addition to a positive mindset, faith in God also improves physical and mental health according to researchers. In a study published in Cancer, 69% of cancer patients say that they rely on faith throughout cancer treatment, and use prayer as a way to call for good health.
Researchers who studied the relationship between praying and life expectancy in cancer patients found the power of prayer helps withstand pain and suffering.
"The patients can overcome their illnesses with the help of praying and of other religious actions, thus helping them gain more power and being able to control their illnesses, as they know a lot about their sickness therefore, they can stand the pain and suffering and become hopeful to future," researchers N. Hekmati Pour and H. Hojjati said in the Journal of Medicine and Life.
Perhaps being a member of Rebecca Crews' "family" of online followers has several benefits with its steady stream of positivity, inspiration, and faith being delivered from the resilient breast cancer warrior.
Learn more about SurvivorNet's rigorous medical review process.
---