Just over a year ago, Canadian fashion model, Ash Foo's hair was long. "I was very proud of that hair," she told SurvivorNet in a recent interview while walking her dog, Ziggy, a Bernedoodle. But during chemo treatment for ovarian cancer — diagnosed in June 2019 — "every morning, I would wake up and look at my pillow and there was so much hair.
RELATED: 'I Want to Embrace Who I Am Now' — This Inspiring Model Walked New York Fashion Week With Ovarian Cancer in Remission
Read More
"I finally picked up a shaver and shaved my head," she said. "I was so tired of looking at it."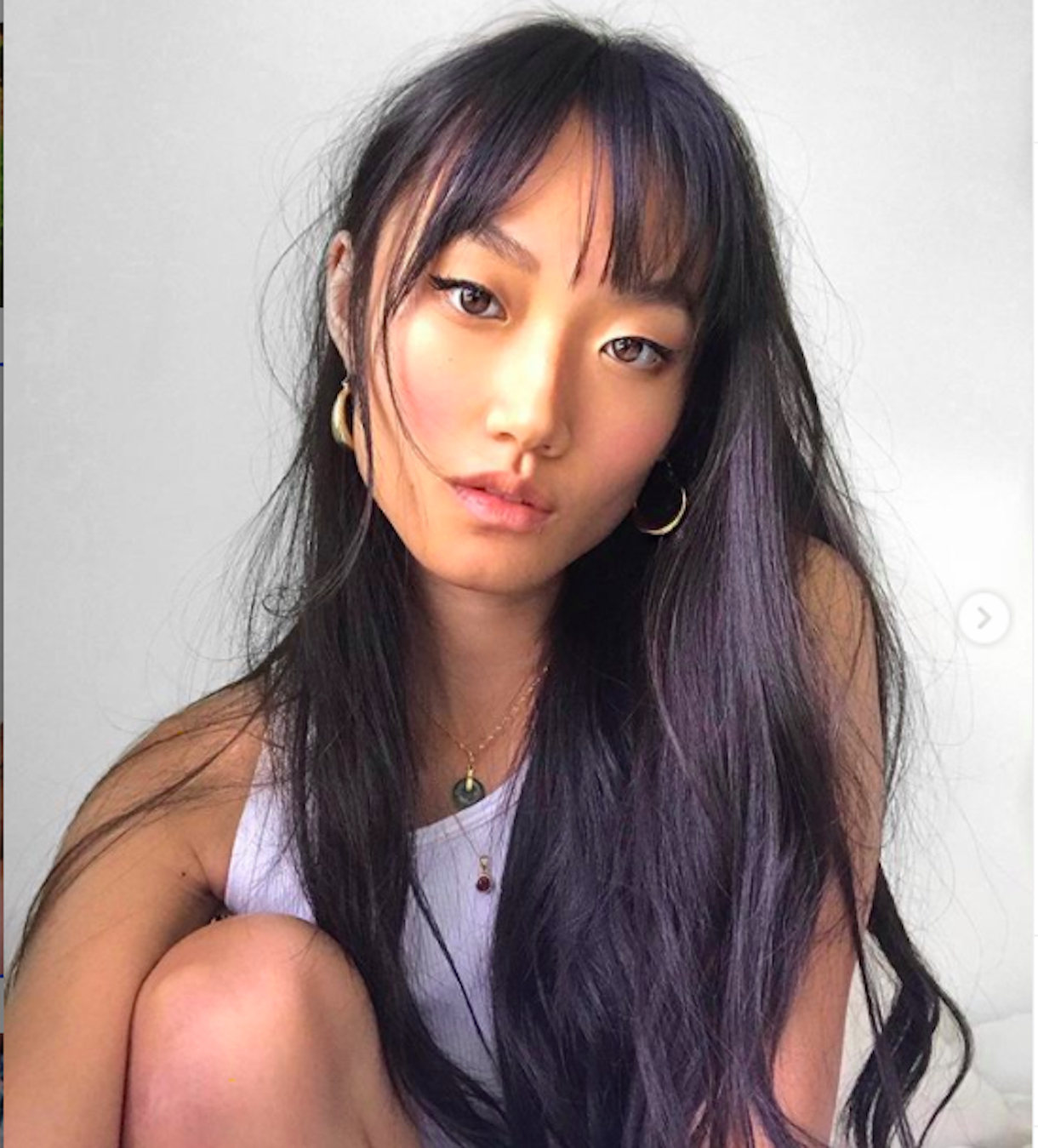 "I was very proud of that hair," says Ash Foo, of the locks she lost to chemotherapy. But, she adds, "the way that I look now — it's very me."
In September, Foo will appear on the cover of Italian Vogue sporting the short hair she now loves. She'll also appear in upcoming campaigns for Abercrombie & Fitch, Aritizia, and
RELATED: Diagnosed at 19, Ovarian Cancer Survivor, Natalie Coxe, Hopes Young Women Facing The Disease Will Have 'Faith Not Fear'
Michael Kors. Still, she writes in a recent Instagram post, (below) displaying the scars many cancer survivors try to hide, "I am imperfect; permanently and inevitably flawed."
'
"I Didn't Even Recognize Who I Was"
At 17, Foo was discovered on the streets of Toronto in 2014. At first, her parents — her mother is from Malaysia, her father from Singapore — were hesitant about her modeling. "They didn't think it was a full-time job," she told Vogue. "It wasn't until I started working more that they began to accept this."
RELATED VIDEO: "Cancer Changes Everything" Anna DeMers' Ovarian Cancer Story
It took time to reclaim her identity after cancer "changed everything," a process that will resonate with others who have faced cancer treatment.
"There were many moments when I would look at myself in the mirror and I didn't even recognize who I was. Not only my look, but my life was changing in such a drastic way."
RELATED: Ovarian Cancer and Chemotherapy: Easing the Anxiety Over Hair Loss
"It happened so fast," she added. "It was scary because I had no control. I just had to accept the fact that this was my life."
The Scar That Shook The Fashion World
She approached her first photo shoot following treatment determined to share her truth: "I'm not going to have hair," she told the photographer. "I'm going to have a pretty gnarly scar. I want to show women they can be beautiful even if they're not perfect. He was down with that."
RELATED: These Intimate, Sexy Photographs Show Scars and More — a Powerful Message About Femininity and Beauty
What happened next, surprised her. "I did [the photo] thinking it would help my own confidence, but I didn't expect it to impact other people's confidence as well."
View this post on Instagram
"I had people recreate the photo. I didn't expect that much love to be poured back into it," she said. "I'm so proud of it. This is the truth. That's what I went through. I don't feel the need to hide it."
RELATED: 'Magnificent' Olympian Shannon Miller, Celebrates 9 Years Ovarian Cancer-Free, Keeps Fighting The Good Fight: 'Immunotherapy is Critical in the Battle'
She now thinks of her scar, almost 10 inches long, like a tattoo. "And like my other tattoos, it tells a story, reminding me of a specific part of my life that I cherish and I can look back on and say 'I did that'."
The scar also showed her who to trust: "When a friend said, 'you should cover up your scar. You could get surgery to get it removed.' I told him, "I don't care if you think it looks ugly; because I don't'."
"They Split You Down The Middle"
When her symptoms began, they mimicked menstrual discomfort: "My abdomen was extremely bloated. I really looked like I was 2 or 3 months pregnant."
RELATED VIDEO: Ovarian Cancer: The Cancer That Whispers
"But it never went away," she added. "I could feel something solid inside of me and it was uncomfortable. At night, I had back pain — I think [the tumor] was pressing on my spine. If I ate too much, it would start to hurt."
The diagnosis: dysgerminoma, a malignant germ cell tumor of the ovary.
Dr. Amer Karam, gynecologic oncologist at Stanford University, explains how surgery is used to treat ovarian cancer.  
Her first cancer surgery was "a laparotomy, where they split you down the middle and you can not do anything for a solid month."
RELATED: Keeping Pain Well-Controlled After Ovarian Cancer Surgery
After chemotherapy failed to shrink a smaller tumor, she had a second, laparoscopic, surgery. "That one you can go home from the hospital the same day," she explained. "It definitely was not as bad."
In February, she returned to the runway, triumphant, walking in New York's fashion week and earning accolades from the fashion press.
RELATED: COVID-19 Has Kept Many Women with Ovarian Cancer From Receiving Care, Survey Finds
Now, she's embracing her scars — and her short hair — as badges of honor.
Pandemic: Both Familiar and Challenging
Cancer prepared her for life under quarantine:, Foo says, "When I was going through treatment I was home, lying in bed like a potato, with no other purpose than to live. When the pandemic hit, I was like, 'yeah this is pretty familiar to me, this is totally my game'."
RELATED: COVID-19 Forces Oncologists to Rethink Ovarian Cancer Treatment
As a Canadian citizen living in New York, she's had difficultly returning to Toronto for treatment, especially now that she's working again. Each leg of the trip would require a 14-day quarantine. "I have do the CT scans," she explains, "but it's all been on hold because of the pandemic; I haven't been able to go back to Toronto."
She remains in touch with her doctors via phone for continued monitoring. "I'm on my estrogen patches. I can do my blood work here and it gets back to my hospital in Toronto," she explains. "I feel great."
Ovarian Cancer Warning Signs
When detected early, ovarian cancer can have a better than 90% cure rate. But it's symptoms — like cramping, abdominal bloating, or lower back pain are easy to ignore — meaning only 20% of cases are caught early.
RELATED VIDEO: The Importance of a Specialist for Ovarian Cancer
"We don't have a good screening method, but if you have symptoms, it's very important that you go to your physician because there might be an opportunity that we can detect it when it's still early stage," says Dr. Jose Alejandro Rauh-Hain, a gynecologic oncologist at MD Anderson Cancer Center.
Genetic Testing is Essential
Genetic testing at the time of an ovarian cancer diagnosis can help your oncologist determine the ideal treatment for your specific cancer.
Dr. Ursula Matulonis of Dana-Farber Cancer Institute says patients diagnosed with ovarian cancer should undergo genetic testing for BRCA mutations.
If you're considering genetic testing, ask your relatives if they know of any family members who've had breast or ovarian cancer.
RELATED: A Promising New "Go-To" Treatment for Women Just Diagnosed With Ovarian Cancer — PARP Inhibitors Show Benefit For All
A family medical history can point to hereditary BRCA mutations, though a person can still carry a BRCA mutation without a family history of cancer.
Learn more about SurvivorNet's rigorous medical review process.
---