How A Young Ovarian Cancer Survivor Navigated College Through Treatment
Alexia Arabit, 24, was diagnosed with a cancerous ovarian germ cell tumor her freshman year of college.
Ovarian germ cell tumors are rare fast-growing tumors that are usually benign, but in about 5% of cases can be cancerous, according to doctors.
Over her college career, Arabit had about six surgeries.
Mobility was difficult at times but she found a great community of friends who loved to spend time outdoors and go see concerts.
She recently graduated with a degree in microbiology and is hoping to spend her career working in clinical, immunology, or oncology research.
Alexia Arabit, of San Antonio, Texas, did not have a typical college experience, to say the least. Her freshman year at Texas Tech was interrupted by a cancer diagnosis.
"When I was originally diagnosed, they thought it was just going to be a benign tumor. I had the initial surgery – not in the same way that a surgery would've been done had they known I had cancer," Arabit recalls. "Once we found out that it was cancer, it was classified as a dysgerminoma and it was staged at 2A."
What Is A Dysgerminoma?
Read More
Often referred to as an
ovarian germ cell tumor
, dysgerminomas are rare fast-growing tumors that are usually benign but about 5% of cases can be malignant or cancerous, according to doctors. They typically affect younger women. Symptoms for a dysgerminoma include:
Abdominal pain
Pelvic fullness
Feeling full quickly
Frequent urination
Pain when urinating
Pain during intercourse
Surgery is used to remove the mass and for those in later stages, chemotherapy and radiation can be standard but you and your health care team should discuss together the best way to move forward.
RELATED: What Is An Ovarian Germ Cell Tumor? How Do You Treat and Diagnosis This Cancer?
Navigating Treatment
In Arabit's case, once it was determined that her tumor was cancerous, her health care team at MD Anderson Cancer Center met and decided that surgery and active surveillance was right for her. The rest of her care took place at the START Center for Cancer Care in San Antonio. Over the next few years, she had about six different surgeries, including a uterine prolapse, which is when your uterus drops down toward the vagina. It was caused by the weight of the tumor and scar tissue build up from prior surgeries.
RELATED: Debulking Surgery For Ovarian Cancer: What To Expect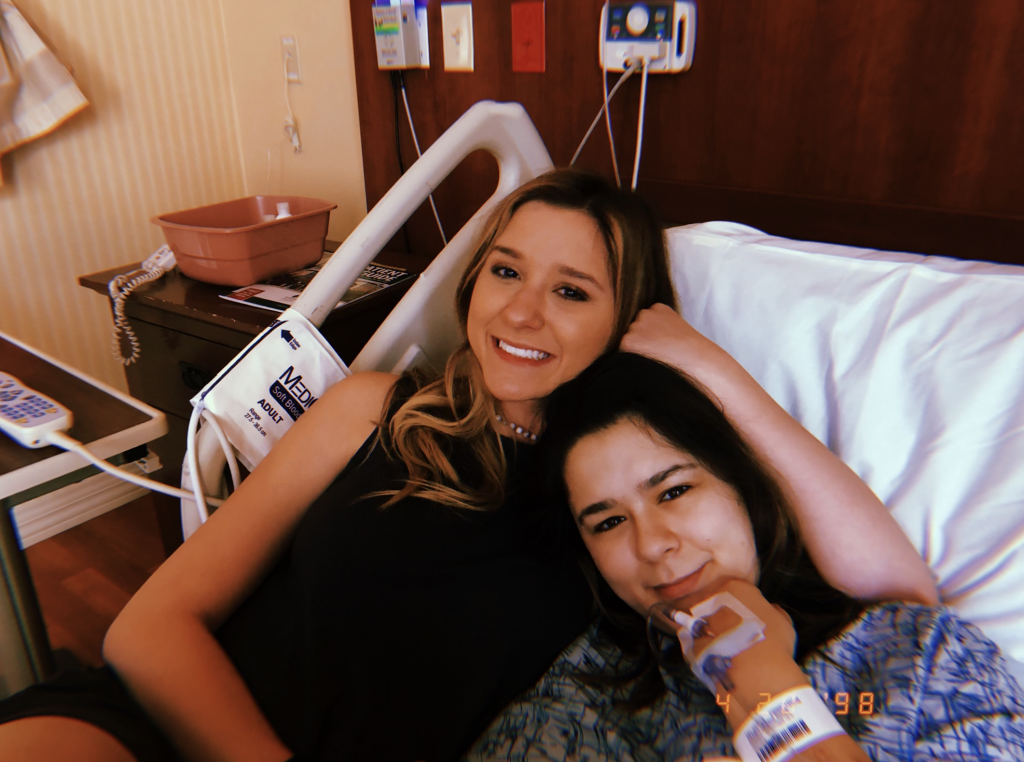 "That was by far the worst of them," Arabit says. "That was incredibly difficult to recover from because it did take a longer period than anticipated to be able to fully walk on my own."
Impacts On College Experience
Now 24, recently graduated, and cancer-free, she feels very lucky for her health but recognizes she had a very a-typical college experience.
"A good portion of my education was heavily influenced by the fact that I was not able to be as mobile as a student my age normally would. And that includes just walking to and from class."
Arabit had to transfer to a Texas State midway through her studies, as it had better disability accommodations. On her 21st birthday, instead of going out to the bars, she had her uterine prolapse surgery.
"I wasn't really able to be in a drinking scenario or just drink in general pretty much for like a year after that."
Finding Her Way
Fortunately, a friend of hers, Nathan Thompson, who was battling brain cancer, introduced Arabit to a community of people whose social lives did not revolve around drinking and frat parties. With them, she would go see her friends' bands play and spend time outdoors.
"We've been really fortunate to go to school in San Marcos, which has a lot of outdoor natural areas, which has also helped me gain a lot of my mobility back."
In this time, she also got really into water therapy. Her friends and her would do Tai Chi in the local rivers surrounding San Antonio.
"I noticed that the more often that I did (water therapy), the easier it became to move when I was outside of the water."
Additionally, she credits a pelvic floor physical therapist with helping her rebuild her muscle strength.
"I unfortunately learned the hard way that when you are assigned physical therapy, it is not a suggestion. You definitely need to do it," Arabit says. "Just to regain the muscle strength that you might have once had, because you need that in order to even hold when you're going to the bathroom or even just to be comfortable when sitting."
RELATED: How a Personalized Physical Therapy Program Can Help With Ovarian Cancer Treatment Side Effects
Dating And Intimacy
Dating was also something Arabit had to learn anew. Many of the young men she went out with did not know what to say or how to handle her health situation. Intimacy was a major obstacle, too, but she is in a good place now with a boyfriend who is in tune with her physical sensitivities.
"The best advice I can give is be very gentle with yourself because it's not always guaranteed that the person that you are choosing to enjoy intimate time with is going to be as gentle as you need," Arabit reflects. "And you need to be comfortable and to be confident in communicating that. Otherwise you could get really hurt. And it's not worth it, especially for something like that."
RELATED: Ovarian Cancer Survivor On Intimacy After Treatment
Her Path Forward
Pain is still something Arabit has to navigate everyday. Some days she can barely get out of bed. Despite being in full remission since July 2023, she still considers herself in recovery. On top of that, having spent her entire college career navigating the ins and outs of treatment, the idea of no longer being an active patient feels surreal.
"It was such a large part of my identity for so long, and it was something that I lived with every single day and I still live with every single day. So, although I've gotten the all clear, it still doesn't feel like it. I think I'm still trying to wrap my head around everything."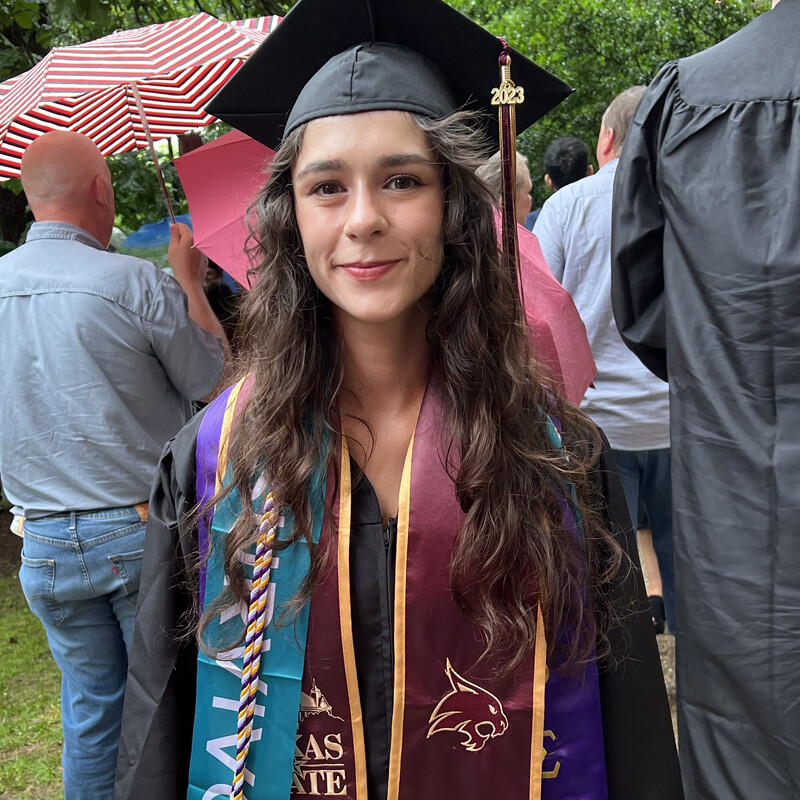 For now, she is working on transitioning into the working world. She studied microbiology, with a special interest in immunology and environmental microbiology. She hopes to do clinical, immunology, or oncology research. Despite the ongoing difficulties and undeniable fears of recurrence, Arabit is grateful for what the experience has given her at such a young age.
"The way that I like to look at it, and I think the way that I have to look at it in order to move on, is that I shouldn't look at this as a thing that has cursed me for the rest of my life," Arabit says. "This should be a gift that I've been given to appreciate the life that I have and to honor those that I have received support and love and care from, and to spend the rest of my life thanking those that have helped and supported me this entire way and try to give back and help those that are in similar positions."
Learn more about SurvivorNet's rigorous medical review process.
---