Take Back Your Body
Jenean LaCorte, owner of Restorative Tattoos, talks to SurvivorNet about her decision to become a medical tattooist and the steps she needed to take to get there.
Breast cancer survivors who have had mastectomies can choose to have this procedure, which creates realistic-looking areolas using permanent ink.
LaCorte attended one of the four institutions which offers this degree, and went through a six-day 100-hour long intensive course to earn her certificate.
Many women diagnosed with breast cancer choose to have
mastectomies
— and for those survivors, some find it difficult to accept their new body. Whether you choose to have
reconstruction
or
go flat,
it's an important next step to embrace the new you. In some cases, a
medical tattooist
can help you on this journey.
North Carolina resident and owner of Restorative Tattoos, Jenean LaCorte, tells SurvivorNet, "Scars have a lot of weight to them, and you don't necessarily realize how much of a burden it's been on your shoulders until you can find some sort of resolution."
Read More
LaCorte decided to dip her toes into the world of medical tattooing after her sister-in-law had undergone a
bilateral mastectomy
for breast cancer treatment. Surgery scars are forever, and LaCorte saw how important camouflaging these marks were in making someone feel whole again. She decided to specialize in areolas and scars in an effort to make women remember their lives and bodies before breast cancer.
Related: Feeling Whole Again — The Increasing Popularity Of Nipple Tattoos After Breast Cancer Surgery
"What's one thing most people do first thing in the morning? They get up and take a shower, and most everyone has a mirror in their bathroom," LaCorte says. "So for someone who has scars they're reminded first thing in the morning that they've had cancer. That sets your tone for the whole day. So if I can give someone a realistic looking tattoo so when they get into the shower they can forget that for a minute, my purpose is filled."
Back to School
As an artist of 20 years, LaCorte decided to pursue her creative passions in another realm. In 2018, she started researching institutions which offered medical tattoo degrees, and decided to attend Sauler Institute of Tattooing, a division of Penn Medicine, in Pennsylvania. According to LaCorte, she only found about four or five other schools which offered this specific degree in the United States. Once entering the program, she delved into the complex and thorough world of medical tattooing.
Related: Mastectomy Friendly Swimsuits Are Easier To Find: Fashion Stylist And Breast Cancer Survivor On What To Look For
"It's like a week-long intensive of one hundred hours over six days," LaCorte says. "It's kind of like an into the fire make it or break it kind of thing. They cover all kinds of things like skin after it's been radiated and skin that has gone through chemo, since it isn't the same skin as it was before. It covers the different surgeries they can do for reconstruction. They go over all the different types of scars. So it's very informative and not just a typical tattoo artist that's doing nipples. The final days are all hands on final tattooing with clients. They give you a lot more information as to the patient you'll be working on and the skin you'll be working with."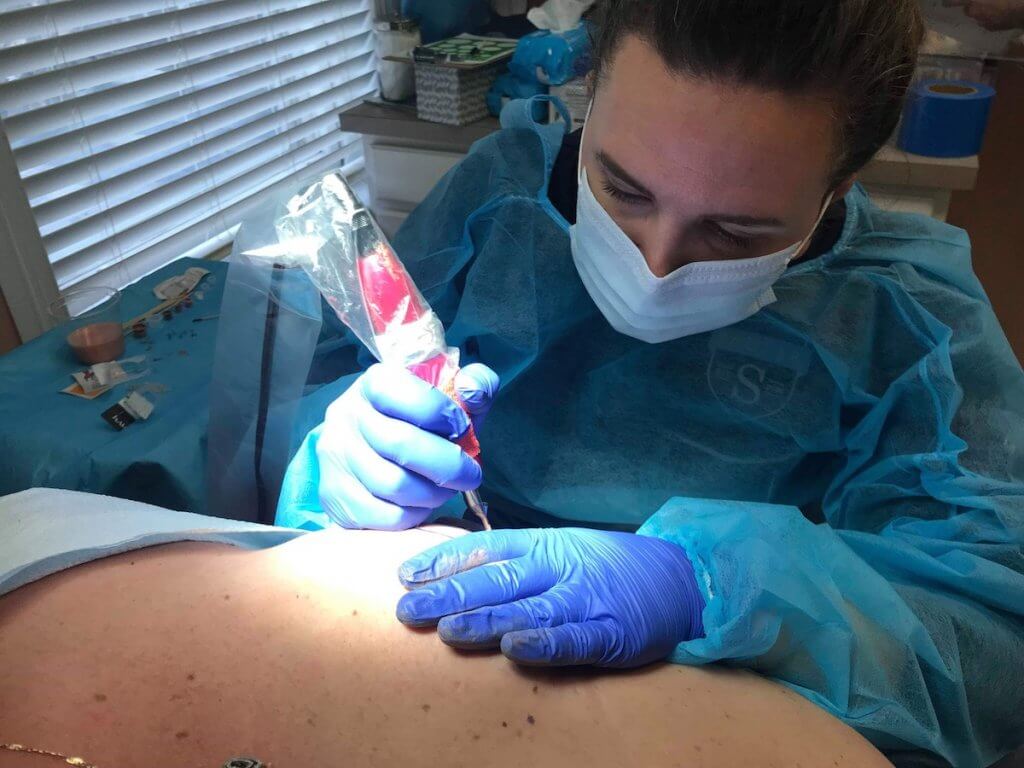 What are 3D Nipple Tattoos?
After earning her certification, LaCorte opened Restorative Tattoos which offers 3D nipple tattoos, areola repigmentation, and scar camouflage. As opposed to mastectomy tattoos, which are often done by tattoo artists and create unique designs over mastectomy scars, 3D nipple tattoos use needles coated with ink to create realistic areolas. Plus, the process itself is very simple. If a woman comes in needing both nipples done, the whole process takes about two hours, or less, including the paperwork to be filled out.
Related: The Nipple Has Been Freed: Facebook Relents After Breast Cancer Tattoo Artist Stages Protest
In the past, nipple tattoos were done with a temporary ink used by microblading artists. However, that's rarely the case anymore. LaCorte uses permanent inks that can be found at a typical tattoo shop, and features a variety of different colors that can match any skin tone. The healing process takes about two weeks, and the final result lasts forever. Of course, like any tattoo, some may fade as women get older and their skin changes, but it doesn't require regular touch ups.
Thyroid cancer survivor Marnie Rustemeyer left her job on Wall Street to pursue nipple tattooing
Rewarding Connections
Despite being nervous when faced with her first out-of-school client, LaCorte says she pushes those nerves aside while working. She knows how important her work is to the women who come to her, and doesn't take any of that for granted. "This is a big deal," LaCorte says. "This is putting a nipple back on someone. It's meaningful."
By meeting these inspiring women, LaCorte knows she was meant to do this work and has made friendships which will last a lifetime. Plus, it's taught her an important lesson about the back-and-forth battle women face considering scar camouflage and 3D nipple tattooing — specifically whether it's "necessary."
Related: To Reconstruct or Not: After Mastectomy, Two Women Take Very Different Paths
"One thing that a lot of, specifically women, come to me with is that they're not sure whether they should get it done," LaCorte says. "They're so many things that we tell ourselves that we don't need. Something like 'we don't need that; this is vain,' but it isn't vain. This is a part of you that is missing. You wouldn't tell someone who had an arm or a leg removed that it was vain of them to have an arm or a leg put back on. This is a reasonable request. It's OK to want this."
How breast cancer survivor Chiara D'Agostino learned to accept herself
Learn more about SurvivorNet's rigorous medical review process.