After Beth Chapman died from stage II throat cancer at the age of 51, her friends and supporters felt the loss, but no one is grieving more deeply than her husband Duane, who loved and cared for her throughout her cancer journey. As family, friends, and supporters convene in Aurora Colorado for Beth's funeral, her husband Dog is grieving deeply, keeping her ashes by his bed, remembering her last moments over and over, and crying at footage of his beloved wife.
RELATED: "Please, Let Me Go": Some of Beth Chapman's Last Words to Duane "Dog" Chapman During Cancer as She Prepared Her Husband For The Worst
Read More
"I leave [her ashes] next to the bed right there and I think that might be where it's going to be forever," he said in his first interview since Beth's death, speaking with
Entertainment Tonight
.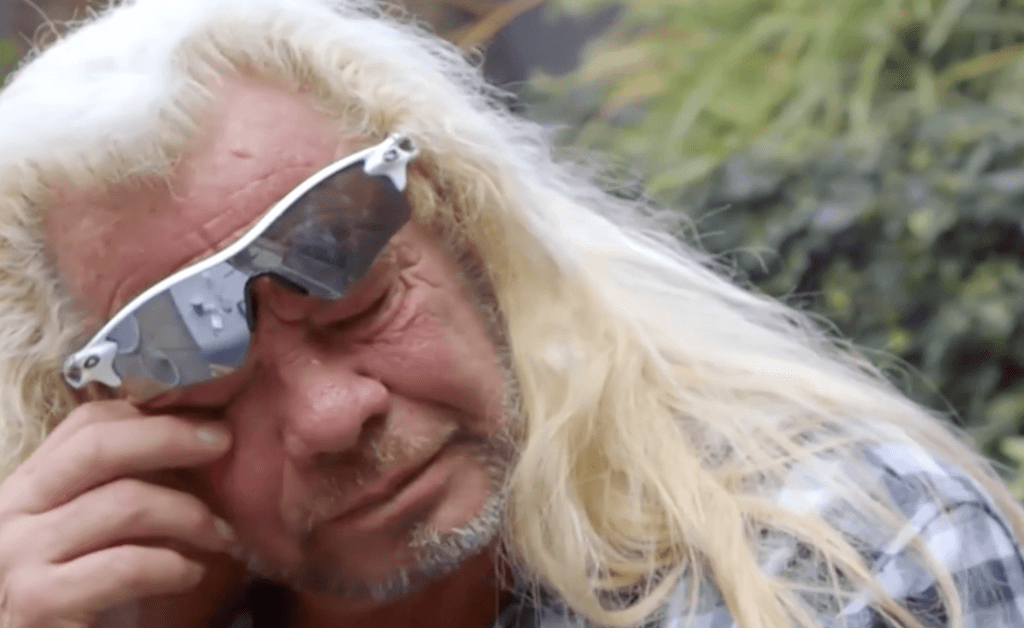 This was the first time Dog ever had to deal with ashes, he told the outlet. "Well, I've never done ashes in my life, and that's what she wanted. And then she wants me to do it and put the same thing, guess put it on the fireplace or something, so, this is the most morbid stuff."
And at first he had some hesitations about the way Beth wanted her ashes handled after her death. "When I was a little boy, all the Christians [said] you can't get burned because then you won't rise from the grave with Jesus. And then I said, 'Honey, you know, what about that?'"
RELATED: "See You On The Other Side"– Duane "Dog" Chapman Copes With His Beloved Beth's Loss, Remembering Her Rocking Out to Bruno Mars
But before she passed away, Beth set him straight on the reasons she wanted it done her way. "She goes, 'It's from ashes to ashes to dust to dust.'"
And assured him that she hoped they'd be together again in the future. "Well, she said scatter some, leave some on the fireplace, of course when I go to heaven, she wants me in the box with her," he adds.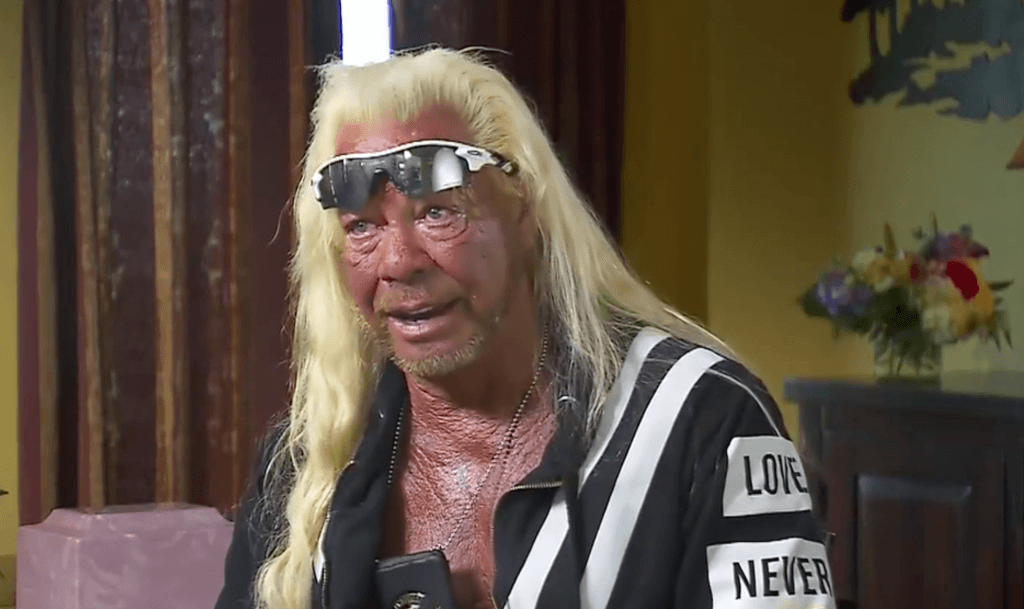 Since her death, Dog has had a lot of different impulses about how exactly to handle her ashes."So, I wanted to put them in the car and seatbelt them in," he says. "And I want to take them with me. But that's like, morbid, you know? You gotta really watch it. These are the times when people go over the edge. And you really gotta watch how you do 'cause my life, I went through experiences to help others — I really mean this."
But one thing became clear; he couldn't just say goodbye. "You know, I was going to do all the scattering, and then I looked at it and thought, 'I'm not gonna throw you, like, away. I'm just gonna throw you away and start over?' I can't do that," he says about why he hasn't fulfilled her wish.
Dog is still going through a lot of raw grief. "I haven't gotten past the place where I'm still putting a pillow where she was, and covering it up, like the jailhouse escape, right? I mean it. And then I wake up in the middle of the night and I see her and it doesn't register that ain't her. I'm still there."
And breaking down in tears when he sees footage from the "Dog's Most Wanted" show they filmed together before her death, and which is set to air soon on WGN America. "So, I mean, I've already looked at some of them, OK, and I see her and I hear her and I freaking start bawling 'cause it happened," he shares. "I just instantly start crying … so, I think it's also therapeutic that you have those. You know, if you lose a loved one then you have the little pictures you look at. But I have her alive in that show."
Beth Chapman is survived by Dog, her family, and a legacy of TV bounty hunting that is drawing people to her memorial for around the country. She also left behind behind a legacy of openness and transparency about her diagnosis. Through her social media accounts, her shows, and her Mother's Day speech at a church in Florida, Beth made clear the pain of living with cancer, her belief in faith to carry her through, and that no one with the disease should be alone or without information about their illness.
In that spirit, we're providing information about throat cancer. Because painting nails in Beth's honor is a way to lift the spirits, we're also providing information about fear and anxiety during cancer, and some of the ways to lift ourselves out of it.
Information about throat cancer
Throat cancer includes any cancer of the pharynx (throat), which is a hollow tube about 5 inches long that starts behind the nose and leads to the esophagus, according to the National Institutes of Health. The throat has three parts: the nasopharynx (the upper part of the pharynx, behind the nose); the oropharynx (the middle part of the pharynx, including the soft palate [the back of the mouth], the base of the tongue, and the tonsils); the hypopharynx (the lower part of the pharynx).
Throat cancer falls under the larger category of "head and neck cancers," along with cancers of the oral cavity, voice box, sinus and nasal cavity, and salivary glands. Head and neck cancer account for about 4 percent of all cancers in the United States, and are about twice as common among men than they are among women. They are also more common among people over the age of 50 than they are in young people.
The symptoms of throat cancer include trouble breathing or speaking, pain when swallowing, pain in the neck or the throat that does not go away, frequent headaches, pain, or ringing in the ears, or trouble hearing.
Throat cancer is often linked to alcohol and tobacco use, and infection with Human Papilloma Virus (HPV). In the United Staes, even as the incidence of head and neck cancer decreases, the incidence of HPV-linked head and neck cancers is increasing.
It is not yet known whether the Food and Drug Administration-approved HPV vaccines prevent HPV infection of the oral cavity, and none of these vaccines has yet been approved for the prevention of head and neck cancer, according to the NIH, however, they may reduce the risk of HPV-related head and neck cancer.
Information about dealing with fear during cancer
For a lot of people, connecting to someone else with cancer can help with some of the difficult emotions that that can come with the diagnosis. For example, anxiety and fear are totally normal reactions to the news of cancer, and acknowledging these emotions can be therapeutic and important to the healing process.
"I think the most important advice I would give to someone who has just received a cancer diagnosis is to find people whom they find as a source of support. To allow themselves to go through all of the different emotional reactions to that news," said Dr. Susan Parons, Director of the Center for Health Solutions/Center on Child and Family Outcomes at Tufts Medical Center, in a prior interview with SurvivorNet. Dr. Parsons did not comment on this case specifically.
"The anger, the frustration, the fear. The disappointment. Whatever those emotions are, figure out what's important to you and find those people that can help you realize that."
Dr. Susan Parons, Director of the Center for Health Solutions/Center on Child and Family Outcomes at Tufts Medical Center on dealing with fear and anxiety after a cancer diagnosis.
In times of frustration, it can be useful to a little bit of direction on specific ways to deal with it. A few of the most common ways to deal with fear and anxiety after a cancer diagnosis, that have helped people in the SurvivorNet community in the past, include:
1. Let your family and close friends know – and let them help. So many cancer survivors tell us they want and need support but are often too preoccupied to make specific requests. Urge those close to you to jump in with whatever practical help they can offer.
2. Keep a journal. It can be extremely cathartic to let those feelings loose on paper. Grab a pen and a nice journal and chronical your different thoughts throughout the day.
3. Join a cancer support group. There are groups in nearly every community offering opportunities to connect with others going through a similar journey. You'll learn incredibly helpful insight from others who can tell you about what to expect and how to stay strong on tough days.
4. Consider seeing a therapist. Ask your doctor to refer you to a therapist so you can discuss your fears and concerns in a safe space. Often, vocalizing your thoughts and feelings rather than internalizing them can provide relief.
Learn more about SurvivorNet's rigorous medical review process.