"Please let me go," were some of Beth Chapman's last words to her husband Duane "Dog" Chapman, according to a new interview.
Watching the person you love the most battle cancer is an extraordinary challenge. You want to be there as this person deals with a major blow to their health and livelihood, but it's also really difficult to deal with your own personal pain — and the thought that your loved one may be taken by the disease.
Read More
Dog Chapman recently sat down for an intimate interview with Entertainment Tonight where he discussed how his wife and
Dog the Bounty Hunter
co-star, Beth Chapman, tried to prepare him for life without her as she was going through cancer. Dog — like so many people who have
been in similar situations
— simply didn't want to admit that there was a possibility he would lose Beth. It was Beth who tried to have the really tough conversations.
RELATED: LOSING A SPOUSE TO CANCER-THE TOUGHEST CONVERSATIONS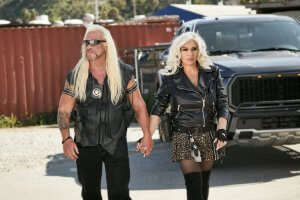 At the end of her life, Beth was battling stage 4 lung cancer — but she had been dealing with the disease for a few years. Dog said that she knew this moment could come for awhile. Beth was first diagnosed in 2017 with stage 2 lung cancer. She was treated at that time and declared cancer-free a few months later. But towards the end of last year, Beth was again diagnosed — and the disease had progressed. She passed away on June 26 at age 51.
"For two to three years, she knew this might happen. So she would say, 'Who is going to sit next to you?' And I said, 'No one,'" Dog said in the interview. "'Big Daddy, you better not let another girl take my place.' I said, 'I won't.'"
Dog also recalled how he tried to avoid having the tough conversations, but towards the end of her life, Beth was really adamant about being realistic about what her diagnosis may bring. He recalled one of the last moments he shared with his wife before she was brought to a Hawaii hospital, where she passed away.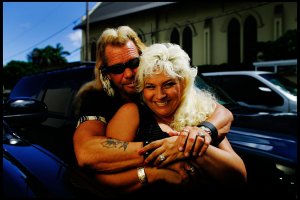 "The last few moments she said, 'Come in here right now, in the bathroom,'" Dog said. "I went in and she said, 'Look at me.' And I said, 'Yeah, you're freaking beautiful, baby.' [And she said,] 'Look at me, Duane Chapman.' And I did, I always saw Beth and she said, 'Please, let me go.'"
"And I didn't even make a decision, I almost said, 'I can't.' Before I could say, 'Alright,' she couldn't breathe and I called the ambulance… But every day she talked as if she was not there. 'Here's what to do with this, here's what to do with that. Don't keep running your mouth. When they ask you a specific question, just answer that.'"
Dog went on to say that even though Beth's death came as a shock to the family, they did have some really tough, but really important, conversations. One of those conversations involved memorial plans. Apparently Beth spoke with both Dog and the rest of the Chapman family about how she wanted to be sent off — and the family is pulling out all the stops to give Beth her wishes. A memorial was held in Hawaii on June 30 and another will be held in Colorado on Saturday, July 13. Dog and Beth had homes in both states, so it's fitting that Beth will be sent off in both.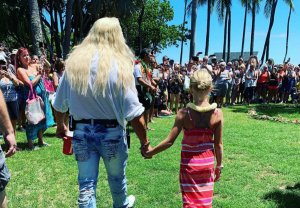 The Hawaii memorial was more of an intimate affair, with Beth's children, step-children and grandchildren all in attendance. The event featured a traditional Hawaiian paddle out, and some of the family members considered it her #Hawaiistyle send off. The Colorado event will be a much bigger affair. It will be held in Aurora, Colorado, and since the memorial is open to the public, the Chapman family is expecting thousands of visitors to come by to pay their respects. Some very interesting details were released this week about the memorial — like extremely tight security and the fact that it's being organized by The Facts of Life star Kim Fields.
July 13, 2019 –
Heritage Christian Center
14401 E. Exposition Avenue
Aurora, Colorado 80012 – Doors open at 1:00 Service starts at 2:00 pic.twitter.com/Htw4SKxDDl

— Duane Dog Chapman (@DogBountyHunter) July 1, 2019
Many fans have taken to social media to share that they will be traveling great distances to attend to Colorado memorial — and it's no surprise given how much Beth meant to her fans. She was an inspiration not just because she was a successful woman in bounty hunting, but because she faced cancer with such bravery and candor.
Learn more about SurvivorNet's rigorous medical review process.
---