'Idol' Alum Still Fighting Brain Cancer
American Idol alum Avalon Young, 26, is currently battling brain cancer.
After three brain tumor resections, Young is done with surgeries. Now she has more chemotherapy and radiation treatments ahead.
Young has maintained a positive outlook throughout her cancer journey and even been releasing new music along the way.
Resilience is not an uncommon trait amongst cancer warriors. Danielle Ripley-Burgess, a two-time colon cancer survivor, says her cancer journey helped her uncover "some beautiful things: Wisdom. Love. Life purpose. Priorities."
American Idol
alum Avalon Young has a lengthy battle with brain cancer ahead of her. She just began her radiation treatments and a second chemotherapy drug, but she's looking to be done with her treatments by February 1, 2023. Despite the long road ahead, the 27-year-old singer/songwriter is taking everything day by day and continuing to make music.
Young finished in the top eight of the 2016 season of American Idol. She is still at the beginning of a promising career, but she's had many unexpected health obstacles to overcome while living out her dream.
Read More
She shared her brain cancer diagnosis in February 2021. In
an interview with TMZ
, Young said she began having seizures in November 2020. Doctors initially thought there was an issue with anxiety or serotonin levels, but Young's mother still pushed her to get an MRI. After the MRI results came back, she was shocked to learn of the tumor "about as big as a peach" on the left frontal lobe of her brain.
After three brain tumor resections, Young is done with surgeries. Now, she has a lengthy road of two different chemotherapy treatments and 33 total doses of radiation ahead of her. Radiation, which began yesterday, will be five days a week in the hopes of finishing mid-December.
As for chemotherapy, Avalon is taking part of a phase two clinical trial with a drug meant to stop tumor cell growth by blocking enzymes needed for the growth. She began taking 8 pills a day for 7 days prior to her first radiation treatment on Wednesday, Oct. 27. Along with starting radiation, she also began taking a second chemotherapy drug called Temodar.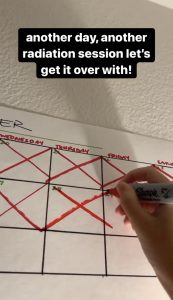 "Avalon has been tolerating this treatment as expected; continued loss of appetite, weight loss, nausea, headaches and severe fatigue," her family wrote in a recent update on Young's GoFundMe page. "The doctors say these symptoms are expected to increase as treatment continues during the next 6-7 weeks."
She's looking to complete this portion of her treatment in January 2022. At that time, she'll have a month-long break before starting a regimen of one week of chemotherapy every three weeks for the following 12 months.
"Our hope is to finish this phase of her treatment by February 1, 2023," the update continued. "We have a long, hard road ahead. Avalon's courage is admirable, her strength unbreakable, and her sense of humor a priceless gift. We are grateful for your continued love, prayers and support as we prepare for a difficult year ahead. In gratitude, The Young Family"
Understanding Brain Cancer
According to the American Society of Clinical Oncology (ASCO), brain tumors account for 85 to 90 percent of all primary central nervous system (CNS) tumors. The central nervous system consists of the brain and spinal cord and acts as the main "processing center" for the entirety of the nervous system, according to the American Cancer Society. Normal function of the brain and spinal cord can become difficult if there's a tumor present that puts pressure on or spreads into nearby normal tissue.
Young has not specified her exact type of brain cancer, but there are many different types. Some types of brain and spinal cord tumors are more likely to spread into nearby parts of the brain or spinal cord than others. Slow-growing tumors may be considered benign, but even these tumors can cause serious problems.
Can Cell Phones & 5G Cause Cancer? A Leading Brain Cancer Doctor Says "No"
Brain Tumor Symptoms
Symptoms of brain tumors are often caused by increased pressure in the skull. This pressure can be caused by tumor growth, swelling in the brain or blockage of cerebrospinal fluid (CSF), according to the American Cancer Society.
It is important to note that brain tumor symptoms are not exclusive to brain tumors, but you should still contact your doctor if anything seems off. General symptoms may include the following:
Headache
Nausea
Vomiting
Blurred vision
Balance problems
Personality or behavior changes
Seizures
Drowsiness or even coma
Staying Positive during Difficult Times
Despite everything she's going through, Avalon Young has continued to create memories, crack jokes and even make music. She's shown that a cancer diagnosis does not have to define how you live your life and inspired others with her dedication to positivity along the way.
View this post on Instagram
"It's hard to get used to the fact that, at 26 [now 27] years old, I'm dealing with [cancer], but I'm going to fight it," Young previously told PEOPLE. "We're going to get through it and, and that'll be that."
Resilience is not an uncommon trait amongst cancer warriors. In fact, it's quite the opposite. At SurvivorNet, we get to share these stories of resilience all the time because there's no shortages of brave cancer warriors holding onto hope in the face of adversity.
RELATED: 6 Cancer Survivors Tell Us How They Stay Hopeful During Difficult Times
Danielle Ripley-Burgess, a two-time colon cancer survivor, is another resilient cancer survivor like Young. She was first diagnosed with colon cancer in high school and proceeded to beat the disease not once, but twice. Understandably so, Ripley-Burgess has had to work through a lot of complex emotions that came with her cancer journey. Even still, she's always managed to look at life with a positive attitude.
How to Cope When Recurrence Rattles Your Faith At The Age of 25—Two-Time Colon Cancer Survivor Danielle Ripley-Burgess Shares Her Story
"As I've worked through the complex emotions of cancer, I've uncovered some beautiful things: Wisdom. Love. Life purpose. Priorities," she preiously told SurvivorNet. "I carry a very real sense that life is short, and I'm grateful to be living it! This has made me optimistic. Optimism doesn't mean that fear, pain and division don't exist – they do. Our world is full of negativity, judgment, and hate. Optimism means that I believe there's always good to be found despite the bad, and this is what my life is centered around."
She moves through life with a sense of purpose unique to someone who's been faced with the darkest of times. Happily in remission today, she's determined to, one day, leave the world better than she found it.
"We can choose to stay positive, treat others with respect and look for the light in spite of the darkness," she said. "This type of attitude and behavior will lead to the kind of legacies I believe all of us hope to leave."
Learn more about SurvivorNet's rigorous medical review process.
---