Becca K. Tells Fans: "We're all in this together."
The former contestant on The Bachelorette (and Bachelorette fan-favorite) asked fans to share their stories of cancer-related loss. Other former Bachelorettes gave support to Becca, who has been through a lot following her recent break-up with Garrett.
Becca K. cooked meatballs to honor her late father, who died of glioblastoma brain cancer when she was a teenager.
The new Bachelorette, Clare Crawley, also lost her father to brain cancer.
Former Bachelorette contestant and Bachelorette fan-favorite Becca Kufrin ("Becca K.") recently shared on Instagram stories that she made meatballs and spaghetti – a favorite dish of her late father, Steve Kufrin. He
died of glioblastoma brain cancer
when she was just 17.
She asked her followers to share their own stories of losing loved ones to cancer, writing on her Instagram story: "Let's share our stories about how cancer sucks & lean on each other." And her fans delivered.
Read More
Related: "Bachelorette's" Becca Kufrin Asks Fans To Help a Close Friend Battling Pancreatic Cancer
Becca, who has long been a champion for people fighting cancer, gave a heartfelt speech of gratitude to her followers, saying:
"Thank you for sharing. It means the world. We're all in this together. They do say it gets easier with time. I don't want to say it gets easier to adjust, but you learn to adjust. People learn to adapt to a new normal without that person in their life. There's going to be okay days, and there's going to be really sad days and moments that hit you like a train out of the blue. But it's okay to feel those things. It's okay to be down. It helps to heal your heart."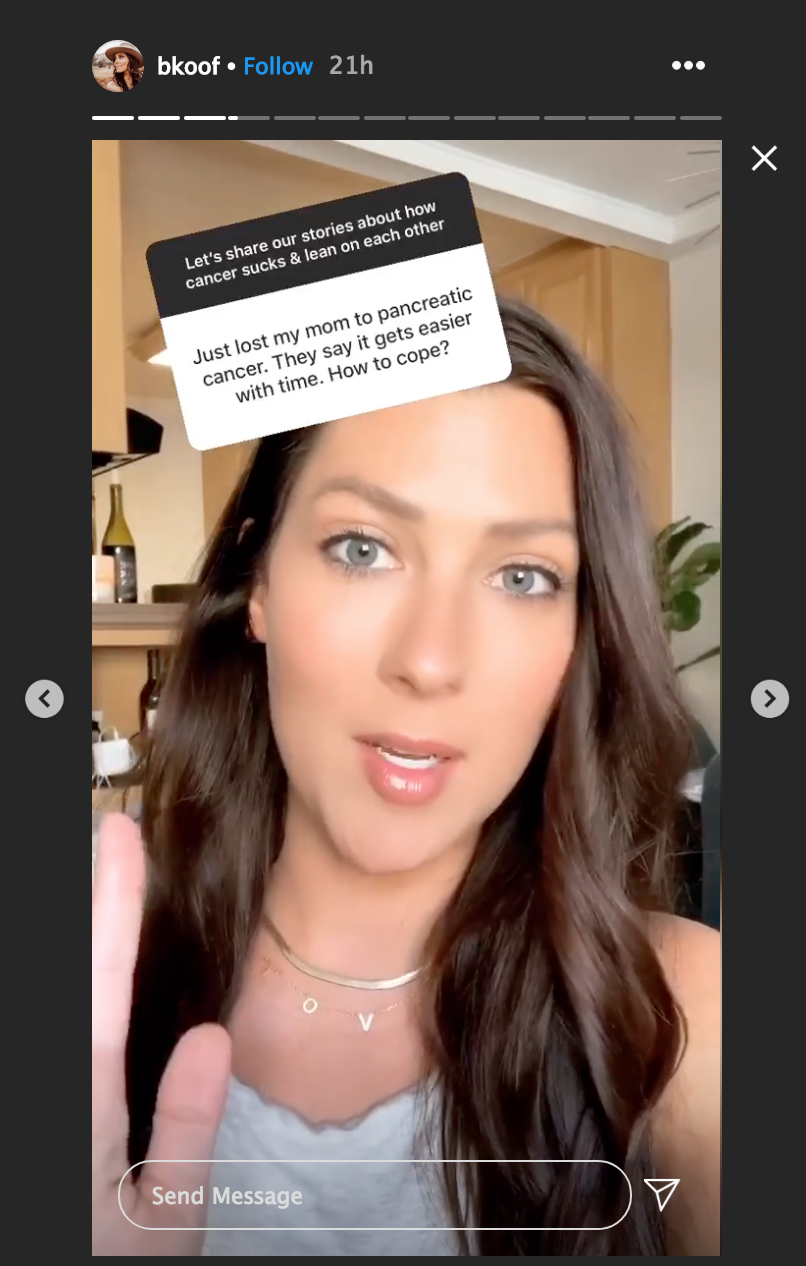 Becca teared up as fans opened up about their stories of cancer battles in their family. She also shared resources with her followers, giving shout outs to The Dinner Party, a community of 20- and 30-somethings who have experienced the loss of a parent, partner, child, family member, or close friend, and F**k Cancer, a movement and organization devoted to changing how people learn about, look for, and talk about cancer.
Grieving "Dog The Bounty Hunter" Tells SurvivorNet How He's Coping with Grief After the Loss of His Wife Beth Chapman to Lung Cancer
The former Bachelorette contestant spoke to fans about her different coping tactics, including writing letters to her late father, knowing he'd never read them. She uses her letters as a way to update him on her life. She also uses her social media to speak to him, too, writing to him on Father's Day this year:
"Happy Father's Day to my first love. I miss you Dad. I miss how you'd always smell like chapstick and woodchip shavings after carving a decoy. I miss how you'd let me pack your tobacco pipe, and even though you knew I'd spill it, you still let me do it anyways. I miss how I'd walk through the door after my senior classes and you'd just be pulling out the delicious peanut butter chocolate chip cookies and say "give me a smooch". I miss how you'd always ask for the potato soup recipe at Outback Steakhouse, even though they'd never give it to the public – you still had to shoot your shot. I miss hearing your laugh…But no matter all my missings, my life is so richly blessed because I had you in it."
Coping with Loss to Cancer
Becca calls her late father Steve an "angel" and the "Father of a Lifetime." In a loving Instagram post three years ago on Father's Day, Becca again honored him.
Dr. Scott Irwin tells SurvivorNet on coping with grief after a cancer diagnosis: "Grief comes in waves. It's normal to feel sad."
She wrote: "Not a day goes by that I don't think about the angel that is Steven Karl (with a K) Kufrin. He gets the Father-of-a-Lifetime award for putting up with me between the ages of 3-17. Happy Father's Day to the most suave man this side of the Mississippi has ever seen…"
Understanding Glioblastoma Brain Cancer
Glioblastoma is a serious brain tumor that typically requires removal. Both Senator John McCain and Joe Biden's son, Beau, died from glioblastoma.
Related: John McCain & Joe Biden's Son, Beau, Both Died From Glioblastoma; Progress in Treating the Disease Is Slow, but Now There's a Glimmer of Hope
It is an aggressive cancer that occurs in the brain or the spinal cord. This type of cancer tends to occur in older adults, says the Mayo Clinic. It can lead to headaches, nausea, vomiting, as well as seizures. This disease is difficult to treat, and sometimes, a cure is not possible.
Related: Immunotherapy Update: New Study Suggests Immunotherapy May Be Useful For Some Types Of Brain Cancer
The Kufrin family was "lucky" said Becca, because her father survived for five years following his diagnosis of brain cancer. Five years is a long time for people with brain cancer to fight and survive; a 5-year survival rate for people with a cancerous brain or central nervous system tumor (CNS tumor) is approximately 36%, reports Cancer.net.
The New Bachelorette Also Lost Her Father to Brain Cancer
The new star of the upcoming season of The Bachelorette, Clare Crawley, also lost her father to brain cancer. She has spoken publicly about it as well. In a 2017 Instagram post, Crawley recalled her father's southern charm:
"Happy Father's Day to the truest Southern Gentleman! ❤ My heart still aches so bad missing him, but I know it's the result of how much unconditional love he gave to us. What a blessing to have had that"
The new season of The Bachelorette will be hitting airwaves soon, to the delight of "Bachelor Nation" (as fans of the popular TV show are called). The show begins on October 13, at 8 p.m. ET, and features Crawley. At 39, she is the oldest-ever bachelorette in the show's history.
Having been a contestant on The Bachelor, she's now stepping into the role of the chooser, as she takes her pick of men. Her late father even made a DVD for her future husband before he passed. "I'm saving it for the right man to watch," Crawley said.
We're sure her father will be rooting for her on her journey to love this fall.
"Therapy Saved My Life": After Losing A Loved One, Don't Be Afraid To Ask For Help
Learn more about SurvivorNet's rigorous medical review process.