Losing a Loved One to Cancer
Actor Benedict Cumberbatch lost his half sister, Tracy Peacock, back in December 2021 after a 7-year battle with cancer. He honored her in a recent speech when he accepted his star on the Hollywood Walk of Fame.
Grief is an unavoidable and essential part of the healing process following the loss of a loved one to cancer. But moving forward doesn't mean you have to forget about the one you love.
Things like time and therapy can help after losing a loved one to cancer. Camilla Legaspi, who lost her mother to breast cancer, says "therapy saved [her] life."
Reaching milestones can make you think of all the people who helped you get there. For actor Benedict Cumberbatch, receiving his star on the Hollywood Walk of Fame brought his mind to his beloved half sister. She died in December 2021 after a 7-year battle with cancer.
Cumberbatch, 45, accepted his star on Monday, February 28. The prolific actor's star is well-earned. He's played a variety of iconic roles ranging from 'Doctor Strange' in the Marvel universe to Sherlock Holmes. Most recently, he starred as closeted gay rancher Phil Burbank in the multi-Oscar-nominated film The Power of the Dog.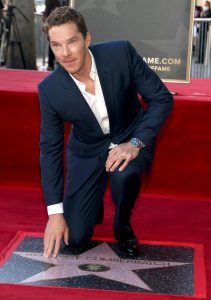 Read More
In his speech at the Monday event, Cumberbatch made sure to remember his sister, Tracy Peacock, who recently passed from cancer.
"I want to mention my sister who we lost last year," he said. "She would have loved this. She was unbelievably loyal, supportive, and she would have loved the glitz and the oddness and the glamour.
"She would have just been laughing non-stop all the way through, and probably crying."
He went on to address her directly.
"I hope somewhere up there, where the real stars shine, you're looking down on this moment now. I'm sure you are," he said. "We miss you so much. You remain such a good and wonderful person to have had in our lives."
Benedict Cumberbatch Mourns the Loss of His Sister
Cumberbatch announced his sister's death back in December 2021. He's notoriously private about his home life, and no details were shared about her type of cancer. Even still, he took the time to share more about his "gifted" older sister.
"She was a brilliant fine artist but ended up doing a lot of restorative work on canvas and on frames and carpentry," he said. "But still kept her hand in and did her own work and made the most Christmas and celebratory cards of any kind of festival. She was very gifted."
2021 NFL Draft Prospect Caleb Farley Tells SurvivorNet His "Mom Was Like a Superhero" Before She Lost Her Battle with Breast Cancer; Here's What Got Him Through
Peacock was the daughter of Cumberbatch's actress mother, Wanda Ventham, from her first marriage to James Tabernacle. But when Ventham married Timothy Carlton, the couple gave birth to Cumberbatch who then grew up his sister by his side. She even used to babysit Cumberbatch – though she did forget about leaving him on the freezing roof one time.
"She forgot about me," he recalled fondly. "I mean, it was funny. She was in the kitchen with her friends and she suddenly saw the snow falling through the window."
Peacock, who was 62, is survived by a husband and a 34-year-old daughter, Emily.
Losing a Loved One to Cancer
Grief is an inevitable – and essential – part of the healing process after losing a loved one to cancer. And there's definitely no one way to cope, but Doug Wendt shared his thoughts on grief in a previous interview with SurvivorNet after losing his wife Alice to ovarian cancer.
"I Don't Want to Move On; I Do Want To Move Forward": Doug Wendt On Being A Caregiver and Tragically Losing His Wife to Ovarian Cancer
"We're never gonna move on, I don't even think I want to move on, but I do want to move forward," Wendt said. "That's an important distinction, and I encourage anybody who goes through this journey as a caregiver and then has to face loss, to think very carefully about how to move forward."
Everyone's journey of grief looks different, but therapy and support groups can also be wonderful options to explore. It's also important to keep in mind that time does not heal everything, but it certainly helps.
In an earlier interview with SurvivorNet, Camila Legaspi shared her own advice on grief after her mother died of breast cancer. For her, therapy made all the difference.
"Therapy Saved My Life": After Losing A Loved One, Don't Be Afraid To Ask For Help
"Therapy saved my life," Legaspi said. "I was dealing with some really intense anxiety and depression at that point. It just changed my life, because I was so drained by all the negativity that was going on. Going to a therapist helped me realize that there was still so much out there for me, that I still had my family, that I still had my siblings."
Legaspi also wanted to remind people that even though it can be an incredibly difficult experience to process, things will get better.
"When you lose someone, it's really, really, really hard," Legaspi said. "I'm so happy that I talked to my therapist. Keep your chin up, and it's going to be OK. No matter what happens, it's going to be OK."
Learn more about SurvivorNet's rigorous medical review process.