Often in the SurvivorNet community, we hear beautiful stories about moms and daughters who are there for each other in special ways as one or the other goes through treatment for cancer. Our latest favorite story concerns Emilie Orton, a mom from Utah diagnosed with stage 2 ovarian cancer last summer, who let her 4-year-old daughter Norah cut her hair as she went through chemotherapy.
"Norah is so into hair stuff. She'll notice details like someone's glittery eye shadow," Orton told Today' Parents. "She doesn't get it from me."
Read More
Orton, 32, told "Today" that she made the bold move after her doctor said, "'Remember this is emotional for your kids too. You're not the only one going through it.' He suggested I find a way to involve them."
Norah is the youngest of Emilie and her husband Nick's three children.
"My favorite thing about kids … is that they love so big and so unconditionally that no matter what you look like, they can't see anyone but someone they love," Oren wrote.
The moment seems to have brought a lot of joy to a tough situation.
"It was way more happy and positive than I could have ever imagined. You can make funny things out of sad situations," Orton revealed to "Today." "Norah was so pleased with herself. She wanted to keep going."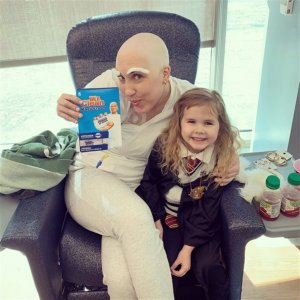 Mothers and Daughters During Cancer
SurvivorNet previously interviewed a mother and daughter, Melissa and Erica Berry, whose story is similar to the Orton's. They told us that going through cancer impacted their relationship in some pretty amazing ways.
Melissa Berry was diagnosed with triple negative breast cancer when she was 42 years old; her youngest daughter Erica was only 7 at the time.
Triple negative breast cancer survivor Melissa Berry and her daughter Erica on shaving Melissa's head and getting through cancer together
At the time, Erica was obsessed with becoming a hair dresser, so when Melissa was diagnosed with cancer, she happily helped her mom shave her head.
"It was the first big step that she really took in her whole journey," Erica told SurvivorNet. "It was cool to be a part of it with her."
Learn more about SurvivorNet's rigorous medical review process.
---