Delia Ephron's Acute Myeloid Leukemia Journey
Writer Delia Ephron has been through a lot. She lost her sister to acute myeloid leukemia in 2012 and then her husband of 32 years to prostate cancer just three years later. Then, in 2017, she was diagnosed with acute myeloid leukemia herself.
Ephron's battle with leukemia was harrowing to say the least. But after a successful stem cell transplant, she's still cancer free today and thankful for the advances in medicine, the supportive people in her life and her expert team that got her to where she is today.
Acute myeloid leukemia (AML), is a blood cancer that affects the spongy tissue inside of your bones called bone marrow.
Delia Ephron has always had a tale to tell. But her leukemia story is likely the most personal one she's shared yet.
The 77-year-old writer was diagnosed with acute myeloid leukemia in 2017. But prior to that diagnosis, Ephron was, sadly, no stranger to cancer. She lost her sister and collaborator, acclaimed filmmaker and writer Nora Ephron, to the same disease in 2012. Then, she lost her husband of 32 years, writer Jerome Kass, to prostate cancer just three years later.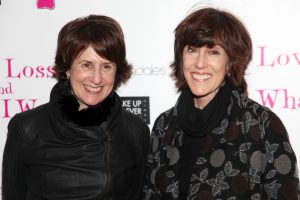 Read More
Then, much to her surprise, Ephron fell in love again. But just four months after meeting her now-husband whom she married whilst in the hospital, psychiatrist Peter Rutter, Ephron received her devastating diagnosis: acute myeloid leukemia.
RELATED: Writer Nora Ephron Quietly Fought Acute Myeloid Leukemia (AML)- The Exciting Advances In Treatment
"Everything big that could happen to me happened in a very short time," Ephron says in her memoir, Left on Tenth: A Second Chance at Life, out April 12.
In a piece for The Daily Mail, the co-writer of the rom-com classic You've Got Mail shares more details about her emotionally and physically taxing journey with acute myeloid leukemia starting with details of her treatment plan.
"'Are there other drugs for me?' I stand and move back. I need to get out of the room. I don't want to hear this," she writes. "'Yes,' says my doctor. 'But I don't think they will work for long. The only thing that will actually 'cure' AML [acute myeloid leukaemia] is a bone marrow transplant.'"
Ephron decides to go through the process of a bone marrow transplant, but she's later given the news that she doesn't have a perfect match. Still, her doctor gives her the option of pursuing a newer method – a haplo-cord transplant. This method, according to UChicago Medicine, uses a combination of half-match stem cells from a related donor and umbilical cord blood stem cells.
What Acute Myeloid Leukemia (AML) Patients Should Expect During A Bone Marrow Transplant
"It seems miraculous," she wrote. "Some science sounds like science fiction."
At first, one of her doctor's gave her a 20 percent chance of the transplant being successful. "If you don't have a transplant, you have four months, maybe four-and-a-half months left," the doctor told her. But then the odds went up at her second meeting with the doctor – 40 percent.
"I believe doctors rarely have any idea how helpless patients can be when their brains are jumbled by fear, how unable they are to respond or take information in," she wrote. "Or maybe it's just me."
On February 5, 2018, Ephron begins chemotherapy treatments with a clinical trial drug called CPX-351, or Vyxeos, to "test the drug's effectiveness as a chemotherapy before transplants." Sadly, this process didn't go as planned either.
"On the first day, the oncologist making rounds — I'll call this person Dr. C — stops by," she wrote. "Dr. C sits down in my room and says, 'You might be immune to CPX.'
"Immune? I had no idea I could develop immunity to my life-saving drug. If I'm immune, I'm screwed. Instantly my fragile hopes plummet. Instantly I am furious. Instantly I hate this doctor."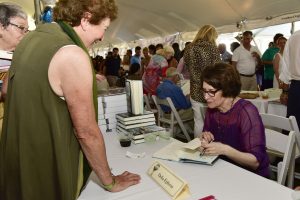 But thankfully, the suspicions of "Dr. C" were wrong. At the end of her course of chemo, her bone marrow was "clean" with no residual leukemia. From, there she needed another round of chemotherapy in the form of melphalan before she underwent the stem cell transplant. And this round of treatment really took a toll on her.
"I lose interest in food immediately," she wrote. "I can't taste it. I simply can't eat. I am too weak to get to the bathroom. This all happens quickly."
But, finally, on February 26, she got her first donor transplant. But after the second transfusion with the umbilical cord cells the next day, she quickly fell ill with "weakness, constant nausea, pill-dread and despair." She has a hard time recounting her time in the hospital then. She later found out from a friend that she was moved to the ICU on March 6 after she "caused a ruckus" when doctors tried to give her an MRI. She couldn't remember any of it. She was "deteriorating" mentally, and she even got to the point where she wanted to die. Her doctor told her she was suffering from toxic metabolic syndrome. Generally speaking, toxic-metabolic diseases affect the central nervous system (your brain and spinal cord).
"My text to Dr. Gail Roboz, my leukaemia specialist, on March 30: 'It is a particular kind of hell to come back from this. Weakness and fear and trauma,'" she wrote. "Dr. R texts back: 'You will bounce back strong and fit and fabulous and then write the best screenplay ever and Julia Roberts will play me.'"
What Are The Risk Factors Associated With Acute Myeloid Leukemia?
In April, she discovers her body is "fighting the transplant."
"I am lying limply in bed. This is all I can do," Ephron wrote. "I am on antidepressants but they don't make a whit of difference. I tell a friend I want to die, which upsets her. Actually, I upset everyone."
Then, on April 23, she wakes up struggling to breathe with low oxygen. Doctor's immediately work to get her oxygen saturation up.
"Peter stays up night after night watching me breathe," she wrote. "Another friend comes to see me. I beg her to help me die. 'It would destroy Peter,' she tells me. 'Oh, please,' I say, 'do you know how quickly someone would scoop him up? He's great.'
"I am a skinny, sick, raging animal. I am feral."
She texts SurvivorNet expert Dr. Roboz begging to stop treament, but she's asked to give the doctor 48 hours to make a difference.
"The next thing I recall is waking up," she wrote. "I'm not hooked up to oxygen. Peter, looking tired and handsome, is sitting across the room. My depression is gone, almost magically, like someone waved a wand, and I know instantly I'm starting to heal."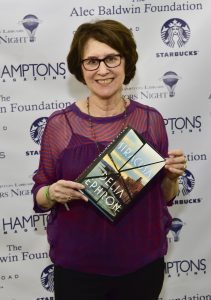 Ephron starts eating again and things are looking up. She even gets to return home on May 12 and her hair starts to return in July. She's on the road to recovery, but she was anxious to reach the two-year mark from transplantation – her doctor said that after two years post-transplant her cancer was unlikely to return.
"Life slowly becomes more normal," she wrote. "I feel secure on my own. I'm writing again. In February 2020, I have my two-year appointment with Dr. van Besien."
It was at that appointment that her doctor said her chances of developing leukemia again were about as high as his as someone who's never had cancer.
"I almost dance out of his clinic," Ephron wrote. "Simply, I was fortunate that I didn't die. I got my disease at a time of scientific discovery. I had great medicine and great love.
"And luck. That was a big part of my story. Luck that when I got sick, there were ten new drugs for AML after, as Dr. Roboz puts it, 'years of nothing.'"
And her beloved husband was there to help her through everything too – "steadfast through it all."
"A lot of good fortune wrapped around very bad fortune," Ephron writes now, as an acute myeloid leukemia survivor.
Understanding Acute Myeloid Leukemia
Ephron's type of leukemia, acute myeloid leukemia (AML), is a blood cancer that affects the spongy tissue inside of your bones called bone marrow. Acute myeloid leukemia is a rare cancer, but it is the most common type of leukemia in adults.
Dr. Mikkael Sekeres breaks down acute myeloid leukemia 
Dr. Mikkael Sekeres, chief of the Division of Hematology at the University of Miami Sylvester Comprehensive Cancer Center, explains that bone marrow is essentially the factory that makes all of the cells in the blood stream. This includes the red blood cells that bring oxygen to our tissues, white blood cells that make up the immune system and the platelets which help stop bleeding.
RELATED: Mother Of Three-Year-Old Abel Helson, Who Is Battling Acute Myeloid Leukemia (AML), Wants People To Send Him A Birthday Card
When a person has AML, "that factory gets broken" because the bone marrow fills with cancer cells. Ultimately, this hinders the creation and function of the important blood cells.
"So there's a bit of a paradox," Dr. Sekeres previously told SurvivorNet. "The bone marrow has too many cells, yet the bloodstream has too few cells as the normal bone marrow cells die off."
Symptoms of AML can include shortness of breath, decreased exercise tolerance, unexplained bruising or infections. But sometimes people with AML have no symptoms at all.
Dr. Gail Roboz explains the symptoms of AML
"Most of the time, this comes as an unwelcome surprise diagnosis," Dr. Gail Roboz, a medical oncologist at Weill Cornell Medicine, previously told SurvivorNet. "Often, patients have no idea that leukemia is even anywhere on the radar."
Learn more about SurvivorNet's rigorous medical review process.