In the aftermath a of any long cancer battle that ends in death — let alone one that plays out in the public eye — friends and supporters often want to find a way to remember the life they lost, and to be there for the family. After Beth Chapman's death for stage two lung cancer, her daughters Bonnie and Cecily Chapman are completing a project their mom started, and selling some long asked-for gear for a good cause, so that her supporters can honor their mom's memory and represent the Chapman family during this difficult time.
The shirt, available in black and white for $35, says "For Beth," in cursive scrawl, as do the caps, which are also $35 each and are available in white, black and camouflage. The family has partnered with One Love One Tribe Apparel, which sells environmentally friendly clothing made from recycled water bottles, and which donates a percentage to charities and people in need.
Read More
Beth Chapman began working with Bobbie Fisher, founder of One Love One Tribe, a few years ago before her cancer journey came in the way. "All of these items were created with ideas that Beth Chapman from Dog the Bounty Hunter and I were collaborating on over the past few years," says 
the "For Beth" page on the One Love One Tribe website
. "The signature is authentic and each piece is created with love and a prayer to honor Beth's legacy,"
The product description for the shirts and hats explains that Cecily is helping to finish what Beth started, "These items are part of the collaboration between Beth Chapman and Bobbie Fisher that was started years ago and is being carried on by her daughter Cecily to perpetuate Beth's legacy."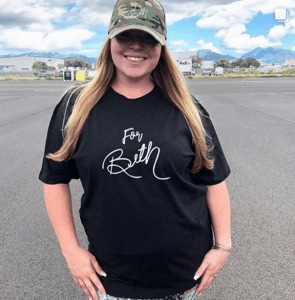 Bonnie, Beth's only daughter with her reality TV bounty-hunting partner Duane "Dog" Chapman, first revealed the clothing line in her Instagram story, with photos of the gear, and one of Cecily sporting the T-shirt and hat.
Then, Cecily posted photos of the gear alone, as well as some photos of herself modelling the shirts and caps, writing "YOU ASKED FOR IT, YOU GOT IT!!! We have officially gone LIVE with the "For Beth" Signature Caps & T Shirts!!" in the caption.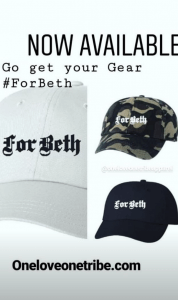 She also explained how to order them, "GO TO @oneloveonetribeapparel AND ONELOVEONETRIBE.COM," and told supporters to stay on the lookout for updates soon, "GET YOURS TODAY AND STAY TUNED FOR ANNOUNCEMENTS OF OTHER ITEMS AND OUR MEET AND GREET TOUR!!"
In the hashtags, she mentioned #legacy, #commemorate, and #gowheretheloveis, all of which speak to the powerful memory thatBeth Chapman evokes for the Chapman family and their supporters, "#forbeth #cecilygoingplaces #oneloveonetribeapparel #tshirts #caps#camouflage#custom #oneofakind #legacy #commemorate #dogthebountyhunter #gowheretheloveis."
And fans were extremely excited about the gear, "Woo-hoo!!!! They look great!!! Congrats on the launch!!!!"
"Your mom never knew how much we all adored her [heart] this line is so cool."
Beth's cancer journey
Beth was originally diagnosed with stage II throat cancer in 2017, and after treatment, was declared cancer free. Then, she was diagnosed again the following year with stage IV lung cancer. After the second diagnosis, she decided to forego chemotherapy, relying instead on her Christian faith. (A decision that Beth announced on Mother's Day of this year).
The journey became more difficult yet toward the end, when Beth Chapman was put into a medically induced coma to alleviate some of her pain and stress after a choking incident related to her cancer.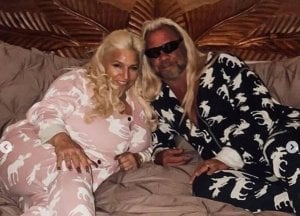 Beth Chapman ultimately died at age 51 in Honolulu, Hawaii, surrounded by family members and those who loved her.
The Chapman family went on to hold two emotional memorial services for their mother—one in Hawaii, and one in Aurora, Colorado. The two locations were where Beth and Dog Chapman split most of their free time when they weren't bounty hunting for criminals.
Information about dealing with fear and negative emotions during cancer
Anxiety and fear are totally normal reactions to the news of cancer, and acknowledging these emotions can be therapeutic and important to the healing process.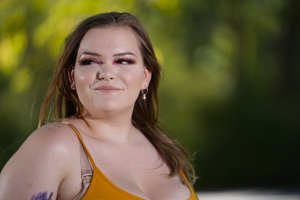 "I think the most important advice I would give to someone who has just received a cancer diagnosis is to find people whom they find as a source of support. To allow themselves to go through all of the different emotional reactions to that news," said Dr. Susan Parsons, Director of the Center for Health Solutions/Center on Child and Family Outcomes at Tufts Medical Center, in a prior interview with SurvivorNet. Dr. Parsons did not comment on this case specifically.
"The anger, the frustration, the fear. The disappointment. Whatever those emotions are, figure out what's important to you and find those people that can help you realize that."
Dr. Susan Parons, Director of the Center for Health Solutions/Center on Child and Family Outcomes at Tufts Medical Center on dealing with fear and anxiety after a cancer diagnosis.
In times of frustration, it can be useful to a little bit of direction on specific ways to deal with it. A few of the most common ways to deal with fear and anxiety after a cancer diagnosis, that have helped people in the SurvivorNet community in the past, include:
1. Let your family and close friends know – and let them help. So many cancer survivors tell us they want and need support but are often too preoccupied to make specific requests. Urge those close to you to jump in with whatever practical help they can offer.
2. Keep a journal. It can be extremely cathartic to let those feelings loose on paper. Grab a pen and a nice journal and chronical your different thoughts throughout the day.
3. Join a cancer support group. There are groups in nearly every community offering opportunities to connect with others going through a similar journey. You'll learn incredibly helpful insight from others who can tell you about what to expect and how to stay strong on tough days.
4. Consider seeing a therapist. Ask your doctor to refer you to a therapist so you can discuss your fears and concerns in a safe space. Often, vocalizing your thoughts and feelings rather than internalizing them can provide relief.
Learn more about SurvivorNet's rigorous medical review process.