Beth's Children Reunited For First Time Since Her Passing
Garry and Cecily Chapman are together for the first time since their mother's passing from lung cancer.
Beth Chapman passed away last June after battling stage four lung cancer. Her husband Duane "Dog" Chapman and both of her children have spoken publicly about their healing journey.
Family is crucial at every stage of the cancer battle, and there are resources to help if you're coping with the loss of a loved one.
Reality TV star Duane "Dog" Chapman's son Garry and daughter Cecily are seeing each other for the first time since their mom's funeral, which was more than a year ago.
Beth Chapman lost her battle with lung cancer in 2019
 and now her kids are reunited and it's so sweet to see their love for one another.
Related: "Beth Doing Beth" — Exclusive "Dog's Most Wanted" Clip Shows Beth Chapman Telling Off Criminals and Bounty Hunting Just Months Before She Died of Lung Cancer
Read More
Cecily, 27, made the long trip from Hawaii to Jackson, Michigan to catch up with her brother. "
I want to give Garry Boy my motherly touch
, go cook him some food, clean up his house a little bit, just show him some love," Cecily told
The Sun
.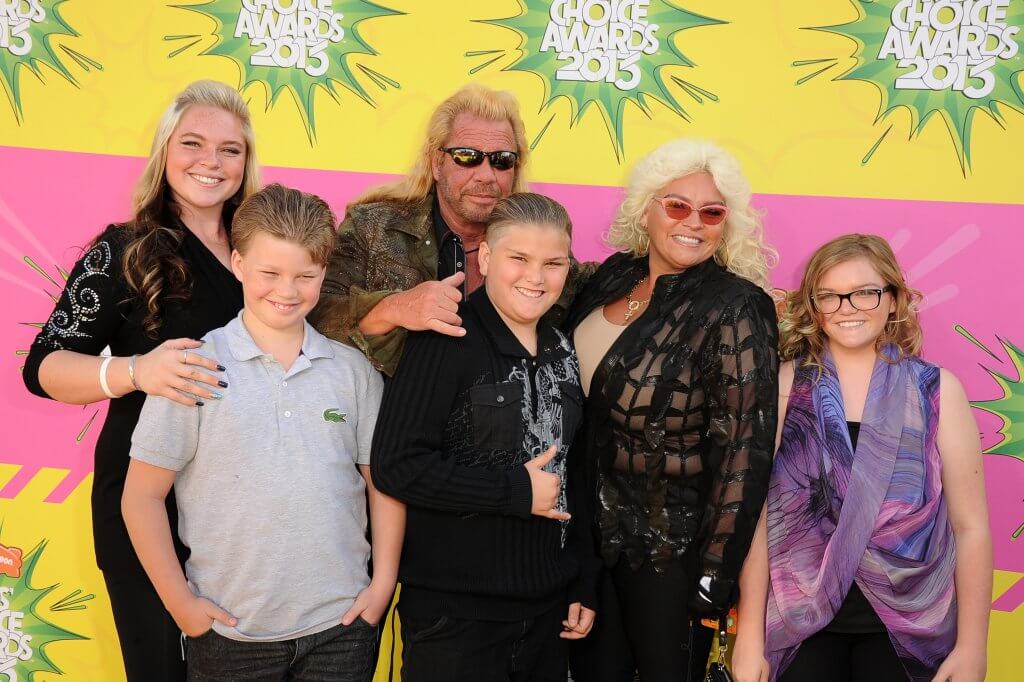 Both siblings have been open about their struggles coping with their mother's death. Cecily shared a close relationship with her mom and even wore her wedding dress for her recent nuptials. Garry recently shared a touching Instagram post describing his journey to healing after losing his mom.
Related: Beth Chapman Chooses Cannabis Over Chemo in "Dog's Most Wanted" — Quality of Life and Palliative Care For Incurable Lung Cancer
"Some days I'm up. Some days I'm down. Some days I turn and look for you with thoughts I'd like to share. Some days I wonder what you would think or say. Some days I struggle to go on just wishing you were here. Most days I spend in gratitude that you were ever here. Miss you momma, happy birthday."
View this post on Instagram
Beth's Stage Four Lung Cancer
Beth was best known for her work alongside her husband on the reality TV show, Dog the Bounty Hunter. She was 51 years-old when she passed away in June 2019 after battling lung cancer. Her fight was documented on their reality TV show.
Following her diagnosis, the Chapmans dove into researching cancer treatments, to figure out what would give Beth the best chance of survival. The couple sought out multiple doctors and visited lead experts in the field of cancer care. Her doctors recommended chemotherapy, but noted that they were unsure of how the cancer would respond to the drugs used. Following their recommendation, Beth began chemotherapy.
Related: Duane "Dog Chapman" Reveals How He Supported Beth Chapman In Her Final Days Fighting Lung Cancer
She experienced painful side effects as a result of the treatment, which led her to stop pursuing chemotherapy. The treatment path was ultimately ineffective for Beth. In an earlier interview with SurvivorNet, Chapman expressed his anger following the death of his wife. Anger is part of the grieving process for many. Chapman said, "We put people in [jail] for robbin' banks and robbin' grocery stores," Dog said. "These doctors are robbin' more than that."
Family is Crucial
There's nothing more important than family, especially during your battle with cancer. Your loved ones can be a crucial source of emotional support and companionship in helping you navigate a difficult battle with cancer. Beth had great support through her cancer journey.
For many survivors, faith helps them stay positive in the face of daunting medical challenges and inspires them to fight on.
Beverly Reeves, an ovarian cancer survivor, told SurvivorNet that her family, along with support from friends and faith groups, helped her get through treatment. She tells people going through difficult cancer battles to stay connected to faith groups and the critical support they offer.
"If you're connected to a faith community, get your faith community, and get your family," she told SurvivorNet in a previous interview. "Let them know what's going on and let them help you.
'Faith, Family, and Friends' Helped Beverly Reeves Get Through Ovarian Cancer Treatment
Having a positive outlook and support system like Reeves benefits more than just the heart — it can actually help patients live longer. Dr. Murrell told SurvivorNet in a previous interview that he's "pretty good at telling what kind of patients are going to live the longest, even with bad, bad disease. And those are patients who have gratitude in life."
SurvivorNet has interviewed hundreds of survivors who've shared similar stories of how family has helped them persevere through their battles with cancer.
Whether it comes from faith, family, community, or another source, strength and positivity are key to overcoming cancer. SurvivorNet's medical experts urge those fighting cancer to talk to their doctors and loved ones to develop a support system for their battle.
Ovarian Cancer Survivor Nancy Iverson On the Important Role Family Played In Her Early Stages of Treatment
Coping with Loss
Losing a loved one to cancer can be devastating, and there's no one right way to heal. The Chapman's have been working their loss in their own way.
Sadness Is Not Always A Bad Thing — Coping After Losing A Parent To Cancer
Camila Legaspi lost her mother to breast cancer when she was in high school. Looking back, she now sees her loss as inspiration to express herself through writing.
"I learned that it's OK to be sad sometimes. It's OK to carry sadness with you … it's not always a bad thing," Legaspi told SurvivorNet. "It makes you who you are and it gives you a story to tell and it helps you teach other people to cope with their sadness."
Related: "Watchmen's" Yahya Abdul-Mateen II Reminds Us Losing a Parent to Cancer Affects Us Forever By Thanking "Daddy" in Emmy Speech
The pain that comes from losing a parent may never fully go away, but it can be used to help others. Scandal actor Scott Foley lost his mother to ovarian cancer when he was only 15, a loss which devastated him but has given him the resilience he's needed to push on through challenging times.
"Dealing with loss at a young age, and dealing with someone who's sick all the time, that really turned me into someone who built the resilience in me that I walk with today," Foley told SurvivorNet. "I know that just by dealing with what I dealt with as a teenager…there is nothing that anybody can throw at me; bring it on, 2020."
Related: 'Scandal's' Scott Foley Tells SuvivorNet That He's Not Sure His Family Ever "Fully Recovered" From Losing His Mom to Ovarian Cancer; He Was Just 15
Counseling and therapy can help those grieving a parent cope with the loss and build new attitudes that turn suffering into resilience. Losing a parent is one of the hardest things anyone can go through, so take advantage of trained mental healthcare professionals who know exactly how to help you adjust.
"Therapy Saved My Life": After Losing A Loved One, Don't Be Afraid To Ask For Help 
Learn more about SurvivorNet's rigorous medical review process.