Paying Tribute To His Late Father
34-year-old Yahya Abdul-Mateen II won his first Emmy for HBO's Watchmen and remembered his father in his acceptance speech.
The Yale-educated actor decided to study acting following the loss of his father to cancer.
"I was 21, and my best friend had died," Mateen II has said of losing his dad.
Yahya Abdul-Mateen II lost his dad to cancer when he was just 21; that's a loss that stays with your forever. Now, the Yale-educated actor
just won his first Emmy
and while we swoon over him, we also understand and appreciate him a little better.
Abdul-Mateen, winning for his powerful turn on HBO's Watchman thanked his late father, who died of cancer, in his acceptance speech:
Read More
"Oh, man. Thank you so much to the Academy. I'm so excited right now. I want to say thank you first off to my mama and my daddy. Man, I'm surprised. Thank you so much…"
The New Orleans native lost his father, Yahya Abdul-Mateen I, in 2007, when Mateen I was 62 years old. At the time, the actor was then a student at Berkley studying architecture. "We didn't expect it to escalate so rapidly," he has said.
Related: Minorities Are Missing Out On Life-Saving Cancer Care & Clinical Trials: 4 Changes Needed to Help Fix This Problem
Mateen II has not disclosed publicly the type of cancer his father was diagnosed with. He recalled that period of loss in a Time magazine interview.
Dog the Bounty Hunter Talks to SurvivorNet About Coping With Loss of a Loved One to Cancer
"In my mind it was like 'He'll pull through.' When he didn't, I didn't understand. I was 21, and my best friend had died. The worst thing that could happen happened, so it taught me to do the thing that makes me happy and to really chase my dreams."
Related: Actor Chadwick Boseman, 43, Passes From Colon Cancer After Private 4-Year Battle, Devastating Fans: 'Immeasurable Grief'
The loss shook his tightknit family, reports The Wall Street Journal. And it was incredibly hard on young Yahya. A few years after the loss of his dad, Mateen II was accepted into the esteemed Yale School of Drama and decided to give it a shot. Of acting, he said, "I'm going to give myself three years to make significant progress." And progress he did make.
Related: Close the Gap: Racial Disparities in Cancer Care Are Devastating– Let's Change Things
In the face of unthinkable loss, Mateen II used the grief to propel him to new heights. His father is surely watching proudly as the actor did not succumb to grief, but instead, worked hard at his craft to make his late father proud.
Disparities in Cancer Treatment For Minorities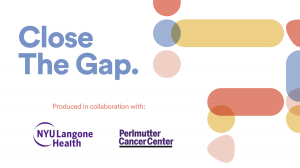 SurvivorNet and NYU Langone Health's Perlmutter Cancer Center are collaborating to help close the racial gap in cancer prevention, cancer care, and survival rates.
There are disparities in cancer care and treatment for minority groups in the U.S., with stark statistics like: Black men in America are 50% more likely to die of prostate cancer than other races.
Dr. Ted Teknos writes for SurvivorNet that "Compared to the general population, Black patients and other minorities are underrepresented in clinical trials. It's imperative this changes; opening up these clinical trials to a wider range of minorities could increase their chances of survival."
It's Imperative Black Cancer Patients Get Better Access to Clinical Trials
Learn more about SurvivorNet's rigorous medical review process.