'Between Two Kingdoms' Author Fighting Cancer for Second Time
Between Two Kingdoms author, Suleika Jaouad, is battling leukemia for a second time; she chronicled her first bout with cancer in the bestselling memoir, which was recently released in paperback following its initial 2021 publication.
The author and partner of Jon Batiste had a bone marrow transplant and is undergoing chemotherapy to treat her cancer.
Many people, like Jaouad, turn to art, like writing, to help themselves cope with a cancer diagnosis and journey.
Between Two Kingdoms
by Suleika Jaouad was released in paperback this month following the success of its initial hardcover release in February 2021.
This book is a cancer memoir from author and journalist Suleika Jaouad who is currently battling leukemia for a second time and sharing her journey with fans and followers. The book chronicles her 2010 leukemia diagnosis at age 22; a time when she'd just fallen in love with her new boyfriend and moved to Paris.
Read More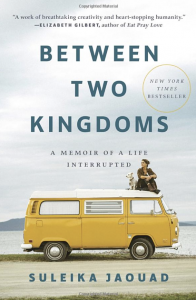 The breathtaking book, Between Two Kingdoms, tells the story of how the author's life was forever changed when she was diagnosed with cancer in her early 20s.
"I poured my whole heart into this book."
In this New York Times bestseller, Jaouad shares her story with readers in Between Two Kingdoms. She turns a narrative lens on the cancer journey through the eyes of a young woman, who, instead of starting her career, was stuck in a hospital starting cancer treatments.
Speaking with Vogue about the paperback release amid her illness, she says, "One of the hardest things about having a life-threatening illness or some other kind of big, blinding loss is that your carefully-laid plans go up in smoke. I was so excited for this paperback to come out."
She continues, "I poured my whole heart into this book and it was a four-year labor of the love and when I realized that the paperback was going to come out while I was in the bone marrow transplant unit, I knew immediately that whatever ideas I'd had of having a virtual book tour, or I wanted to do a bone marrow registry drive along with my events, were not going to happen."
Jaouad's Cancer Journey
Speaking with Vogue magazine in an interview published this month, Jaouad says she's doing well. "I, today, am actually doing well. I believe I'm on day plus-32 post transplant and I've been out of the hospital for almost exactly a week," she tells the magazine. She says she learned her illness was back in November of last year.
She says, "It's so incredibly rare, I think less than 1% of patients, according to my doctor, relapse 10 years after a bone marrow transplant. When my oncologist called me, she was in tears. Not just my world, but my partner's world and my family's world completely imploded. We had a weekend to pack up all of our things, to find temporary homes for our dogs, to find a borrowed apartment in New York City and for me to begin chemo."
The Between Two Kingdoms author describes this time period as "overwhelming" and "terrifying." But she says that when the shock wore off, it became a "strangely beautiful time." Her parents came to help her, along with her brother.  She says, "it's such a privilege to be surrounded by so much love and care. I see patients all the time in the hospital who don't have visitors and I feel so keenly aware of that."
Jaouad battled leukemia in her early 20s, and again today in her early 30s. Dr. Nina Shah, a SurvivorNet adviser and hematologist at the University of California San Francisco, explains in an earlier interview how to best understand leukemia. "One cell got really selfish and decided that it needed to take up all the resources of everybody else, and in doing so, took up space and energy from the rest of the body," Dr. Shah says.
"In general having a blood cancer means that your bone marrow is not functioning correctly," she explains. "And when your bone marrow doesn't function correctly it means that you can have something happen to you like anemia. Or you can have low platelets, which makes it possible for you to bleed easily. Or your immune system is not functioning correctly."
What is a Blood Cancer – How is it Different?
What is a Bone Marrow Transplant?
The Between Two Kingdoms author, Jaouad, also had a bone marrow transplant for treatment. A bone marrow transplant is a treatment used for some cancers, like leukemia. It replaces bone marrow with healthy cells; it is also called a "stem cell transplant."
In a previous interview, Dr. Caitlin Costello, a hematologist-oncologist at UC San Diego Health, says, "The things we consider for patients who may need an autologous stem cell transplant is number one their disease."
Dr. Costello explained that a stem cell transplant is more effective for certain diseases. "There are some diseases for whom this works better than others," she said. "It's most commonly used in relapsed diffuse large B-cell lymphoma, but there are other lymphomas, mantle cell lymphoma for whom which patients oftentimes get and I'll autologous stem cell transplant as soon as they achieve remission. Or something close to it."
Is a Stem Cell Transplant Right for You?
Learn more about SurvivorNet's rigorous medical review process.