John Daly's Bladder Cancer Won't Stop Him
Golfer John Daly hit his 11th hole in one while golfing in a charity event for fallen soldiers
Daly recently revealed that he had been diagnosed with bladder cancer, and despite going through surgery, there's a high chance the disease will return
Smoking is one of the leading causes of bladder cancer, and Daly smokes about 40 cigarettes a day
Eccentric professional golfer John Daly, 54, isn't letting his ongoing battle with bladder cancer stop him from showing off on the golf course. In an incredible example of resilience, Daly is proving to his fans and golf colleagues that he hasn't missed one stroke since the diagnosis.
Related: Golfer John Daly Diagnosed With Bladder Cancer: "No Matter What Happens, I'm Not Scared To Die"
Read More
Daly recently hit a hole in one during a charity golfing event, sharing the video on his Instagram, with commentary from sports broadcaster Bob Menery, that is definitely not safe for work! Daly tells us in his post that he was listening to the
Eddie Van Halen
, who'd just passed from throat cancer, saying: "Def some of the best commentating! 😂 @bobmenery Crazy we were jammin' to Van Halen all afternoon….playin in the background & hit the ace 🤟🏼🙏 #ripmyfriend"
It's safe to say that this may be the most John Daly-esque hole in one ever. Not only is he barefoot, but he's rocking his signature patterned shorts and just a casual t-shirt. If you know golf then you know John Daly, an iconic pro in the wolf world. So, when it comes to showing off his talent, he's more focused on perfecting his swing rather than his outfit.
In September, Daly revealed that he had been diagnosed with bladder cancer after visiting a urologist. Before the check-up, Daly had been complaining about back pain he had been experiencing and thought it was due to kidney stones. However, the urologist informed him that wasn't the case, and the problem stemmed from bladder cancer.
"[The urologist said] it doesn't look like any stones are in there. But unfortunately, you have bladder cancer," Daly told  PGA Tour Champions Learning Center's Golf Channel. "After I did the CT [scan] I was fixing to sip on my Diet Coke and he said, 'Don't drink anything. We have to get you back in here and get this cancer out of you.'"
Related: FDA Orders The Most Significant Change To Cigarette Labels in 35 Years
Daly had surgery to remove the cancer, and even though it was successful, the chances of the disease returning is 85%. Since his surgery, Daly has made a vow to start incorporating a more healthy lifestyle by quitting cigarettes and cutting back on his Diet Coke consumption. This definitely could be a difficult transition, since Daly has been known for leading a rock n' roll lifestyle by smoking an estimated 40 cigarettes a day and drinking up to 12 Diet Cokes.
It's for the best that Daly cuts back on his vices, but it's nice to see that he hasn't lost his one-of-a-kind sense of style or skills on the golf course.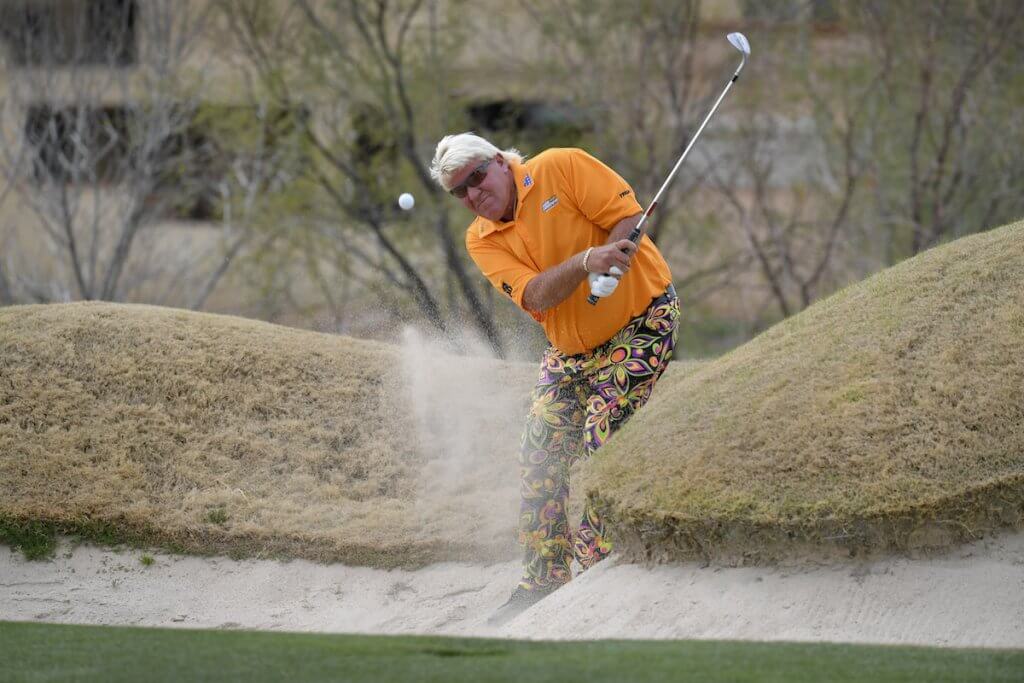 Navigating a Bladder Cancer Diagnosis
Bladder cancer is the fourth most common cancer among men, and is especially present in people over the age of 55. One of the leading causes of the disease is excessive smoking, with smokers being three times more likely to face a bladder cancer diagnosis than non-smokers. It's caused when cells that make up the urinary bladder start growing out of control, which can develop into tumors and over time. If not caught early enough, the tumors can spread to other parts of the body.
Usually, patients will have surgery as a part of their bladder cancer treatment. However, in cases like Daley's where the disease is likely to come back, immunotherapy is considered as another treatment option. According to Dr. Arjun Balar, Director of the genitourinary medical oncology program at NYU's Perlmutter Cancer Center, 60-70% of people diagnosed with advanced bladder cancer may not be able to have the cancer fully removed from surgery, and are not eligible for chemotherapy options. There's where a new development, called checkpoint inhibitors, comes in.
Related: Carson Daly Lost His Dad To Bladder Cancer When He Was Just 5 Years Old, But His Memory Lives On In Touching Tribute
"What's happened over the last decade is the development of these drugs called immune checkpoint inhibitors," Dr. Balar tells SurvivorNet. "Specifically, the checkpoint in question here is a checkpoint called PD-1, and we're finding out that they're particularly active in bladder cancer, and what these drugs do is reinvigorate the immune system and unleash the immune system against cancer."
Dr. Arjun Balar explains how immunotherapy can help treat advanced bladder cancer
So far, five immunotherapy drugs have been approved by the Food and Drug Administration (FDA) for advanced bladder cancer, which includes avelumab, pembrolizumab, atezolizumab, nivolumab, and durvalubam.
However, like any other cancer treatment, immunotherapy can bring its own side-effects. While going through this particular therapy, patients may experience changes such as diarrhea, shortness of breath, a cough, and other organs being impacted by the treatment. The good news is, that since these side-effects are often expected, your physician will probably be able to monitor them and perhaps adjust your treatment so they aren't as intense.
Dr. Arjun Balar breaks down the side-effects to immunotherapy
Learn more about SurvivorNet's rigorous medical review process.