Being Responsible Saved Her
Vicky Popham, 45, from Lincolnshire, England, credits a fake tanning mousse to saving her life.
The foster care worker found her own breast cancer lump by performing an accidental self-check on herself while she applied the product.
Breast self-exams are easy to do and should be performed once a month, according to experts. If you feel something strange, get in to see your doctor in between mammograms.
Vicky Popham, 45, from Lincolnshire, England, credits a fake tanning mousse to saving her life. The foster care worker found her own breast cancer lump by performing an accidental self-check on herself while she applied the product.
43 years old at the time, the "blonde bombshell" was simply trying to boost her spirits ahead of her birthday with some color on her skin. Although the "hard and dense" lump caught her by surprise, she wasn't overly concerned at first.
Read More
"I went to the doctors thinking 'it'll be alright it'll just be something connected to my hormones' then he said he was going to refer me to the breast clinic to get it checked out," Vicky said
in an interview
.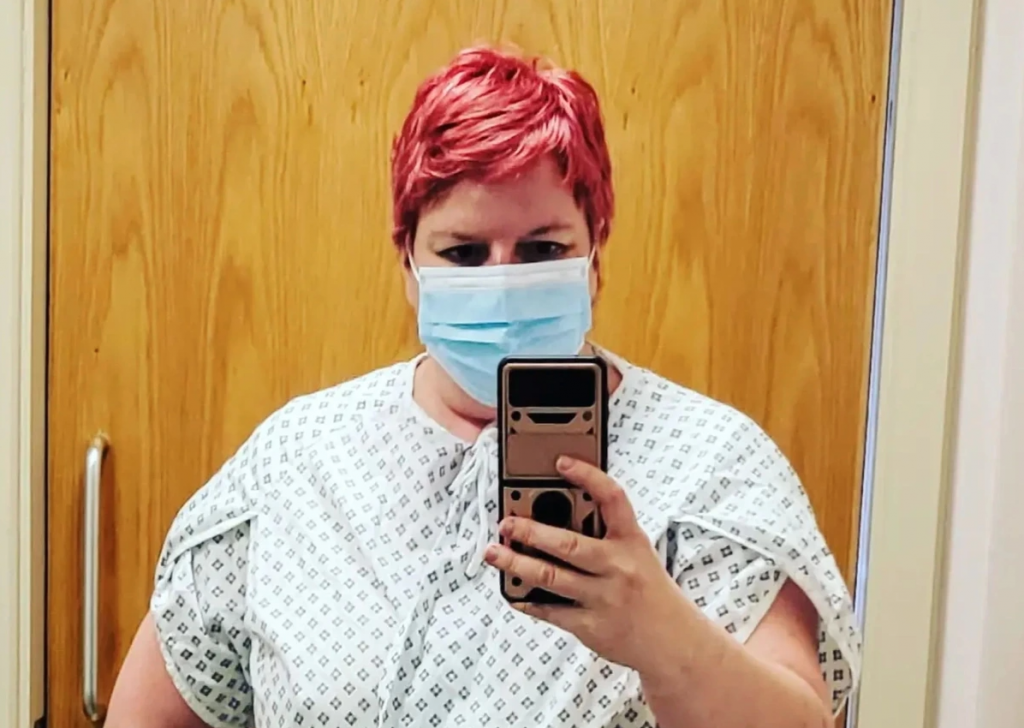 "I was sitting on my own in a little room and I genuinely didn't think anything of it," she recalled. "That's where they told me 'we've found some cancer.' I didn't cry, I didn't have any emotion."
Related: Star TV Host, 51, Says 'Don't Be Afraid to Ask For Help' While Going Through Cancer: Your Mental Health is Just as Important
"I almost didn't believe it. I was massively in denial, I think I still am in denial, you don't believe it's happening to you," she added. "I've never been so scared."
Feel the Fear, and Let it Go — Meditation for Cancer Survivors
Vicky underwent a lumpectomy for the coin-sized mass in August 2020, prior to starting treatment. Her six chemotherapy sessions began in November, and on Christmas Eve, dressed as an elf to celebrate, she had her last infusion. Then she started her 18 rounds of radiation.
Unfortunately, that was not the end of her treatment plan, as Vicky had tested positive for the BRCA 2 gene mutation, which ups her risk for breast cancer and recurrence. She was advised to have both of her breasts removed.
Related: 'Thanks for the Mammaries!' Feisty Mom of 4 Throws Her Boobs a Celebration for Breastfeeding 11 Children Before Double Mastectomy
"What are you going to do? Have cancer or have no boobs? You're going to have no boobs, it's a no-brainer," Vicky said. Even though she was deemed cancer free, having a mastectomy is sometimes a necessity for prevention, depending on what type of cancer you have and if you carry a gene mutation like Vicky.
"When you think you've got rid of all the cancer and then two years down the line when normal life resumes to be told that the risk of it coming back is very high, it's a massive kick in the teeth."
As she awaits another surgery, Vicky is using her story to help other women, encouraging self-exams.
"I would advise people to check every month and if you notice anything different go and get it checked out straight away," she said. "You can't wait, if I'd ignored that and done nothing about it I could have been stage 4 and that would have been a very different story."
Learning More About BRCA Mutations
BRCA (a breast cancer gene mutation) is actually two genes (BRCA1 and BRCA2), each proteins that work as tumor suppressors. They help repair damaged DNA, and are important for ensuring the stability of each cell's genetic material.
When either of these genes is altered, that mutation can mean that its protein product does not function properly, or that damaged DNA may not be repaired correctly. These inherited mutations in BRCA1 and BRCA2 can increase the risk of female breast and ovarian cancers, and have also been associated with increased risks for several other cancers.
Related: Arizona Women's Cancer Doctor Decides To Have Double Mastectomy Due to Family History, Even Though She DOESN'T Have The BRCA Gene
Dr. Rebecca Arend, Associate Scientist at the University of Alabama, Birmingham, explains the mutation in terms of its ability to repair damaged DNA.
"What a BRCA mutation is, is a defect in your ability to repair a double-strand break (in your DNA)," Dr. Arend tells SurvivorNet. "The BRCA mutation, which is passed on from a father or a mother, can cause a variety of cancers, including fallopian tube and peritoneal cancer, which are ovarian cancers."
Related: The New Information About Beyonce's Dad's Breast Cancer– The SurvivorNet Guide to BRCA and Inherited Breast Cancer Risk
Dr. Arend says that while roughly 1.3 percent of women in the general population will develop ovarian cancer sometime during their lives, it is estimated that about 44 percent of women who inherit a harmful BRCA1 mutation, and about 17 percent of women who inherit a harmful BRCA2 mutation, will develop ovarian cancer.
Learn more about SurvivorNet's rigorous medical review process.