Wrestler Joe Doering Fights Brain Cancer Again
Wrestling champ Joe Doering has revealed he is battling brain cancer for a second time.
 The 40-year-old, the two-time IMPACT Wrestling World Tag Team Champion was first diagnosed in 2016, but was able to return to action in the ring the following year after treatment.
Doering now confirms he is once again fighting the disease.
Wrestling star is stepping away from the sport to focus on his health
Wrestling champ and all around "tough guy" Joe Doering has revealed he is battling brain cancer for a second time.
The 40-year-old, the two-time 'IMPACT Wrestling World Tag Team Champion' was first diagnosed in 2016, but was able to return to action in the ring the following year after treatment.
Read More
He now confirms he is once again fighting the disease.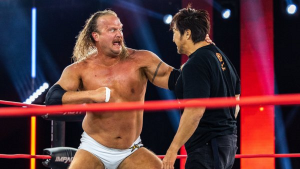 "They told me in 2016 that I would never wrestle again, and I proved them wrong. Guess I'm going to have to do it again," he said.
"I try to not get too sad or emotional about it. Staying positive really helped me the first time, and that's what I'll do again."
There Is New Hope for Those Fighting the Same Cancer That Took John McCain & Ted Kennedy; Using Polio & Immunotherapy to Fight Brain Tumors
Doering is stepping away from wrestling to focus on his health, and says he shared his plans with IMPACT management and has asked for well wishes.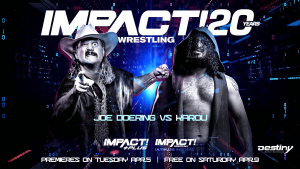 "Please keep me in your thoughts and spirits. I hope to get back in the ring again very soon," Doering said. "To the IMPACT Wrestling locker room: you are family to me and I look forward to seeing you again very, very soon."
Scott D'Amore – IMPACT Wrestling Executive Vice President – says Doering has the entire organization's support.
"I know our fans and the wider wrestling community will join everyone at IMPACT in keeping Joe and his wife Lindsay in their thoughts and prayers," D'Amore said. "Joe loves pro wrestling and we all look forward to him returning to action when he's ready."
Fans and fellow wrestlers have paid tribute to Doering following the heartbreaking news, including Davey Richards, who described him as a 'true warrior'.
Also, IMPACT's Sami Callihan tweeted: "On a real note. @bigjoedoering is one of my favorite people in the business. A true locker room leader and an amazing person. All the positive vibes his way."
Understanding Brain Tumors
The central nervous system consists of the brain and spinal cord and acts as the main "processing center" for the entirety of the nervous system.
Normal function of the brain and spinal cord can become difficult if there's a tumor present that puts pressure on or spreads into nearby normal tissue.
It is important to note that there are many different types of brain tumors.
Some are more likely to spread into nearby parts of the brain or spinal cord.|
Slow-growing tumors may be considered benign, but even these tumors can cause serious problems.
The symptoms below are often caused by increased pressure in the skull, caused by tumor growth, swelling in the brain or blockage of cerebrospinal fluid.
Headache
Nausea
Vomiting
Blurred vision
Balance problems
Personality or behavior changes
Seizures
Drowsiness or even coma
Keeping Busy during Treatment
Many people undergoing treatment find it helpful to have ongoing projects or things to look forward to that are separate from their cancer battles.
Whether it's releasing new music, participating in a book club or practicing your photography skills, there are no right or wrong answers.
Studies prove that patients who are able to maintain a positive outlook often have better treatment outcomes. Experts such as Dr. Dana Chase, a gynecologic oncologist at Arizona Oncology, recommend doing whatever makes you happy.
"We know from good studies that emotional health is associated with survival, meaning better quality of life is associated with better outcomes," Chase told SurvivorNet in a previous interview.
"So working on your emotional health, your physical well-being, your social environment [and] your emotional well-being are important and can impact your survival. If that's related to what activities you do that bring you joy, then you should try to do more of those activities."
Dr. Dana Chase encourages those facing cancer to find moments of joy during treatment
Positive Attitude During Brain Cancer Fight
Maintaining a positive attitude and the power of positive prayer are both highly recommended by doctors and cancer survivors alike.
In a previous interview with SurvivorNet, Dr. Zuri Murrell, director of the Cedars-Sinai Colorectal Cancer Center, said that he notices a real difference in how his patient's handle treatment when they approach it with positivity.
Dr. Zuri Murrell told SurvivorNet that he sees a real difference in how patients respond to treatment when they live with gratitude
"People often ask me about prayer in terms of therapy," Dr. Murrell said. "I believe that prayer is very helpful. But also, in some patients who don't believe in prayer, I believe that a positive attitude is what's really important … for a lot of people, prayer helps them develop this."
Learn more about SurvivorNet's rigorous medical review process.
---