UPDATE: Since publishing this story yesterday, we have sadly learned that Gabe Grunewald has died. According to a post from her husband, Justin Grunewald, Gabe died peacefully with no suffering after being moved to comfort care in her own home. Our thoughts are with Gabe's family and friends, who loved and supported her through her 10-year cancer journey, and continue to encourage others to be #BraveLikeGabe.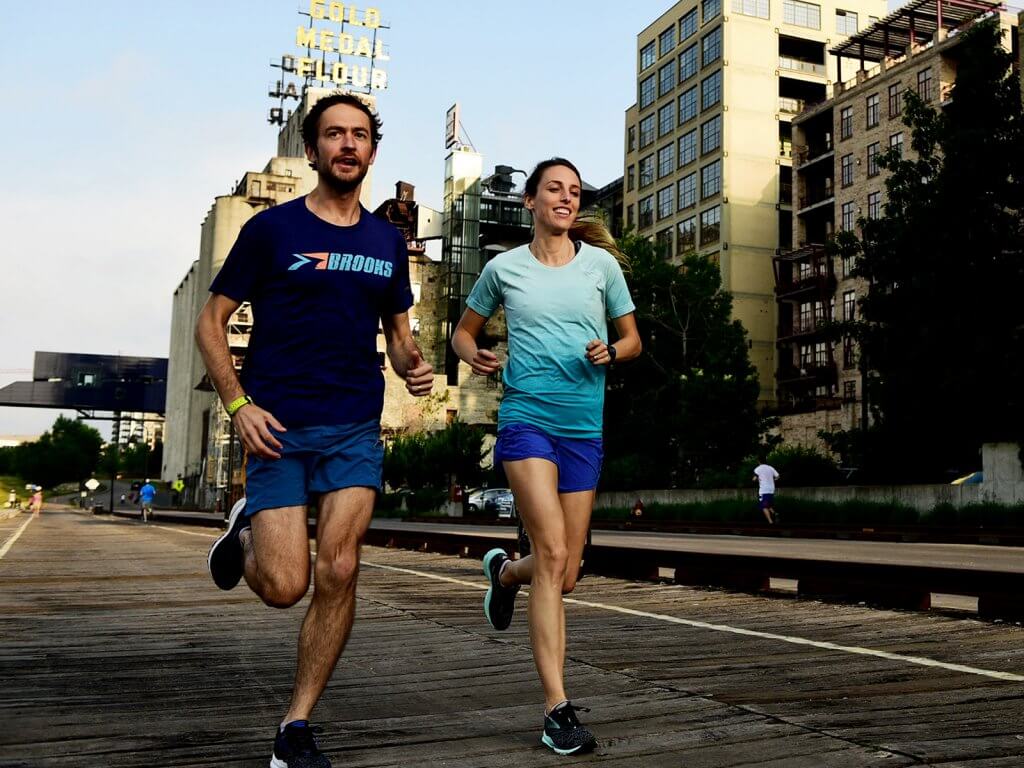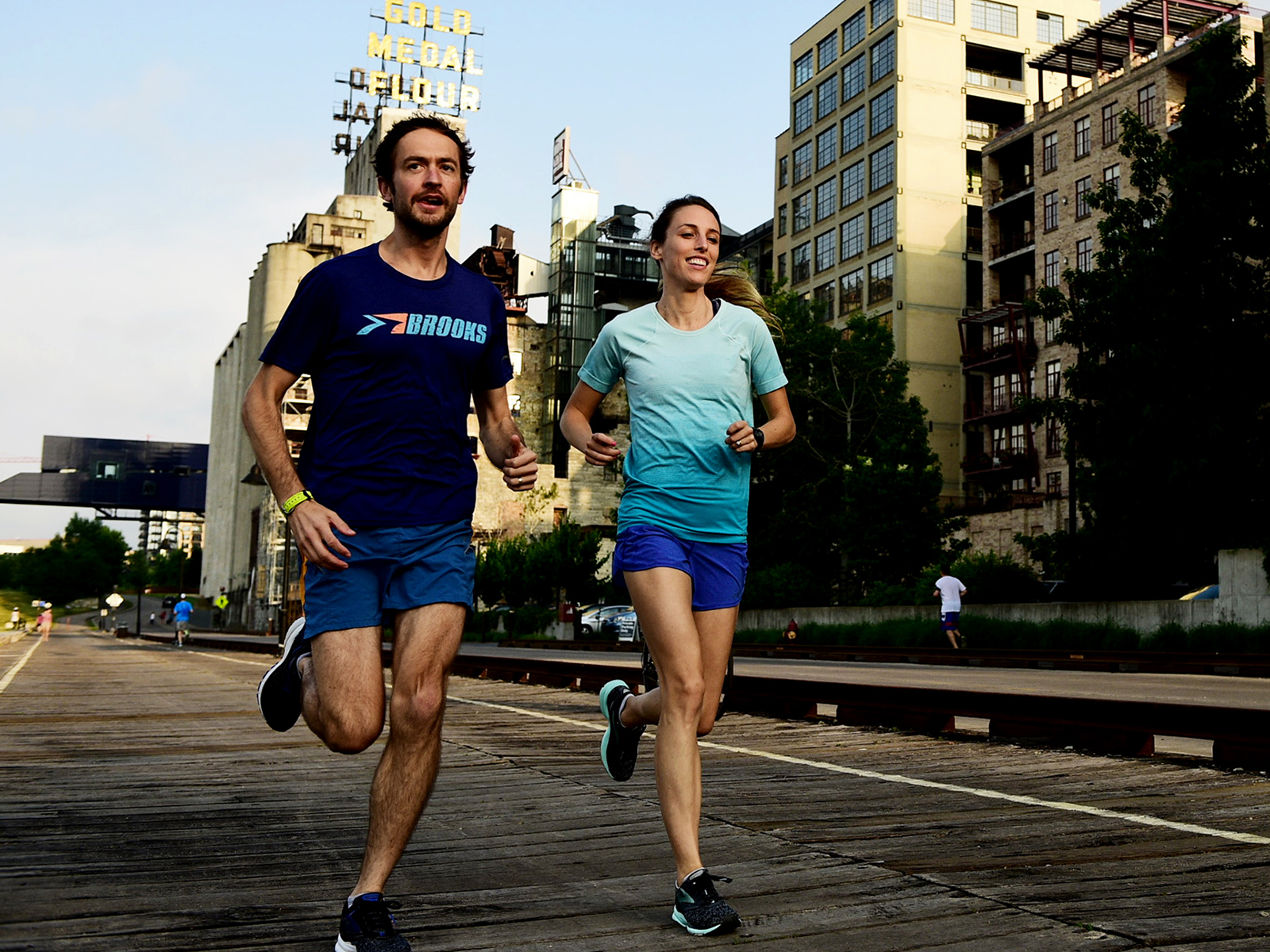 Always upbeat, 32-year-old Minnesota-born professional runner Gabriele (Gabe) Grunewald has been inspiring her fans for years—not only with her speed and endurance (Gabe can run a mile in under four-and-a-half minutes), but also with the resilience and strength with which she's approached her 10-year journey with a rare form of cancer called adenoid cystic carcinoma.
Read More
Yesterday, Gabe's husband, Justin Grunewald, shared on Instagram that Gabe had been hospitalized over the weekend for septic shock and ultimately moved to comfort care, where she is expected to die comfortably surrounded by friends and family in her own home.
"I wanted to let you all know while she is still alive so you can send her one last message here or on her wall or on her phone before she heads up to heaven," Justin wrote to followers on Instagram, encouraging Gabe's fans to send support using the hashtag #BraveLikeGabe—which now has several thousand posts on social media.
In another Instagram update today, Justin shared a photo of Gabe lying on a couch surrounded by those who love her. In his caption, he quoted a sign that hangs behind the couch in the photo, which reads "There are only two ways to live your life. One as though nothing is a miracle, the other as though everything is a miracle." Then he wrote, "@gigrunewald chose the latter."

Grunewald was diagnosed with adenoid cystic carcinoma in 2009. The uncommon cancer, which only occurs in about 1,200 people in the U.S. annually, is a type of adenocarcinoma, meaning a cancer that originates in the tissues of a gland. (Gabe's cancer originated in her salivary glands.)
Though many adenoid cystic carcinomas grow slowly—or go through long periods of no growth at all—the cancer is considered unpredictable, since in some people, it spreads aggressively.
After years in and out of treatment and surgical removal of her salivary gland and thyroid gland, this is what happened with Gabe; her cancer cells metastasized to her liver, forming a five-by-six-inch tumor, which doctors surgically removed in 2016. Gabe recovered from the serious procedure and resumed her competitive running career, but then seven months after the surgery, doctors discovered that Gabe's cancer had returned to her liver, forming many small tumors instead of one large one.
Because the cancer did not respond to traditional treatments like chemotherapy, Gabe turned to another option in the fall of 2017: a clinical trial for immunotherapy. She received a specific liver-directed type of radiation therapy during the clinical trial, too.
Dr. Ben Neel, Director of the NYU Perlmutter Cancer Center and a Professor in the Department of Medicine, previously spoke to SurvivorNet about the importance of participating in clinical trials. "If I were a cancer patient with a widely spread metastatic cancer, I would also want to be on a clinical trial," he said. "There is an incredible bevy of new therapies that are being developed by the biopharmaceutical industry in the United States and elsewhere. [And] most of those therapies will fail…. [but] we really cannot understand whether these therapies work without subjecting them to rigorous controlled trials."
But ultimately, while the experimental treatments briefly stabilized Gabe's liver tumors, they did not eliminate them.
In April of last year, Gabe wrote on Instagram, "This is stage 4 cancer. This is young adult cancer. This is rare cancer. This is 'incurable.' This is a 31-year-old woman who's pretty sure she'll never have children. This is the wife of a doctor who wishes he could do more, but can't. This is an elite athlete who's missed out on doing so much of what she loves due to a cruel disease. This is a woman doing her best to live in the in-between, moving forward into the abyss while balancing hope with reality."
But despite the challenges Gabe faced with her cancer, she ran and smiled through it all—even training and racing during the course of her chemo. In 2011—after her initial cancer diagnosis—she was in third place nationally for her mile run time. And even after the return of her cancer to her liver, she ran in the 2016 U.S. Olympic Trials in track and field and the 2017 U.S. Outdoor Track and Field Championships.
View this post on Instagram
In her own most recent Instagram post in early May before her condition worsened further, Gabe wrote beneath a photo of herself smiling in a hospital bed:
"It's not lost on me that maybe this is one of the most poignant ways to show just how critical research is. Cancer is nothing if not incredibly inconvenient and we need more options. I wish I didn't have to show it in this way because there's so many people I'd love to meet and catch up with tomorrow (including my grandma who I don't see very often ❤️)."
Gabe's story has generated an outpouring of love and support, as well as a heightened awareness about this rare cancer and the importance of clinical research in finding its cure.
Learn more about SurvivorNet's rigorous medical review process.
---