How COVID is Delaying One Woman's Breast Cancer Battle
Jay Reynolds-Carey has scheduled a double mastectomy for August, but it, and the two subsequent appointments she made, have all been canceled while New Zealand is in COVID lockdown.
She had previously been diagnosed with Hodgkin's lymphoma in 2004, and the radiation treatments from that first bout with cancer might have caused her second, according to her doctors.
39,000 surgeries have been canceled in New Zealand, where doctors are only seeing patients whose procedures are deemed urgent or non-deferrable.
"They're playing with people's lives."
Jay Reynolds-Carey had that to say about government officials in New Zealand after the double mastectomy she had rescheduled for the third time was canceled last week.
Read More
She learned that she had breast cancer earlier this year, and while the news was devastating, she also felt far better prepared to take on cancer the second time.
She had previously been diagnosed with Hodgkin's lymphoma in 2004. While she managed to defeat the disease, doctors told her that the radiation treatments she received during her first bout with cancer might have caused her second.
That is why she took an aggressive approach to her breast cancer diagnosis, opting for an immediate lumpectomy followed by a double mastectomy scheduled for last month.
However, she needed to get that surgery within six months of her lumpectomy, or else the cancer might metastasize to other parts of her body, requiring her to undergo chemo and radiation before the mastectomy to be safe.
It is not just her breast cancer battle that has been completely derailed by the COVID-19 pandemic either, with an estimated 36,000 surgeries canceled in New Zealand.
"I'm on a time limit… my surgery was back in March, and I was told if I don't have the double mastectomy in six months, then I would have to go down the road of chemo and radiation," she explains an interview with News Hub.
The unexpected delays in her breast cancer battle result from strict lockdown procedures in her home country of New Zealand.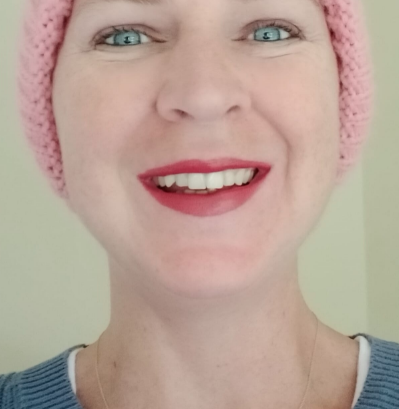 Now she needs a miracle because it's a matter of days until this will no longer be an effective procedure.
And once that happens, Reynolds-Carey will be forced to undergo chemo and radiation treatments.
That may solve the problem of her breast cancer but could also force a third cancer battle with the already exhausted newlywed.
"This is my life, and that's why I'm speaking up for all of those people who had their surgeries canceled," adds Jay Reynolds-Cary.
"Delta is hell… but cancer patients are already going through hell… they're literally going through their own hell and it's so scary."
How Cancer Patients Can Stay Protected From Covid-19
Multiple oncologists tell SurvivorNet that wearing a mask is still the best way for cancer patients to avoid contracting or spreading the virus as the dangerous delta variant spreads.
Dr. Paul G. Richardson, clinical program leader and director of clinical research at the Jerome Lipper Multiple Myeloma Center at Dana-Farber Cancer Institute notes that getting vaccinated and receiving a booster is just one of many steps cancer patients should be taking at this time.
"The key is the success of vaccinations, but other strategies in my [multiple myeloma] patients focus on continued precautions, and attention to therapeutics – not least as the variants are such a concern," says Dr. Richardson.
"We are moving from pandemia to endemia and as such long-term adjustments and continued caution are inevitable in terms of treatments for underlying and supportive care. Fortunately, however, we are moving towards a more manageable paradigm of therapy/care, although the danger of SARS CoV2 remains clear and present."
That danger seems to be growing with each day as well with the delta variant rising around the country, and studies show that it is the most vulnerable who are contracting this variant of the virus. Some research indicates that some blood cancer patients don't get the same benefit from the COVID-19 vaccine. This includes people with cancer that affects the blood, bone marrow, or lymph nodes, particularly those with chronic lymphocytic leukemia.
That is why the booster shot is so critical to those with cancer.
5 COVID-19 Vaccine Questions Answered by Expert Physician
According to Dr. Nina Shah, a hematologist at the University of California San Francisco (UCSF), it's critical that cancer patients going through active treatment get this booster.
"[It's] very important, since we know some cancer patients do not mount a sufficient immune response after the first series of shots," Dr. Shah tells SurvivorNet.
Currently, guidelines for the booster only pertain to those who are going through active treatment. However, Dr. Shah says that if cancer survivors are interested in receiving the booster, it could be decided case-by-case. You should check with your doctor directly.
Shortly, there may also be another option as a special vaccine for cancer patients is currently in development.
The National Cancer Institute is sponsoring a trial for a vaccine that is specifically designed to protect individuals with cancer from contracting COVID-19. That trial is still in the recruiting stages.
COVID-19 Has Changed Surgery and Hospital Protocols for Cancer Patients
Learn more about SurvivorNet's rigorous medical review process.
---