Christina Applegate & Working Through Multiple Sclerosis
Actress and cancer survivor Christina Applegate, 51, recently announced what could be her last acting role, following her Multiple Sclerosis (MS) diagnosis.
Multiple Sclerosis, or MS, is a potentially disabling disease of the brain and spinal cord (central nervous system). Applegate's earliest symptoms included feeling off balance, and numbness and tingling sensations.
Working after or during your cancer journey can offer some cancer patients much-needed normalcy, stability, routine, and distraction from their health.
Actress and breast cancer survivor Christina Applegate is publicly battling
Multiple Sclerosis (MS)
and she's just announced what may be her last acting role; it's reported she's been cast as Mary Bailey in
It's a Wonderful Life 
for the Ed Asner Family Center.
Related: Multiple Sclerosis (MS): Inspiring Stories from SNTV
Read More
According to the Mayo Clinic, MS is a potentially disabling disease of the brain and spinal cord (central nervous system). MS causes the immune system to attack the protective sheath (myelin) which covers nerve fibers. This leads to communication problems between your brain and the rest of your body. Applegate has been open about her
MS battle
, and has shared that she using walking sticks to help her be mobile, she has difficultly sleeping, and some days it's hard for her to get out of bed, reports Fox News. MS can cause permanent damage or deterioration of the nerves. Fox News reports that the MS fighter and 
Dead To Me
actress
will star alongside The Whale's Brendan Fraser
, who was cast in the lead as George Bailey. The all-star cast also includes Seth Rogen, Fred Armisen, JK Simmons, Jean Smart, and Ken Jeong.
SurvivorNetTV Presents Defying All Odds A World-Renowned Doctor's Incredible Journey Through MS
Christina's Breast Cancer & MS Battles
Applegate is fighting MS and this isn't her first major health battle. She was diagnosed with cancer fourteen years ago.
Applegate was diagnosed with early-stage breast cancer in 2008 at 36. She says that the diagnosis led to a "total emotional collapse." A cancer diagnosis leads many to reckon with feelings of anxiety, grief, and depression. Resources like therapy and support groups can be helpful when you're coping with a cancer diagnosis.
Applegate's treatment plan included a double mastectomy. Dana-Farber oncologist Dr. Ann Partridge explains in a previous interview the influencing factors around opting for a mastectomy to treat breast cancer. She says, "So when I talk to a woman who comes to me and she has breast cancer, I evaluate what the standard options for treatment for her are."
When Should You Consider a Mastectomy?
"[This] typically includes cutting out the cancer, which is either a lumpectomy – if you can get it all with just a little scooping around of the area that's abnormal – or a mastectomy for some women meaning taking the full breast because sometimes these lesions can be very extensive in the breast," she explains. "And I'll talk to a woman about that and I'll say these are two main options or the big fork in the road."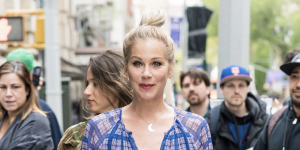 The actress also discovered, following her diagnosis, she carries the BRCA1 mutation, which significantly increases a woman's chance of developing both breast and ovarian cancer. She later had her ovaries removed.
Applegate's MS symptoms first presented as feeling off balance, and noticing her coordination was off while playing tennis. Her symptoms persisted for years before she was diagnosed. She experienced tingling and numbness, too.
Speaking with the New York Times, she says of those early symptoms, "I wish I had paid attention. But who was I to know?"
Signs and symptoms of MS can vary widely. They can include those that Applegate experienced, along with the following:
Numbness or weakness in one or more limbs that typically occurs on one side of your body at a time, or your legs and trunk
Electric-shock sensations that occur with certain neck movements, especially bending the neck forward (Lhermitte sign)
Tremor, lack of coordination or unsteady gait
Partial or complete loss of vision, usually in one eye at a time, often with pain during eye movement
Prolonged double vision
Blurry vision
Slurred speech
Fatigue
Dizziness
Tingling or pain in parts of your body
Problems with sexual, bowel and bladder function
'Cruel Intentions' Star Selma Blair, 50, Rehearses For 'Dancing With The Stars' While Living With Multiple Sclerosis 'We Do These Things We Want To Find Joy In'
Working After Beating Breast Cancer
We love that Applegate is continuing to work after her MS diagnosis, and how she worked after beating breast cancer, too. Many people choose to work after and during a cancer battle.
A cancer diagnosis can be a life-altering event, and finding pockets of normalcy during the cancer journey is often welcome. For most people, going to work every day – if you're well enough to do so – can be an effective strategy for keeping things as "normal" as possible during an abnormal health event like cancer.
Laurie Ostacher, a social worker at Sutter Bay Medical Foundation, says in an earlier interview how important a person's career may be to them, even during the cancer journey. She explains, "Some women choose to continue working [through cancer] because working is a significant part of their identity, they enjoy the job, and there's flexibility built in."
Ostacher continues, explaining her role in a person's cancer journey, saying, "I help folks think about whether it makes sense to work," she says. "If you really don't want to but are worried you're not going to be able to make ends meet, then I'll sit down and help them figure out, you know, with your disability insurance, would this be possible?"
Ostacher explains the questions she might pose to women to probe them to think about how their work life might look through cancer. She says, "For women who choose to work, I help them think about what types of conversations do you need to have with their employer? How much information do you want to share with him or her? What type of work schedule seems like it might work for you? Where might you need more flexibility?"
On Working During A Cancer Journey
Learn more about SurvivorNet's rigorous medical review process.