Staying Healthy After Cancer
Rebecca Crews received a stage one breast cancer diagnosis in 2020 following a mammogram and ultrasound. Today, she is cancer-free after a double mastectomy and maintaining her fitness with "housewife workouts."
Stage one breast cancers are relatively small; they either have not spread to the lymph nodes or only a small area of cancer has spread to the sentinel lymph node.
Regular exercise, a balanced diet, and managing stress are what SurvivorNet experts recommend for people regardless of their health, but especially for cancer warriors and survivors.
"The more physically fit you are going through your cancer treatment, the fewer side effects you'll have and the faster you'll get back to your normal quality of life," Dr. Sairah Ahmed says.
Rebecca Crews, wife to American actor Terry Crews since 1989, is a breast cancer warrior who knows all to well about the importance of taking care of your body. The 57-year-old cancer warrior took to her social media this week to share footage of what she calls her "housewife workout."
The hardworking mom of five is an inspiration to all cancer survivors as despite her hardships she continues to take care of her health with an optimistic attitude. Rebecca, who is now "cancer-free" was diagnosed with breast cancer back in January 2020 after receiving a mammogram and ultrasound.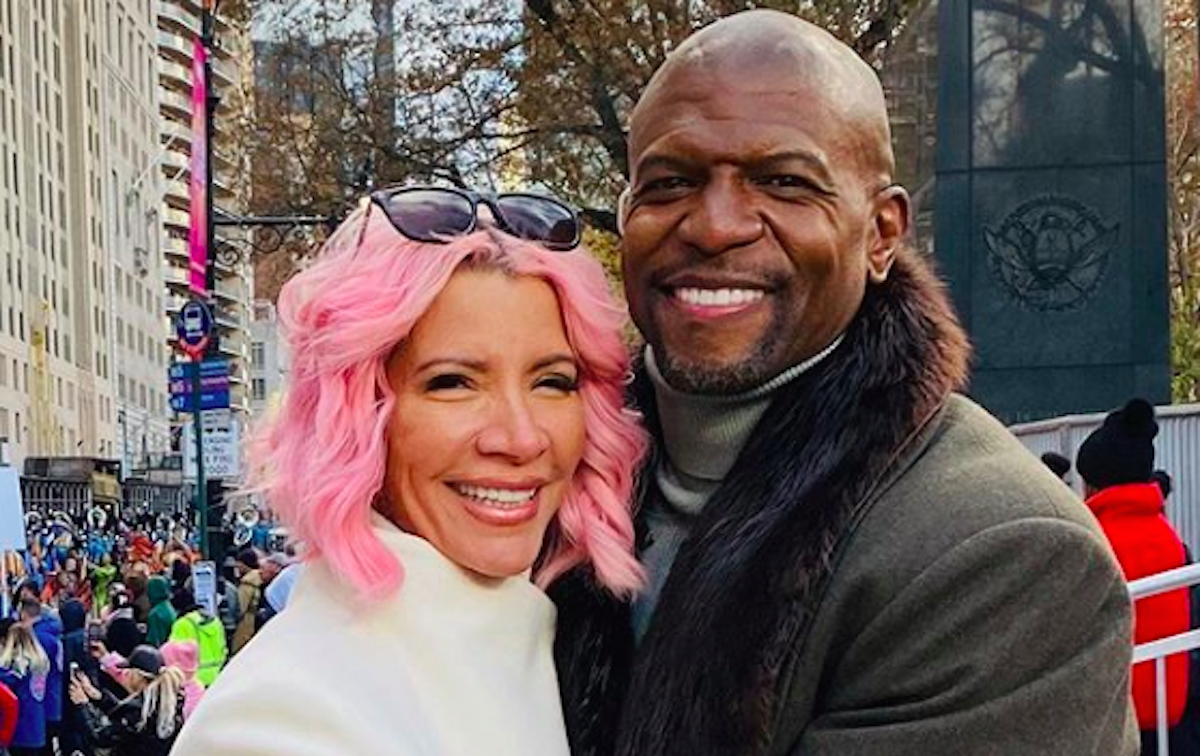 Read More
She captioned her
workout video clip
, uploaded onto Instagram, "Saturday morning workout, this is how I stayed in shape through all my children, and pregnancies – 'housewife work out.' "Follow me for more tips on staying in shape whether you're a stay at home, mom, working, mom, or anyone wanting to be committed to your fitness, regardless of where you are in life!" "I lost up to 50 pounds after each child, doing these very simple techniques. Hope you have a great day! Take care of yourself! God loves you!" she concluded.
Rebecca admitted in the footage that she's aware of the time that's passed since she last posted a workout video.
She then proceeded to show her fans what a "housewife workout" entails.
View this post on Instagram
"Basically, get on your floor and move your body," she explains before crawling away from the camera to complete the exercise sets. "So this is for your glutes [gluteus muscles] and outer thigh. And I just call them doggy leg lifts. Check it out. I do 10 to 12 on each side, three sets."
Rebecca is seen with her arms stretched out under her, while one knee touches the ground and the other lifts up to the side, opening up the hip. Her back is seen to be flat during the workout as her head looks down to the floor.
"Pretty simple. Yeah? Well, those are awesome. They'll tighten up your glutes, they'll tight up your hip area, they'll tighten up your thighs," she explained.
"And you can do them at home. No gym membership needed."
Rebecca Crews Cancer Journey
Rebecca Crews was diagnosed in 2020 with stage 1 breast cancer following a mammogram (a breast cancer screening method that examines breast tissues for any abnormalities) and ultrasound.
She previously told SurvivorNet that her cancer had not spread to her  lymph nodes, or to the skin, and her prognosis was a "95% recovery rate."
RELATED: Breast Cancer Survivor Rebecca King Crews Says Her Intuition Saved Her Life: 'If We Listen To It, It Will Guide Us'
Stage 1 breast cancers are relatively small; they either have not spread to the lymph nodes or only a small area of cancer has spread to the sentinel lymph node. Treatment will likely be surgery and radiation following surgery, along with chemotherapy or some other therapy.
Crews underwent a double mastectomy procedure that involves removing both breasts to get rid of cancer. The procedure may also be performed as a preventative measure for women who are at a higher risk of developing breast cancer.
A "double mastectomy typically takes about two hours for the cancer part of the operation, the removing of the tissue," Dr. Elisa Port, Chief of Breast Surgery at Mount Sinai Health System, told SurvivorNet.
WATCH: What happens during a double mastectomy?
"The real length, the total length of the surgery, can often depend on what type of reconstruction [a patient] has," Dr. Port added.
During Rebecca Crews' cancer journey, she gave large amounts of credit to her faith in God and her loving and supportive husband, Terry, for helping her through her cancer fight. Due to the COVID-19 pandemic, Terry took on the role of Rebecca's caregiver while she healed from surgery and the stress from treatment. He once joked the world shut down so he could take care of her and support her through tough days, and ultimately watch her get better.
"I looked at it like an opportunity. This is what love is. When you look at the marriage vows it's not when everything's great. This is where the rubber meets the road," Terry told SurvivorNet in an earlier interview.
In an Instagram post, Rebecca said of her husband, "You are my rock, my confidant, and my partner in life.
"Thank you for standing by my side through the ups and downs, and for always being my unwavering support! Together, we can conquer anything."
Following his wife's successful cancer fight, Terry told SurvivorNet, "We made it. You get a new appreciation for what life is. We've been through everything, but we have never faced a problem like this.
"It's a whole new challenge, and I was proud of how she became a warrior. My wife is 100% cancer-free. This is a win."
Living a Healthy Lifestyle
It's great to see Rebecca Crews maintaining a healthy lifestyle and continuing her workouts—and the general recommendations for a healthy lifestyle are the same whether you have cancer or not.
Dr. Ken Miller, the Director of Outpatient Oncology at the University of Maryland Greenebaum Cancer Center, has some guidelines for cancer survivors who are concerned about a recurrence:
1. Exercise at least two hours a week and walking counts.
RELATED: Major Reduction in Cancer Risk by Following Old Standbys Diet and Exercise
2. Eat a low-fat diet. The Women's Intervention Nutrition Study, which looked at early-stage breast cancer patients, found that a low-fat diet was associated with reduced risk for cancer recurrence, particularly in those with estrogen receptor-negative cancers. Other studies have found that foods with a high glycemic index that are digested quickly and cause a spike in blood sugar may lead to tumor growth in lung cancer patients.
3. Eat a colorful diet with lots of fruits and vegetables. The American Cancer Society recommends aiming for two to three cups of vibrant vegetables and fruits each day.
4. Maintain a healthy weight. Studies have shown that being obese can increase your risk for several types of cancer.
Keeping Fit and Managing Stress
Just as a healthy and balanced diet is always important, staying fit with regular exercise has a numerous benefits for cancer warriors and their loved ones alike.
"The more physically fit you are going through your cancer treatment, the fewer side effects you'll have and the faster you;'ll get back to your normal quality of life," Dr. Sairah Ahmed told SurvivorNet. Dr. Ahmed is an associate professor in the Department of Lymphoma/Myeloma, Division of Cancer Medicine, at MD Anderson Cancer Center.
The Role of Diet and Exercise in Cancer Risk
Far from just physical fitness, Dr. Ahmed emphasizes the importance of emotional strength—both for patients and their loved ones.
"Stress control is often something that is not talked about and is not given much weight, but there is a lot of stress, both in terms of the patient who's going through cancer, as well as the family who has to support that patient," she says.
Of course, there are health worries. But there are so many more challenging factors to tackle, too.
Staying Active After a Cancer Diagnosis
"There's financial stress, there's emotional stress, and being able to deal with that as well as talk to professionals when you need it, is very important," she says.
"Staying on cancer treatment is the one thing that will help to cure your disease, and if you are so sad or so overwhelmed that that doesn't happen, then you're actually going to compromise your cancer treatment."
She recommends preparing for "stress" and seeking professional support if needed, as a key piece of preparing for cancer treatment.
Staying Active After a Cancer Diagnosis
A lot of people are tempted to feel unmotivated when it comes to exercising after a cancer diagnosis, especially with all the other things going on in your life.
For survivor Heather Maloney, the drive to keep moving came from the fact that she knew exercising regularly would put her in better shape to fight the disease.
"With cancer you never know," Maloney previously told SurvivorNet. "But I want to do everything I can to make my chances of a long life better."
How Do You Feel Better After Cancer? For Heather Maloney — it Was Dragon Boating
Survivors have told us about all sorts of activities they've taken up to stay active, and in fighting shape.
In Maloney's case, she got into dragon boating, a rowing sport that a lot of cancer survivors are getting into across the U.S. and beyond.
"When we come together, it's about the boat and it's about all the things around the boat," Maloney explains.
"It's about competing, it's about practicing, it's about eating, it's about getting in better shape … people aren't talking about cancer, and if you are, you're talking to the people that you know on the boat if something starts to pop up."
Questions to Ask Your Doctor
If you find yourself facing a cancer diagnosis, like Rebecca Crews did, and need help preparing for your journey, beginning with your physical and mental health is a great start. Here are some questions you can ask your doctor to help you get started.
After sharing your typical diet with your doctor, ask what changes he or she recommends you make.
What areas of my body do you think I can focus more on in the gym to best prepare myself for cancer treatment?
When going through treatment, how can I stay active?
Are there interventions beyond medication for my depressed or anxious feelings?
How can I go about finding and nourishing these positive emotions?
What can I do if I'm struggling to maintain a sense of positivity?
What lifestyle factors can I adjust to feel better mentally?
Mental Health… How Are You Coping?
Contributing: SurvivorNet Staff
Learn more about SurvivorNet's rigorous medical review process.
---