Dave Myers' Health Update
Celebrity chef Dave Myers, 65, is doing "very well" and happy to have his hair back nearly one year after revealing he was diagnosed with cancer and started chemotherapy.
Myers offered fans an update on his health during a cooking show this week alongside his "Hairy Bikers" show partner Si King.
Myers attributed his recovery to a healthy lifestyle and healthy eating.
Our experts say cancer survivors can maintain a healthy lifestyle by exercising (like walking) two hours a week and eating a low-fat diet.
And to help mitigate hair loss during treatment, cooling caps are available for patients.
British TV presenter and celebrity chef Dave Myers, 65, says he's doing "very well" and happy to have his hair back nearly one year after revealing he was undergoing chemotherapy for cancer.
Myers — known for being part of the "Hairy Bikers" show duo with Si King, 56 — made an anticipated return to the ITV show "This Morning" on Wednesday to cook some healthy food alongside show hosts Holly Willoughby and Phillip Schofield.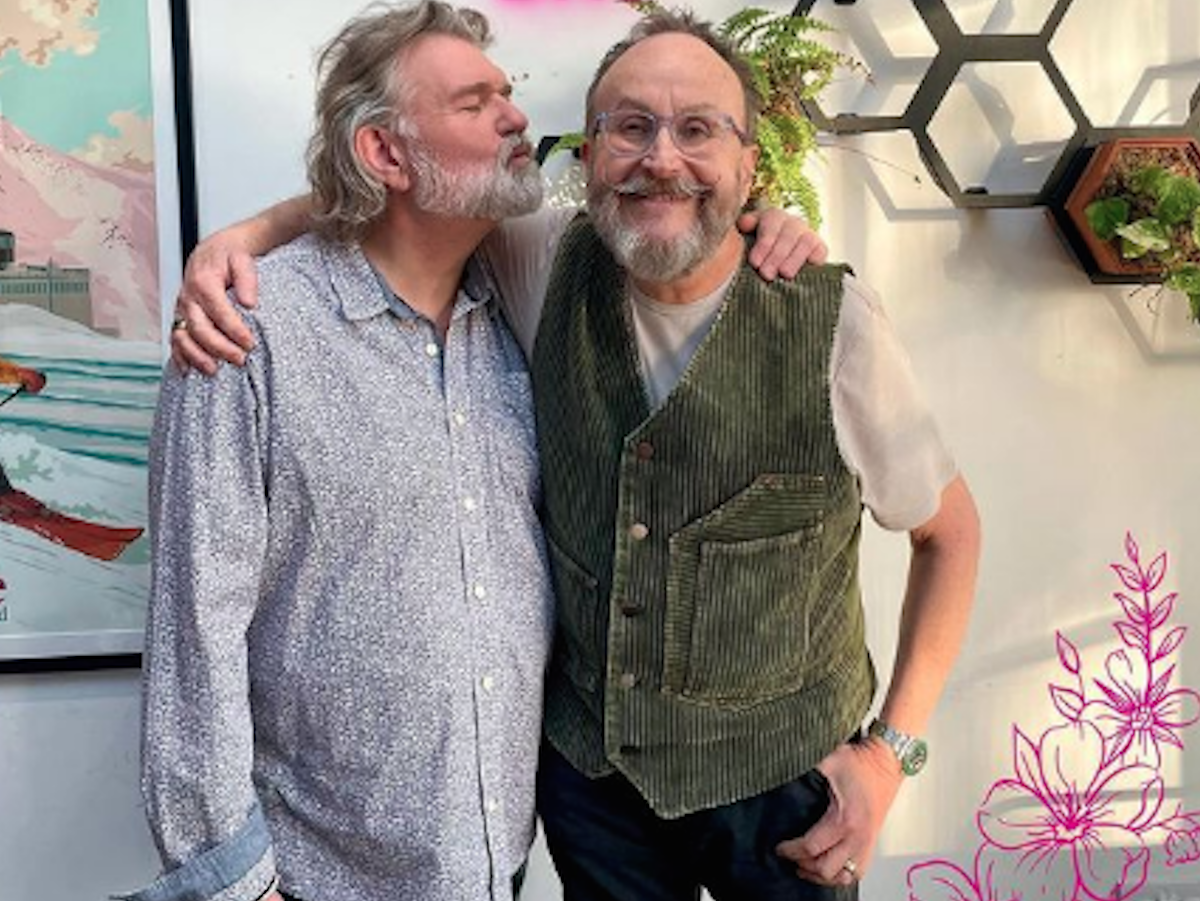 Read More
Before getting started on cooking up some lamb koftas (a Middle Eastern dish made with ground meat, onions, garlic, and spices) with couscous salad and lemon-tahini sauce, Myers was asked by Schofield how he was doing. "I'm doing very well," Myers replied, according to the
Daily Mail.
"It's so nice to be back Phillip, yeah it's a work in progress, but I've got my hair back and I'm feeling great."
RELATED: Chef Dave Myers Faced 'Brutal' Chemo Side Effects: How the Foodie Coped With Losing His Appetite
He followed up with, "It's the healthy eating you see that does it! No, I'm doing really well."
View this post on Instagram
Myers' buddy King chimed in before giving a kiss on his cheek, "He's just as irritating so it's great!"
The Hairy Bikers' appearance comes about one week after the chef duo revealed their new book "Eat Well Every Day" was out.
"We're mega excited for everyone to receive their copies and have a go at all the delicious recipes this book has in store. We're very proud of this one," they wrote on Instagram.
Dave Myers' Cancer Battle
Myers hasn't revealed the exact disease he's been battling. However, he did open up in a recent "Seasoned" podcast about how treatments have impacted his food-centered life.
"I've had a pretty crappy year, really, with chemotherapy and stuff," Myers, who has continued to work amid treatment, said last month.
"So, it's eat well for life, really, and I think it's about eating for the immunity, your heart, for fiber, and, as you get older, well younger as well, it's important to eat well but have that knack of making food tasty so you don't feel as though it's a penance."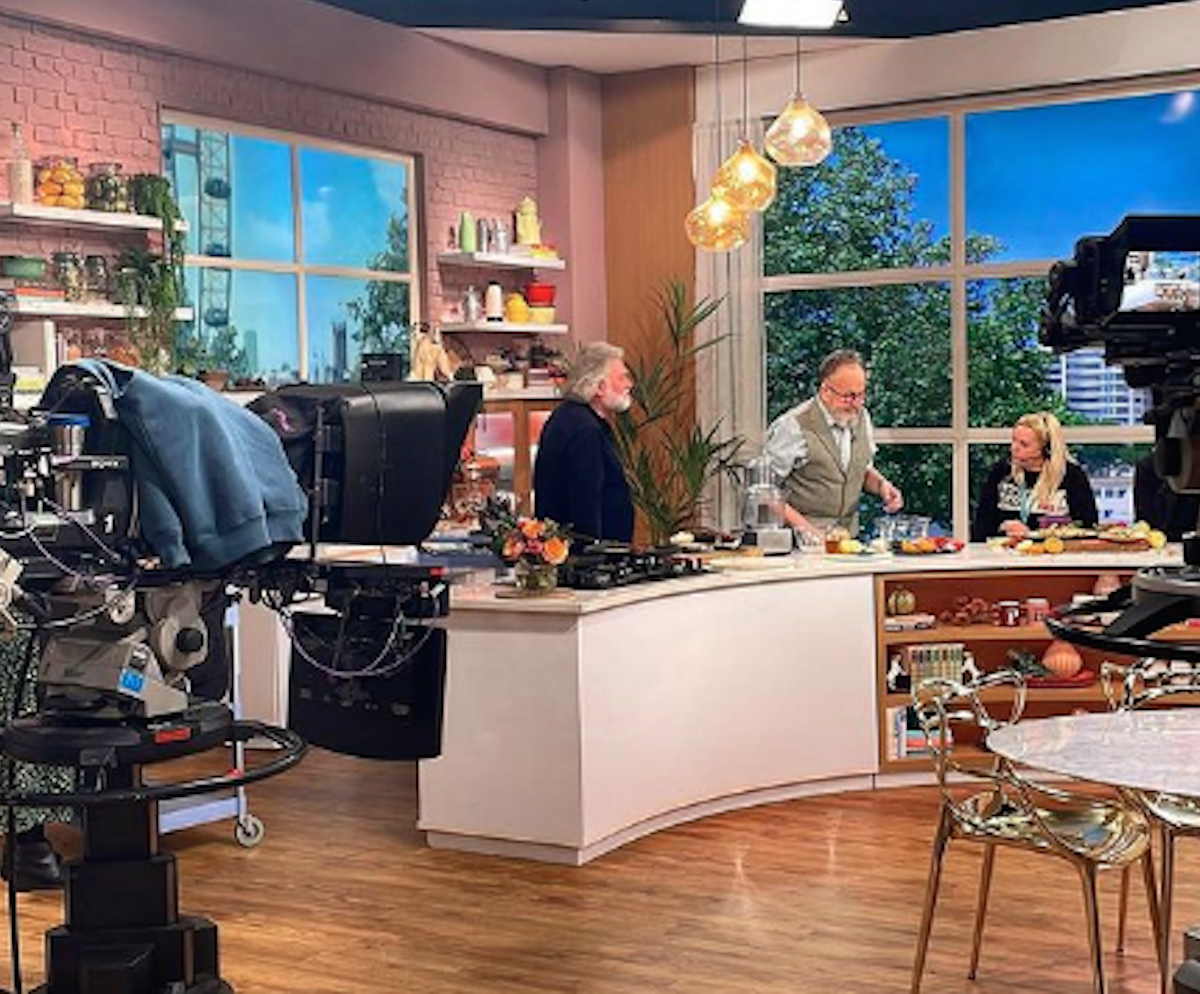 Myers recounted his chemotherapy treatments, which he is still going through, being "quite hard" and "brutal."
Explaining how treatment contributed to him losing his appetite and losing weight, Myers says he's now back to a normal weight.
Multiple rounds of chemo also affected the celeb chef's ability to walk, he explained in another podcast, according to the Independent.
Speaking to Kaye Adams on the "How To Be 60" podcast, Myers said, "By God, the chemotherapy doesn't half age you quickly. Because your balance goes, so for someone with a motorbike that's a disaster, and my walking has been affected quite a lot, really."
Adding how chemo has altered the "neuropathy" in his feet, he explained, "So I've had to learn to walk again properly. …It's a funny thing, chemotherapy, it's one of life's great levellers. It doesn't matter if you're on the telly or on the dole, if you get that then you're in the s***."
Neuropathy is numbness or pain in hands and/or feet from nerve damage, according to Mayo Clinic. Treatments like chemotherapy can lead to neuropathy.
Myers is hoping to return to filming "The Hairy Bikers" this spring, around his chemotherapy treatments.
Healthy Lifestyle Recommendations for Cancer Survivors
Maintaining a healthy lifestyle is certainly important for everyone, but to be clear, all the doctors we have spoken with have said there's no "cancer diet," meaning there are no guidelines specific for people with cancer.
The Role of Diet and Exercise in Cancer Risk
The general recommendations for a healthy lifestyle are the same whether you have cancer or not.
But Dr. Ken Miller, the Director of Outpatient Oncology at the University of Maryland Greenebaum Cancer Center, has some guidelines for cancer survivors who are worried about a recurrence:
1. Exercise at least two hours a week: walking counts.
2. Eat a low-fat diet. The Women's Intervention Nutrition Study, which looked at early stage breast cancer patients, found that a low-fat diet was associated with reduced risk for cancer recurrence, particularly in those with estrogen receptor-negative cancers. Other studies have found that foods with a high glycemic index that are digested quickly and cause a spike in blood sugar may lead to tumor growth in lung cancer patients.
3. Eat a colorful diet with lots of fruits and vegetables. The American Cancer Society recommends aiming for two to three cups of vibrant vegetables and fruits each day.
4. Maintain a healthy weight. Studies have shown that being obese can increase your risk for several types of cancer.
How to Maintain a Healthy Diet During Chemotherapy
Dealing With Hair Loss During Chemotherapy
Losing hair or thinning hair, like Myers said he experienced, while undergoing chemotherapy is a common side effect of cancer treatments.
And although hair loss is not a medically significant or dangerous side effect of chemotherapy, for many women, and even men, it can affect their self-esteem.
"It can have implications about how they feel about themselves," says Dr. Renata Urban, a gynecologic oncologist at the University of Washington in Seattle, told SurvivorNet in an earlier interview.
What You Think You Know About Chemotherapy Side Effects May Be Wrong
It's completely normal to feel upset about losing your hair—even when you know that your hair will usually grow back after treatment stops. In the meantime, there are steps you can take to make the experience less distressing.
Try a Cooling Cap to Minimize Hair Thinning
One potential option is something called cryotherapy — "just a fancy way for saying cold therapy," says Dr. Urban.
What that means is wearing what are called cold caps or special cooling caps before, during, and after each chemotherapy treatment. The caps, which are tight fitting and strap-on helmet-style, are filled with a gel coolant that's chilled to between -15 to -40 degrees Fahrenheit.
Essentially the caps "cause vasoconstriction, or a narrowing of the blood vessels bringing blood to the scalp," Dr. Urban explains.
By constricting the blood flow to the scalp, the caps limit the amount of circulating chemotherapy that reaches the hair follicles, protecting them from some of the chemo's damaging effects. The cold also decreases the activity of the hair follicles, which slows down cell division and makes the follicles less affected by the chemotherapy medicine.
"This has been shown to reduce hair loss by 50 percent," Dr. Urban says. "I do try to let patients know it's not a 100 percent prevention strategy, and it's not been studied in all hair types, but it is at least an available strategy for patients to try."
Choose a Wig or Other Head Covering
Some women choose to cut their hair very short or even shave their head before their hair starts falling out, and then buy a wig or other type of head covering.
If you're thinking about buying a wig, consider buying it before your treatment starts, or soon after.
Cancer.org suggests asking if the wig can be adjusted as you might need a smaller size as you lose hair. To match your hair color, they recommend cutting a swatch from the top front of your head, where your hair is lightest — or try a completely new hairstyle or color.
Coping With Hair Loss Comes Down To Personal Preference
Wigs and other scalp coverings may be partially or fully covered by your health insurance. If so, make sure the prescription says "cranial prosthesis." (Don't use the word wig.)
Someone on your cancer care team can likely recommend wig shops in your area.
Hair Loss Is Temporary
Losing your hair can feel overwhelming in the moment. Experts tell SurvivorNet that being aware of the timing can help you better cope.
For example, hair loss typically begins about three to four weeks after a woman begins chemotherapy for ovarian cancer — and will continue throughout treatment.
Most women can expect regrowth around four to six weeks after they complete treatment, though you may see some changes to color and texture.
But it's important to remember that your hair will grow back after chemotherapy ends.
Coping With Hair Loss-Related Anxiety
Myers didn't say whether he had anxiety-linked to his hair loss, but it did say he's feeling better now that it's growing back.
When patients are going through chemo, hair loss can be a major stressor.
Patients often feel like they shouldn't be concerned about their appearance and should be more focused on their health, but it's completely reasonable to feel anxious or worried about a drastic change to your appearance.
Dr. Samantha Boardman Offers Tips For Those Struggling With Anxiety Around Hair Loss Amid Cancer
"For cancer patients, losing one's hair can be unbelievably stressful," psychologist Dr. Samantha Boardman previously explained to SurvivorNet.
"To start with, the threat of losing one's hair can lead to some sleepless nights and feelings on anxiety. So, number one, it's really important to talk to people — talk to people that have been through it, get their advice, voice your concerns to your caregiver about what you can do."
Dr. Boardman added that there is a common misconception that only women worry about losing their hair, but men feel these anxieties as well — and should also feel comfortable talking to caregivers and/or doctors about body image concerns.
Questions to Ask Your Doctor
Is it likely that I will lose my hair due to treatment?
Is there anything I can do to reduce these side effects?
What can I do to reduce anxiety I am feeling over hair loss?
Are there any products you recommend?
Contributing: SurvivorNet Staff
Learn more about SurvivorNet's rigorous medical review process.
---