Maya's Cervical Cancer Awareness
TV presenter Maya Jama, 26, recently shared with her 2 million Instagram followers the need for getting pap smears, even during COVID-19 lockdown; Jama has been a presenter for Stand Up to Cancer and her grandmother had breast cancer.
Pap smears are used to detect cervical cancer, and people have been putting off screenings during the pandemic.
Women should get pap smears beginning at age 25 to look for this type of cancer.
British TV presenter Maya Jama, 26, took to social media this week to raise awareness of the need for cervical cancer screenings after Jama had an "abnormal cell" read following a recent pap smear. On a recent Instagram story, Jama said, "It's very rare I get serious but I don't see it talked about enough. Girls, if you haven't done already, go and get your smear test. I know it seems butters and uncomfortable and awkward but it's not that bad and it's so important."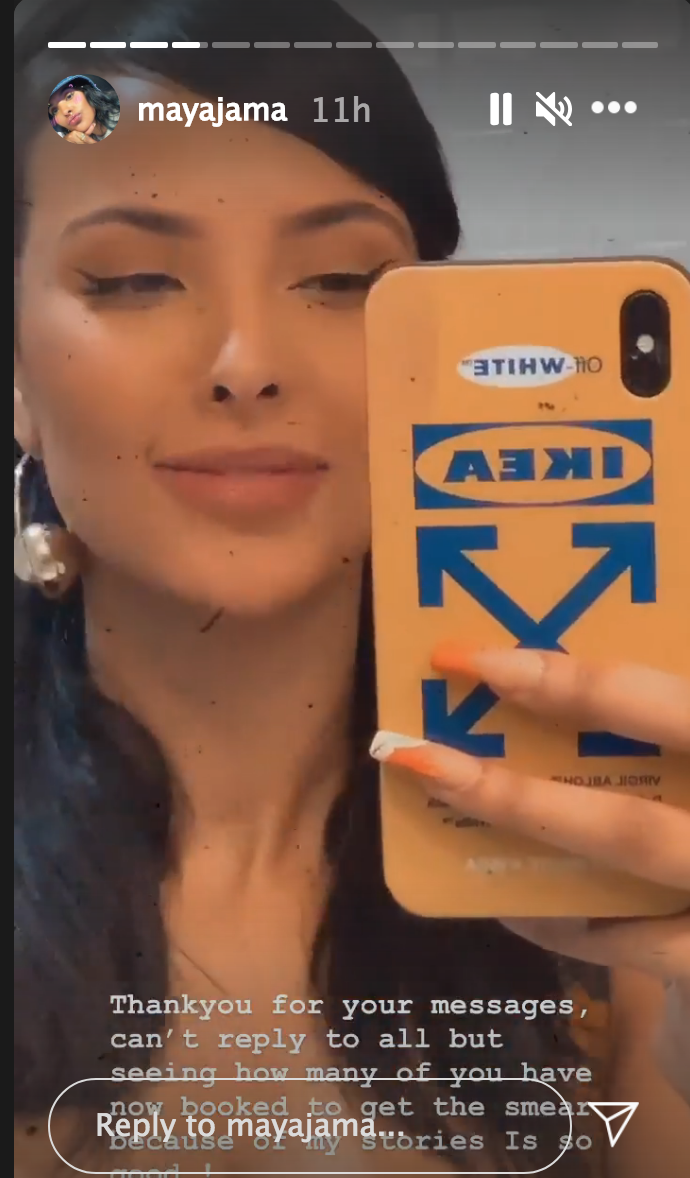 Read More
"I've just had to get my second one because I left it a year for my second check-up. I'm getting so many messages from loads of people saying, 'I've been putting it off'… you've just got to check on these things." Jama assured her followers, saying, "You basically have to monitor these things and it's better you catch it sooner rather than later so it doesn't go into something else. Just get checked, don't put it off."
Cervical Cancer Screening
Cervical cancer is detected via a pap smear test, which looks for early signs of cervical cancer. Nurse Practitioner Barbara Dehn explained in a previous interview, "Many women think that a Pap smear checks for ovarian cancer, but it doesn't. Pap smears detect only cervical cancer, not all gynecologic cancers. In fact, there is no test that detects ovarian cancer in its earliest stages, which is why two-thirds to three-quarters of women are diagnosed at a later stage, when the disease has spread to nearby tissues and organs."
Related: 5 Well-Known Women Who Have Battled Cervical Cancer — Survivors Like Erin Andrews & Judy Blume Inspire 
Every year in the U.S., approximately 14,480 women will be diagnosed with cervical cancer. And nearly a third of women diagnosed will pass away from this disease. Getting pap smears to detect for cervical cancer is critically important because an earlier diagnosis may mean a better prognosis and broader treatment options. Cervical cancer treatments may include surgery, radiation, and chemotherapy.
3 Common Myths About Ovarian Cancer Screening
Cancer Screenings During COVID-19
The recommended age for women to begin screening for cervical cancer via pap smear is 25. Despite the ongoing COVID-19 pandemic and the myriad difficulties the pandemic presents when trying to do regular errands like get a pap smear, it's important to continue screenings – no matter what.
Related: New Cervical Cancer Screening Guidelines Recommend HPV & Pap Testing Now Start at Age 25
In a previous interview, Dr. Elizabeth Comen said, "So we know that cancer has not gone away just because we're in the middle of a pandemic. We also know that some elective procedures and potentially preventative care– things like colonoscopies, and mammograms, and pap smears– may have been put off a couple months because we wanted to limit the number of people that were coming in to the hospital and also keep patients at home unless they really needed to leave."
"But fortunately," said Dr. Comen, "now that we have a little bit of a better hold on how to protect patients, how to disinfect, how to clean in between patients and scatter so that we're not crowding our waiting rooms, it's really, really important to remember to talk to your doctor about your screening mammogram or any other preventative tests that you may need."
It's Important To Continue Cancer Screenings Through COVID-19
Learn more about SurvivorNet's rigorous medical review process.