Prostate Cancer Surgery During The Pandemic
Hall of Famer kept his diagnosis private, until now
Ripken chose surgery over active surveillance
He's now urging others to get medical exams, undergo screening
He'd kept his diagnosis quiet since February, making the difficult decision to undergo surgery in March, as the pandemic descended. So when baseball legend, Cal Ripken Jr., 59, revealed today he'd
recovered from successful surgery for prostate cancer
, according to an ESPN report, the sports world was stunned.
In a Zoom interview with reporters, Ripken had planned to discuss the upcoming 25th anniversary of his record-setting 2,131st consecutive game, which broke Lou Gehrig's streak.
Read More
But that wasn't what he decided to talk about.
RELATED: Baltimore Outfielder, Trey Mancini, Grateful To Team After Stage 3 Colon Cancer Diagnosis
"The reason I'm letting it slip out now," he told reporters, "is I want to use the opportunity to help other people who struggle with that decision and encourage other people to go get their regular exams, get their tests."
Dr. Stephen Freedland, Director of Center for Integrated Research in Cancer and Lifestyle at Cedars Sinai, on the decision to have prostate cancer surgery during the pandemic.
His father, Cal Ripken, Sr. died of lung cancer in 1999.
"We all know people that have had different cancers, and you kind of wonder, 'How would you feel if it happened to you?'" said Ripken, who was inducted into the Baseball Hall of Fame in 2007. "I know what that feels like now."
Surgery Risks During The Pandemic
The question of prostate cancer surgery during the pandemic is challenging for both patients and doctors, said Dr. Stephen Freedland, a urologist at Cedars Sinai, in an interview with SurvivorNet.
RELATED: Smart Tips For Getting Cancer Screenings Right Now From The Chief Medical Officer of the American Cancer Society
"I think it really is a discussion with the patient," Dr. Freedland says. "Can this safely be delayed for a period of time? I think the challenge is if we knew this would be two or three months it would be one discussion, but we don't know how long this will be delayed."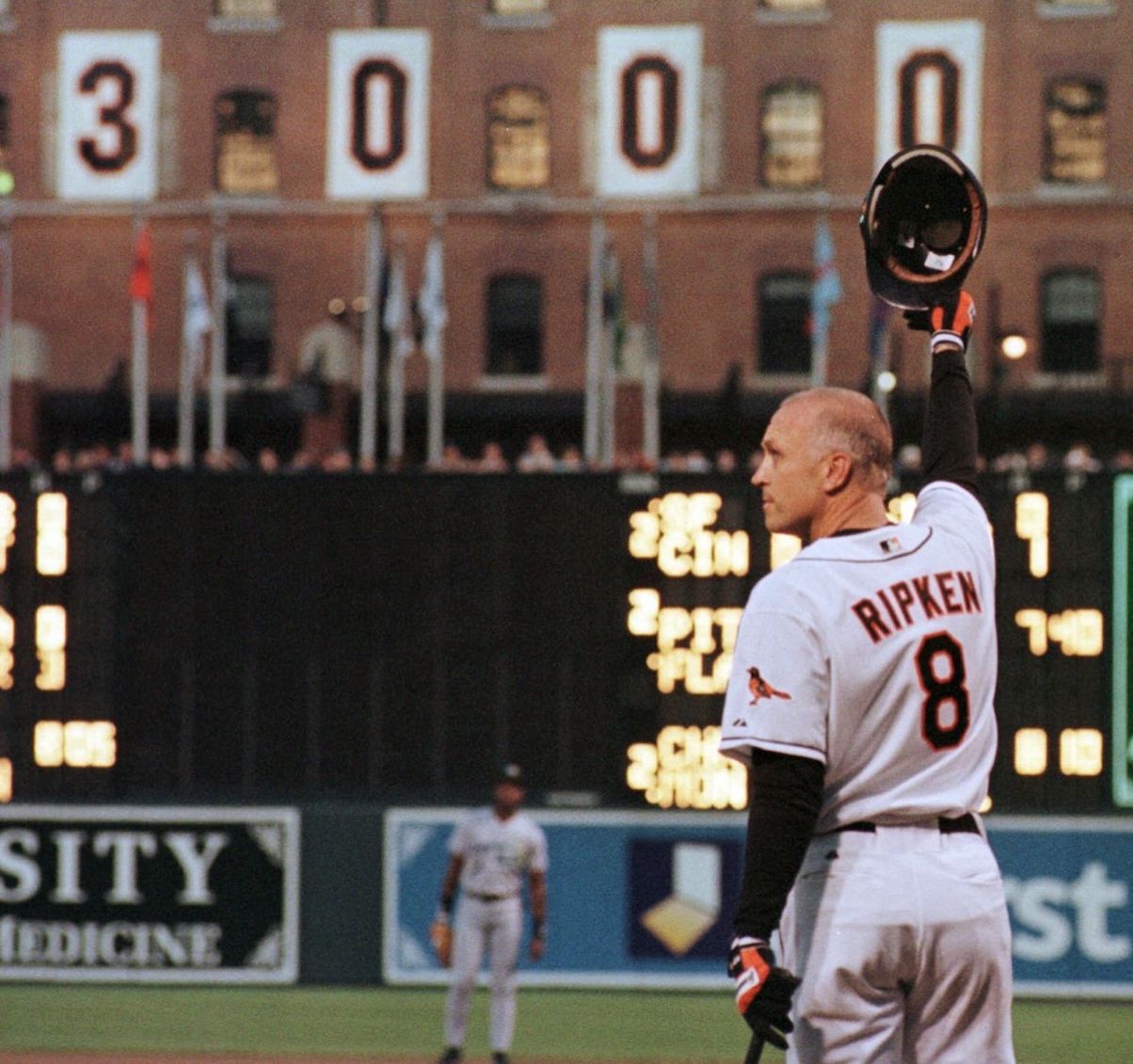 Cal Ripken, Jr. celebrated his 3,000th game hit on April 15, 2000. He retired from the game in 2001. (photo: Baltimore Sun)
"It's about informed decision-making," Dr. Freeland told SurvivorNet."There is no right or wrong answer."
Aggressive tumors typically need surgery immediately, but in cases of prostate cancer, surgeries can sometimes wait a few months.
"For a lot of patients, two to three months is a reasonable wait," Dr. Freedland noted. "But it's a case-by-case decision."
If a surgery can be postponed, going on active surveillance is an option so patients will still be monitored while waiting.
"The Cancer Was Contained"
He avoided a hospital stay, returning home after his surgery.
"I don't know if I'm the only one that's ever did it in and out on the same day with this kind of surgery," Ripken told reporters. "But the good news is it has a real happy ending. The cancer was all contained in the prostate."
RELATED: Good News for Prostate Cancer Patients — a Promising New Procedure with Lower Risk of Impotence
"They did a pathology report afterward and confirmed that that was the case," he said. "I've since had a three-month test to see if my PSA [prostate-specific antigen] was undetectable, and it was, so we can make a case that all the cancer was contained and it's all out now."
A Pandemic Decision
Ripken, who turns 60 next week, said he wasn't alarmed when his PSA was high during his initial checkup. A biopsy was performed as a precaution and the results, he said, "came back iffy."
RELATED VIDEO: Biopsy Isn't Fun but Can Put Your Mind at Ease
The news came at the start of the coronavirus pandemic and, Ripken said, he opted to go ahead with surgery fearing that, if he waited, hospitals could become overwhelmed.
"I Don't Want To Tell Anybody"
Like many diagnosed with cancer, Ripken wrestled with the question of whether to share the his condition. Ultimately, he realized he could encourage others to get screened.
RELATED: Baseball Dreams: 22-Year-old Pitcher Eric Orze, A Two Time Cancer Survivor Will Be a Met!
"The weird part is, when it first happens to you, I kept thinking, 'I don't want to tell anybody,'" Ripken said. "It's almost like there's something wrong with you. I wouldn't say the Iron Man [nickname] contributes to it, but I was the kind of person who was thinking, 'OK, I'll just keep this a secret.'
Dr. James Brooks, Chief of Urologic Oncology at Stanford Medicine says the Gleason Score determines how aggressive a prostate cancer is and helps guide treatment decisions. 
"But the longer you deal with it and you understand the outcome has been favorable and positive," he said, "I want to … encourage other people to go get their regular exams, get their tests."
The Gleason Score: Determining Treatment
The Gleason Score determines how aggressive prostate cancer is and also provides information on how to proceed with treatment. To calculate a Gleason grade, the pathologist will study the tumor cells taken from a biopsy and see how the cells are organized.
RELATED: Ben Stiller Says a PSA Test Saved His Life- Beating Prostate Cancer And Now Nominated For An Emmy As a Director
A Gleason score will let oncologists know when to wait and watch or when to treat, assuming the patient is young enough to benefit from treatment (under age 70). Lower numbers translate into better risk factors, and different doctors may approach treatment differently.
Patients who have high-risk cancer, meaning they have high Gleason scores and a high PSA (over 20), will usually be treated aggressively. Studies show that patients who fall somewhere in the middle are likely to benefit from treatment because it prolongs life expectancy. Still, the decision on what approach to choose will depend on several factors, including the risk-benefit ratio of the treatment options.
Learn more about SurvivorNet's rigorous medical review process.
---