A Woman's Strength
Actor and Activist Angelina Jolie gets real with British Vogue about life at home with her kids and how she is finally healing over the last few years from a public divorce with ex, Brad Pitt, 57.
Jolie is a previvor, someone with a genetic risk for getting cancer, and famously had her breasts and ovaries removed after testing BRCA-positive, a genetic mutation that raises your risk for getting breast and ovarian cancer. Jolie's mother died from ovarian cancer, and the mom of 6 has empowered women all over the world by sharing her experience to educate about genetic testing.
Experts recommend genetic testing for people with a family history of cancer. "I would say that if you have anyone in your family who was diagnosed with a very rare cancer," a top doctor tells SurvivorNet. "Or if you have a strong family history of one or two kinds of cancer, particularly breast and ovarian, but also colon, rectal, uterine, and ovarian cancer."
Actor and activist
Angelina Jolie
continuously aims to help heal the world with her charitable efforts and physical work with countless organizations, but after a high-profile divorce and a rough few years, the mother of 6 says in an interview that she is finally starting to heal herself.
Related: Actress Angelina Jolie, 45, Lost Her Mom to Ovarian Cancer 14 Years Ago; How Jolie Becoming a Previvor Helped Others
Read More
British Vogue
features the Academy Award-winning actor, 45, on two separate covers for their
March 2021 issue
. The star welcomed the British Vogue team into her Los Feliz, Calif. home for the shoot, which happened to fall on election day. Jolie looks healthier than she has looked in recent years. Her cheeks look a little more full. The gorgeous star has been through a very public divorce with another one of the biggest A-list actors on the planet, Brad Pitt, 57. Once known as the world's sexiest couple, the pair dated nearly a decade before marrying in 2014 at their chateau in France, and then Jolie filed for divorce in 2016. Jolie has been picking up the pieces ever since, as they have fought for custody and other business issues, which are still ongoing.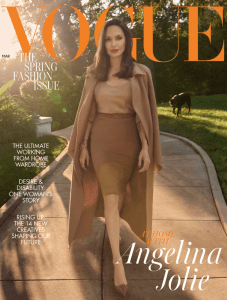 A Fresh Start 
The publication describes the household as "full of life," noting that that is even an understatement. "Laughter, chatter, food, rabbits, dogs, lizards, music appreciation, impromptu haircuts, and Zoom meetings."
Related: Angelina Jolie On Her Mastectomy Decision — I'm More Likely To Meet My Grandchildren And The Scars Are Positive Reminders
Jolie is, after all, a mother of 6 to nearly all teenagers at this point. Maddox, the oldest, is 19, Pax, 17, Zahara, 16, Shiloh, 14, and the twins, Knox and Vivienne, are 12. Maddox, Pax, and Zahara are adopted, and Shiloh, Knox, and Vivienne are Jolie's offspring with ex-husband Brad Pitt (who also wound up adopting Maddox and Pax, and Zahara, the couple adopted together). The UK Vogue writer, Edward Enningful interviewed Jolie a few weeks after the at-home shoot, describing her "warm laugh," and "thoughtful pauses." Jolie comes off as relatable, despite having lived what many would view as this lavish life.
Getting Real
"I think that like most families, we have had this bigger thing happening with the pandemic," she says. "But of course you also have these life markers. We went into it having just gotten out of the hospital with Zahara [who underwent surgery early last year], and we were so happy she was OK that we entered lockdown in a different state of mind. But, you know, there are also these other markers of life: Pax going into his senior year, but not being able to enjoy all that it is to be a senior; Zahara finally getting her driving licence, but she's taking the test with the driver wrapped in the full outfit with the masks. It's not how you imagine these moments. But birthdays go on, and I think that for many people, it's made us all feel very human together. There's something beautiful about that."
Related: The Angelina Jolie Effect — Important New Research for Women Making Critical Decisions About Breast Cancer
What is also very human is admitting failure, at least playfully. "I feel like I'm lacking in all the skills to be a traditional stay-at-home mom. I'm managing through it because the children are quite resilient, and they're helping me, but I'm not good at it at all."
Starting to Heal
What is interesting about this interview is that she refers to her kids as "our children." Although we don't know her personal life with ex Brad Pitt, there's something to be said about the way she says "our" children. Many women and men who are happily married say "my" kids. That little three-letter word gives off the impression that despite what she has been through with the father of her children, she is pushing forward. "I'm feeling that I've come through a few things," Jolie admits. "I'm trying to be hopeful. I think this is something we've all discovered through the pandemic." When asked if she is happy, she responds: "I don't know. The past few years have been pretty hard. I've been focusing on healing our family. It's slowly coming back, like the ice melting and the blood returning to my body."
Related: Family Love, Self-Love, And More– Read Actress Kristen Bell Guide To Loving
Jolie talks about jumping on the trampoline with her kids, and says she looking forward to aging. "I feel that I'm gonna hit my stride in my fifties. Though we were on the trampoline the other day, and the children said, 'No, Mom, don't do that. You'll hurt yourself.' And I thought, 'God, isn't that funny?' There was a day I was an action star, and now the kids are telling me to get off the trampoline because I'll hurt myself."
Jolie shares her hope for our younger generations. "Maybe it's the young punk in me, but I believe in the spirit of our youth."
Her Love For Children
The humanitarian, who is an author herself, will never stop fighting for the rights of human lives around the globe, and just penned a piece for Time magazine, sharing some staggering numbers from the Save the Children organization. "72 million children live in proximity to armed groups that have committed sexual violence against children during the last year including rape, sexual abuse, sexual torture, sexual slavery and sexual mutilation. Child survivors are often left with horrific injuries, and PTSD and trauma that can last a lifetime," Jolie writes, urging people to fight for children's rights. "Perhaps you are already thinking that you know all this," she says of the report. "But that's exactly the point. We're aware, yet we seem numb to it. We've known about these crimes for decades—and yet they continue."
Jolie has been an advocate for refugees around the world, giving the less fortunate a voice. She has visited children in villages in Afghanistan, and has gone on missions to Africa, Cambodia, and Pakistan, donating millions over the years. She leads with her service and not just with her money like many celebrities. She is in the trenches making a difference. "I started [working with the United Nations] in my early twenties, putting on my boots and backpack, and going out to try and figure out what the hell was going on in the world, she says. "I tried to give myself a broader education than I'd had at school. I grew up in a very empty place, in many ways, so had to go to find a wider understanding."
Jolie has done so much for humanity on a global level, but as many people know, we also can't forget about taking care of ourselves.
A Previvor 
The previvor, as she is known in the cancer community for having a preventative double mastectomy and hysterectomy (the removal of her breasts and ovaries) tested positive for the BRCA gene mutation, which would have made it more likely for the star to get breast or ovarian cancer. She lost her mother, Marcheline Bertrand, to ovarian cancer, and not only chose to have the surgeries, but she also wrote about it to educate other women on the gene mutation, and their option to stay ahead of a potential diagnosis, should they choose to do so.
Related: Do You Know Your Risk Factors for Breast Cancer, asks Brave Advocate Shannon Doherty— Age & Family History Matter
"I lost my mother in my thirties. When I look back to that time, I can see how much her death changed me. It was not sudden, but so much shifted inside. Losing a mother's love and warm, soft embrace is like having someone rip away a protective blanket," Jolie wrote in her New York Times article.
Genetic Testing 
Most experts are suggesting genetic these days, but only if there has been cancer in the family. "We encourage only those who have a family history to really get that kind of service if you need it," says Dr. Ophira Ginsburg, Director of the High-Risk Cancer Program at NYU Langone's Perlmutter Cancer Center to SurvivorNet. "I would say that if you have anyone in your family who was diagnosed with a very rare cancer. Or if you have a strong family history of one or two kinds of cancer, particularly breast and ovarian, but also colon, rectal, uterine, and ovarian cancer … if you have relatives who've been diagnosed with common cancers at very early ages strikingly, 30s and 40s for example."
Related: What Genetic Testing Can Reveal About Ovarian Cancer
The best thing to do if you are unsure of your family history, or if you are not particularly close with your family, is pick up the phone. Ask questions. If your grandmother died of cancer but no one remembers specifically what type it was, do some research and try to access medical records.
And obviously share any and all cancer history with your doctor. "If your brother was diagnosed with colon cancer at 45, that's important to know," Dr. Ginsburg says. "And there may be tests that are relevant, not only to your brother, but to the whole family.
Should I Get Genetic Testing to Assess My Risk for Breast Cancer?
What is BRCA?
BRCA can be pronounced B-R-C-A, or some choose to say Brah-kuh. Both are correct. "If you have a BRCA mutation, you actually cannot repair that break," GYN oncologist Dr. Rebecca Arend, a professor at the University of Alabama-Birmingham, tells SurvivorNet. "Therefore, those with BRCA mutations should be more heavily monitored, especially women already diagnosed with breast cancer, with some choosing to follow in Jolie's footsteps and have a preventative surgery, which may even be recommended by their doctor depending on the type of breast cancer.
Should You Have a Preventative Mastectomy?
Previvor Erika Stallings decided to have a preventative mastectomy, having her breasts removed after finding out she was at high risk for developing breast cancer. "I was very happy to be able to reduce my cancer risk," she tells SurvivorNet. "I was also very sad to be losing body parts, particularly in a society where your breasts are very associated with, like, your womanhood and your femininity."
Related: White House Spokeswoman Kayleigh McEnany Had Preventative Double Mastectomy 2 Years Ago; Now She's Fighting COVID-19: Be Proactive About Your Health
Erika's mother was diagnosed at 28 with triple-negative breast cancer. "She told me– she's like, you know, if there is anything you can do to avoid having to go through this, then you should do it," she says. Her doctor then recommended the surgery after Erika tested positive for BRCA 2, which means her risk was high for developing breast cancer.
Related: Nina Garcia of "Project Runway" Opens Up About Preventative Mastectomy: 'It's Not The Choice For Everyone, But It Was For Me'
Erika discusses that people didn't understand why she was doing this. "This was in 2014, and I think people kind of are more aware of mutations and previvorship," she says. "But at the time, it was also just hard to tell people– to say, I don't have cancer, I just have a super high chance of getting cancer. So I'm going to have what sounds like a really radical surgery and I hope you will be supportive of it."
The Tough Decisions: When You Know You Have a High Risk of Getting Cancer
Learn more about SurvivorNet's rigorous medical review process.