Know Your History
Shannen Doherty is currently fighting stage four breast cancer; she was first diagnosed with breast cancer in 2015 and is now battling it a second time.
Doherty says that knowing if your family has a history of breast cancer is critical information.
If you don't know your family's cancer history, there are options such as genetic counseling and genetic testing to look for gene mutations such as BRCA1 and BRCA2.
Shannen Doherty, 49, has been open about her battle with 
breast cancer
 and is now providing a great public service for women everywhere!
Knowing your family history can save your life, and you can access that information via genetic testing if you don't have access to relatives who can share this vital information. Doherty reminds us about the risk factors associated with this disease, and important prevention and screening information. In an Instagram post, the actress wrote:
Read More
"A woman's risk of breast cancer nearly doubles if she has a first-degree relative (mother, sister, daughter) who has been diagnosed with breast cancer….
Age is also a significant risk factor for breast cancer, as 2 out of 3 invasive breast cancers are found in women 55 or older…"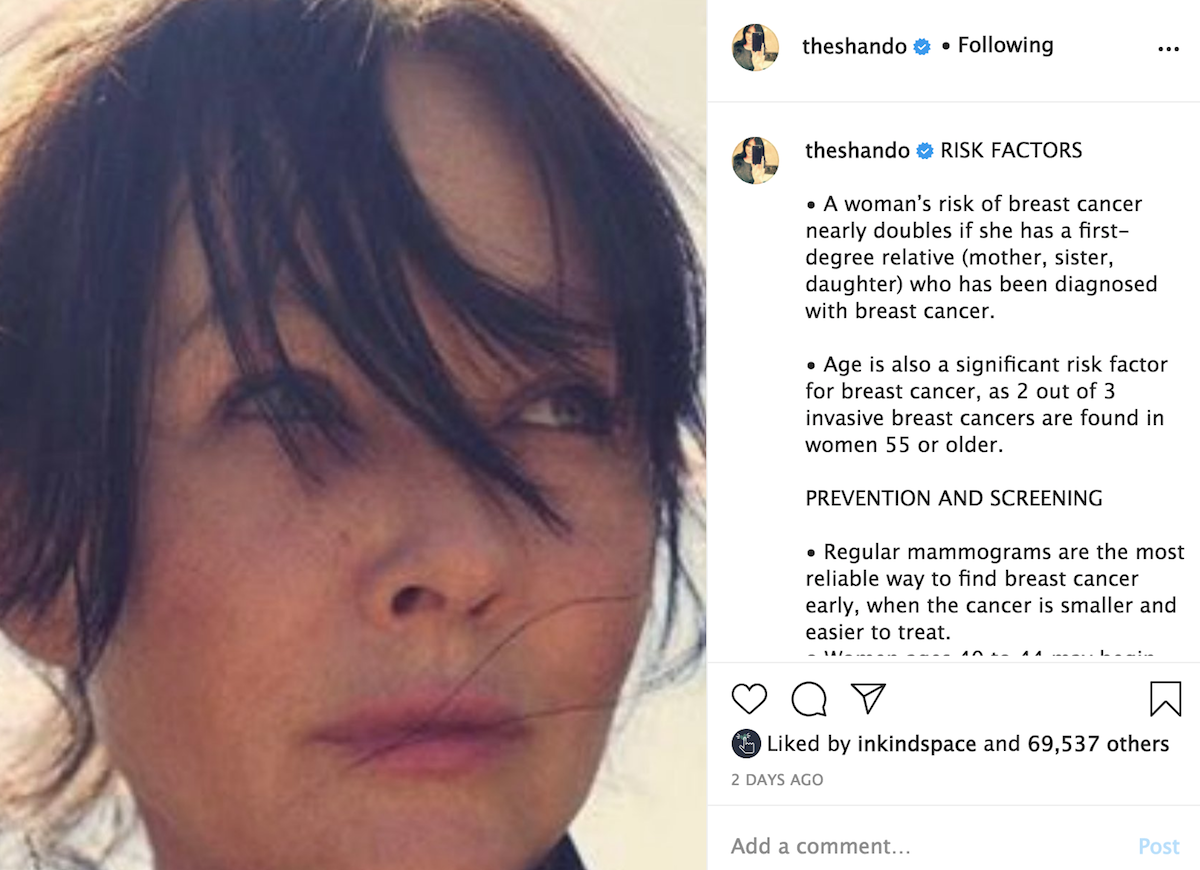 Doherty is, once again, shining a light on key cancer information that could save many lives if enacted. And one of the key points she makes focuses on knowing your family history.
Related: In the Midst of Stage 4 Breast Cancer Battle, Shannen Doherty Shares Information Every Woman Should Know About the Disease
The actress emphasizes that this is especially important if you have a first-degree relative – meaning your mother, sister, or daughter – who has had breast cancer. If you don't know your family history, there are ways to figure it out, thanks to genetic testing options.
Breast Cancer & Gene Mutations
Women who develop breast cancer may have the BRCA1 or BRCA2 gene mutation, which can lead to breast or ovarian cancer. If you are unsure about your family cancer history, genetic testing can be a preventative step to take to give yourself a greater understanding of your genetic makeup, and thus, risk of developing breast or ovarian cancer.
Related: Understanding Gene Mutations in Your Metastatic Breast Cancer Diagnosis Is Crucial to Your Treatment
And if you have already been diagnosed, it is still worth seeking genetic counseling to know more about your breast cancer. But other cancers – like ovarian – can also benefit from genetic testing. To undergo genetic testing, you can speak with your doctor about connecting with a genetic counselor.
Related: Genetics & Biologic Differences are Partially to Blame for Higher Breast Cancer Death Rates Among African American Women
Rachel Webster, a genetic counselor at MD Anderson Cancer Center tells SurvivorNet, "If you're going to have genetic testing in order to figure out your inherited risks for cancer, it's important to consider the option of meeting with a genetic counselor first. Genetic counselors have specialized training in order to figure out what genetic testing might be the most useful for you and your family."
Related: Should I Get Genetic Testing to Assess My Risk for Breast Cancer?
In seeking out a genetic counselor who can meet your needs, Webster recommends looking at the National Society of Genetic Counselors website. There, you can find local counselors near you, and telehealth options as well.
Should I Meet With a Genetic Counselor?
Genetic Counseling
For both breast cancer and ovarian cancer, genetic counseling can be especially informative when evaluating your risk factor. Gynecologic oncologist Dr. Melissa Geller tells SurvivorNet that "When I see a newly diagnosed ovarian cancer patient, I really recommend to them that they undergo genetic counseling and testing early on in their disease, and the reason being that, if they are BRCA1 or 2 positive, they may be eligible for a PARP inhibitor as maintenance therapy after they complete their initial chemotherapy."
Related: Considering Genetic Testing? Talk to Family if You Can
Having a greater understanding of your genetic makeup may inform your treatment path and options, and being armed with more information is always a good thing. Dr. Geller says that genetic testing can take a few weeks. So, it's generally better to do it sooner than later, as cancer treatment is typically time-sensitive.
"We want to be armed with that information as patients finish their initial chemotherapy," says Dr. Geller. "And that's critical information for us to know early on. When [patients] receive a diagnosis of ovarian cancer, we are sending their tumor out for testing now to look at that homologous recombination deficiency, to look for that within the tumor."
Related: Please Ask For Genetic Testing If You've Been Diagnosed With Ovarian Cancer
The two types of mutations are somatic, and germline. The germline mutation is one you were born with, whereas somatic mutations occur within a cancerous tumor. Genetic testing isn't specific to looking for the BRCA1 or BRCA2, it can also examine the makeup of your tumor, and how responsive it will be to treatment like a PARP inhibitor. Poly(ADP)-ribose polymerase (PARP) inhibitors are newer treatment tools for ovarian cancer; these targeted drugs have substantial effects on survival rates.
Related: PARP Inhibitors Keep Ovarian Cancer Under Control, But Women on These Drugs Need Support to 'Set Them Up for Success'
Having a greater scope of your family history, genetic makeup, and overall health are helpful ways to prepare yourself as you continue on your cancer-fighting journey.
Why Genetic Testing Is Key for Ovarian Cancer Patients — and Family Members
Learn more about SurvivorNet's rigorous medical review process.