Enjoying Life's Moments
Cancer hit very close to home when actress Catherine Zeta-Jones' husband Michael Douglas was diagnosed with oral cancer in 2010.
Today, she and Douglas are celebrating their daughter Carys' graduation.
In honor of skin cancer awareness month, Zeta-Jones also shared a photo of her having a routine skin examination at the dermatology office in order to encourage her followers to get screened for skin cancer
Like so many people, actress Catherine Zeta-Jones was touched by cancer when her husband, Michael Douglas, was diagnosed with oral cancer. He's been cancer-free for quite some time now, but Zeta-Jones still takes the time to educate others and remind her followers to be vigilant about cancer prevention and screening.
Douglas was diagnosed with stage 4 oral cancer in 2010. His doctor found a tumor at the base of Douglas' tongue after he expressed concerns about a persistent sore throat. The actor went through radiation and chemotherapy treatments that same year and was later declared in remission.
Read More
Thankfully, Douglas is a cancer survivor and continues to make precious memories. Most recently, Zeta-Jones posted to Instagram in celebration of her daughter's graduation from an International Baccalaureate program.
View this post on Instagram
"Carys!!! What a proud day as our daughter Carys graduates with honors for her International Baccalaureate!" Zeta-Jones wrote. "You rock and we love you."
RELATED: At 9, Michael Douglas' Son, Dylan, Faced His Dad's Stage 4 Cancer. Now 19, Watch His Powerful Speech
Zeta-Jones' family is whole with her husband, daughter and son celebrating life's important milestones, and the seemingly close-knit bunch is incredibly grateful Douglas overcame his cancer. Given that cancer has hit so close to home, Zeta-Jones is probably hyper-aware of the prevalence and dangers of the various forms of the disease. In a recent Instagram story, she posted a photo of her getting a skin examination at the dermatology office to look at various moles and freckles on her body in an attempt to urge people to "get checked."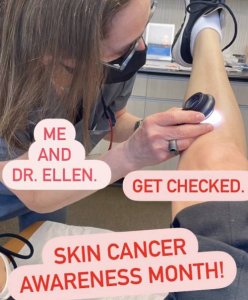 Understanding Skin Cancer
Her post came in light of skin cancer awareness month – an awareness campaign meant to inform people about "the dangers of unprotected exposure and [encourage] people to check their skin for warning signs" in order to save lives. The Skin Cancer Foundation estimates that over 5 million cases of skin cancer are diagnosed in the United States every year, making it the most common cancer in the United States.
RELATED: 34-Year-Old Scottish Mother Diagnosed with the Same Skin Cancer that Killed Her Mother; Know the Dangers of Tanning Beds
In a previous interview with SurvivorNet, Dr. Dendy Engelman from MDCS Dermatology in New York shared the top five things you can do to avoid skin cancer:
Avoid sun during peak hours, which is 10 a.m. to 2 p.m.
Wear a wide brimmed hat and sunglasses to protect the tops of our heads, the tops of our ears and the delicate area around the eye.
Wear at least SPF 30 sunscreen and make sure to reapply every two hours or after excessive sweating or swimming.
Have yearly skin checks (with a professional), because it's difficult to evaluate areas all over the body.
Avoid tanning beds. There are no "good" tanning beds, and they can significantly increase your risk of melanoma.
Top 5 Ways to Protect Your Skin From Skin Cancer
No matter how vigilant you are about decreasing your risk for skin cancer, its important to still prioritize routine checkups with your dermatologist and always be on the lookout for any skin changes in between visits.
The Deadliest Type of Skin Cancer
Melanoma is a type of skin cancer that starts in the same cells that give your skin, hair and eyes their color. But melanoma causes the cells to change in a way that makes them able to spread to other organs.
"Melanomas are the deadliest type of skin cancer because they have a tendency to spread to other parts of the body," explains Dr. Anna Pavlick, an oncologist at NYU Langone Health.
Melanoma can develop from an existing mole or appear as a dark or pink growth on the skin even in places on the body that never see the sun. But even still, 90 percent of melanomas are caused by ultraviolet radiation from the sun. This means excessive time in the sun – even as a child  – puts you at a higher risk.
Choosing the Right Sunscreen
Many people use sunscreen every day, but choosing the right product can be just as important as consistency. Dr. Cecilia Larocca, a dermatologist at Dana-Farber Cancer Institute, recommends you use sunscreen with at least SPF 30 and reapply it every two hours. Your sunscreen should also be broad spectrum, says Dr. Larocca, meaning it covers both UVB and UVA rays.
RELATED: Should You Put Sunscreen on Your Child? The Do's and Don'ts of Sunscreen for Kids
Choose the Right Sunscreen and Use it Often
Manhattan dermatologist Dr. Snehal Amin tells SurvivorNet that while brand name is not very important, considering the activities you'll be doing while wearing the sunscreen and paying attention to the ingredients and feel of the sunscreen can make a difference.
"My recommendation is really focus on the ingredients rather than the brands," Dr. Amin says. "If you like the way the brand feels on your skin, if you like the purpose of the brand – for instance, sport versus daily use or daytime use versus a short burst of activity use – I think those are more important factors than actual brands."
Learn more about SurvivorNet's rigorous medical review process.
---