Learning About Hodgkin Lymphoma
Conservative TV and radio host Dan Bongino, 48, beat Hodgkin lymphoma two years ago, and is now celebrating a major life milestone—his 20th wedding anniversary.
Bongino's lymphoma first presented as a lump on his neck; other symptoms of this disease include persistent fatigue, fever, night sweats, unexplained weight loss, severe itching, and more. He treated his disease with chemotherapy, which was effective in getting rid of his cancer.
Lymphoma is a cancer of the immune system. There are more than 40 different types of lymphoma, and Hodgkin lymphoma and Non-Hodgkin lymphoma are two sub-categories with the latter being more common.
The type of white blood cells linked to the disease determines the distinction. If doctors are unable to detect the Reed-Sternberg cell a giant cell derived from B lymphocytes then it is categorized as Non-Hodgkin lymphoma.
According to the National Cancer Institute, Hodgkin Lymphoma "most frequently presents in lymph node groups above the diaphragm and/or in mediastinal lymph nodes."
Conservative TV and radio host Dan Bongino, 48, has so many things to be thankful for, regarding his health and his personal life. He beat Hodgkin lymphoma two years ago, and is now celebrating a major life milestone—his 20th wedding anniversary with his wife Paula Andrea (Martinez) Bongino, also 48.
To commemorate being married to his beloved wife and mother of his two children, Isabela and Amelia, Bongino took to social media to share a photo of himself with his arm around Paula.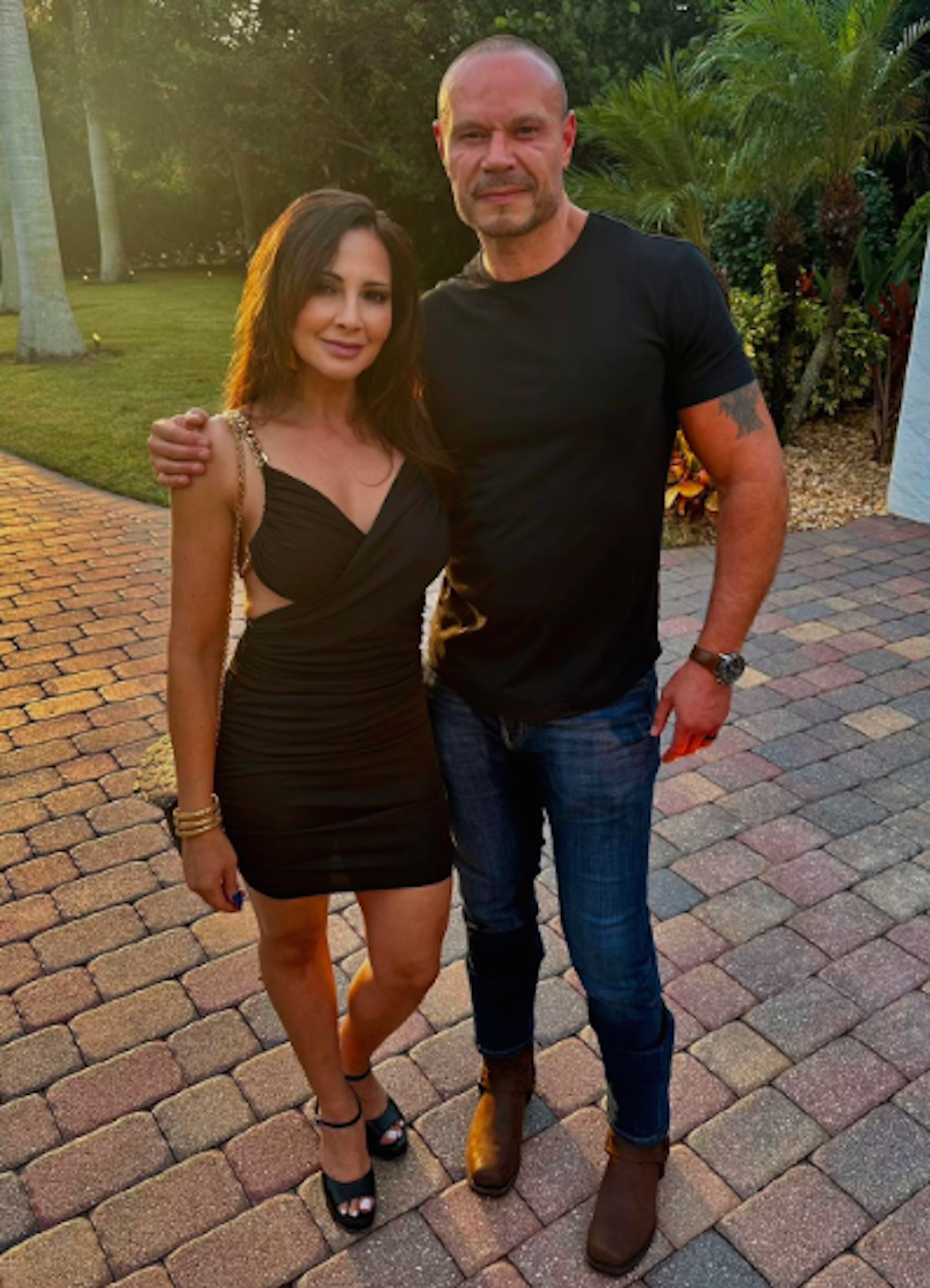 Read More
"Celebrating 20 years together with this queen," he captioned the
Facebook post
, along with two fire emojis, which featured Bongino and his wife seemingly dressed for an evening out. In the sweet photo, Paula, wearing a black dress and heels, is seen smiling next to her husband, posing confidently in dark blue jeans, a black T-shirt, and brown dress shoes.
RELATED: Radio Host Dan Bongino On Finishing Treatment for Hodgkin Lymphoma: 'It Was a Tough Road'
Bongino and his wife wed on August 30, 2003. They gave birth to their first daughter Isabel, on January 15, 2004, and to their second daughter Amelia on January 20, 2012.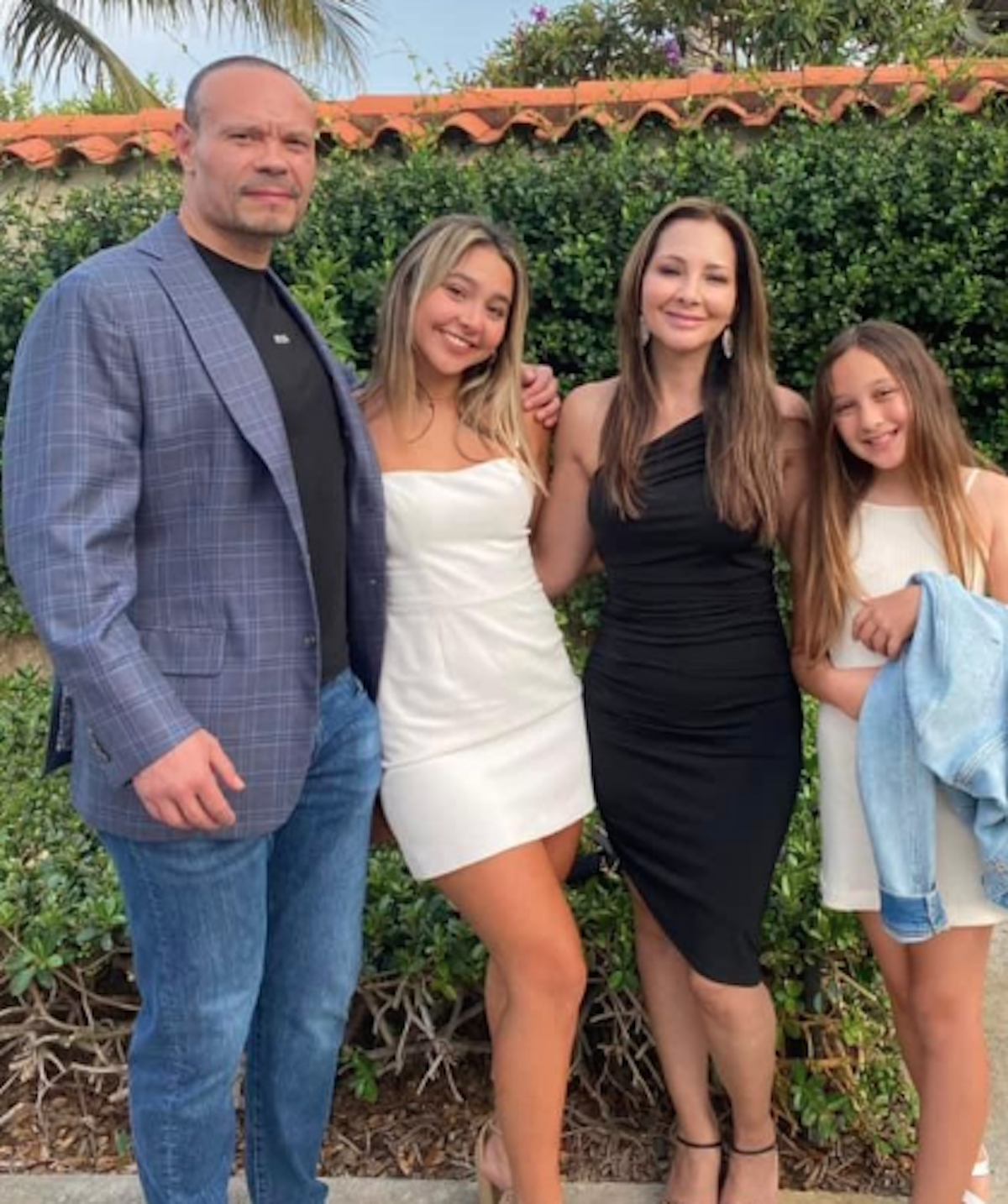 Back in February 2022, Bongino and his wife spoke with former Wisconsin congressman Sean Duffy and his wife, Rachel Campos-Duffy, to discuss the secret to a long-lasting marriage, Fox News reports.
Bongino said, "You have to work at it," insisting the effort put into a relationship is worth it.
"There are 10 million good times for the 100 or so times [that] you guys are at each other's throats," he explained. "[Marriage] is the most enriching and rewarding relationship of your life."
Paula also pointed out that both her and Bongino lived through "divorced environments" while growing up and wanted to offer their children "something different."
She added, "I just wanted to give my kids a good place to come home to."
Dan Bongino's Cancer Battle
Dan Bongino announced his Hodgkin lymphoma diagnosis in October 2020. Coincidentally, he was diagnosed after an oncology nurse who watches The Dan Bongino Show spotted a lump on his neck.
After discovering the 10-centimeter by 7-centimeter tumor in his neck, Bongino had a biopsy—which ultimately led to his diagnosis.
The former Secret Service Agent, who successfully hosts Unfiltered With Dan Bongino on Fox News and The Dan Bongino Show podcast, had always taken good care of himself, exercised often, and didn't have a family history of cancer. So, like many cancer warriors, the radio host was shocked by his diagnosis.
"I'm a 45-year-old guy who is 1, 225 pounds," Bongino previously told SurvivorNet. "The first person I called was my mom. I didn't know what else to do. I just kind of broke down a bit. I said to my mother, 'I don't drink. I don't smoke. I've never done a drug in my entire life ever. Not one time. I work out five days a week.'"
"I eat clean as a whistle, and there's zero, not a little, but zero, cancer in my family," he continued.
Bongino eventually had treatment which included surgery and chemotherapy. He didn't experience nausea from the chemo, he said, but the "chemo hiccups" kept him from sleeping. Luckily, he had his loving wife to support him through it all.
RELATED: What Kind of Lymphoma Do You Have? Why Your Type Matters
"I would get choked up, because I could not go to sleep because of these damn chemo hiccups," he said. "My wife, I was like a child, she would be patting my back like she was burping a child and we would be up to two or three in the morning. She would be like, 'I can't watch you go through this.'"
Despite the hardships throughout his cancer battle, Bongino's work got him going in the morning.
"You know, I don't like to tell my audience because I always said I wouldn't do a show when I didn't feel like it, but there were a couple days where I was on the borderline, like 'I don't know if I can do this today,'" Bongino admitted.
"And I was like, 'You know what, I'm gonna do it, this isn't that bad, and I'll get through it. Toughen up, don't be a wuss and get on the air.'"
Bongino went into remission in March 2021, and appears to be thriving today alongside his beautiful wife. He's previously said said that his cancer journey has given him a fresh perspective on life, one that's allowed him to make the most of every moment.
"I was given the gift by God of finding out that we all have an expiration date," he said, noting that this was a positive thing. "Every minute of your life is a gift."
Learning About Hodgkin Lymphoma
Lymphoma is a cancer of the immune system. There are more than 40 different types of lymphoma, and Hodgkin lymphoma and Non-Hodgkin lymphoma are two sub-categories with the latter being more common.
The type of white blood cells linked to the disease determines the distinction. If doctors are unable to detect the Reed-Sternberg cell a giant cell derived from B lymphocytes then it is categorized as Non-Hodgkin lymphoma.
According to the National Cancer Institute, Hodgkin Lymphoma "most frequently presents in lymph node groups above the diaphragm and/or in mediastinal lymph nodes."
Lymphoma Biopsy: What to Expect
In a previous interview, Dr. Elise Chong, a medical oncologist at Penn Medicine, explained that Hodgkin lymphoma is most often seen in younger adults. And although less common, it is generally easier to cure than Non-Hodgkin lymphoma.
Dr. Chong also said lymphoma symptoms can be difficult to detect. "The symptoms of lymphoma, especially if you have a low-grade lymphoma, often are no symptoms. People say, but I feel completely fine, and that's very normal," she explains.
Finding Lymphoma Early: Do you Know the Symptoms and Risks?
What Are Your Risks?
"The patients who are diagnosed with lymphoma early, typically it's luck," Dr. Chong says. They may have had a symptom that made their doctor check them, or the cancer showed up on a scan or blood test that was done for another reason.
Until an effective screening test does become available, you can increase your odds of finding lymphoma early by knowing whether you're at risk, and staying alert for symptoms.
You might be at higher risk for this cancer if you:
Have been infected with the HIV or Epstein-Barr virus
Had an organ transplant
Have a family history of lymphoma
Have been treated with radiation or chemotherapy drugs for cancer in the past
Have an autoimmune disease
Let your doctor know about these risks, so he or she can keep a close eye on you. You may need more frequent checkups and tests.
Also watch out for lymphoma symptoms. The most common ones are:
Swollen glands in your neck, armpit, or groin
Fever
Chills
Night sweats
Weight loss without trying
Feeling tired
Swelling in your belly
Related: 7 Sneaky Symptoms of Hodgkin Lymphoma: Doctor Told One Teen Her Itchy Rash — Later Diagnosed at Stage 4 — Was 'Nothing to Worry About'
Many different conditions, including infections, cause these same symptoms. So don't panic if you have them. It's most likely something more benign, but still worth getting checked out. It's also a good idea to see your doctor for any unusual symptoms, even if they're not on this list.
Reaching Milestones as a Cancer Survivor
Reaching milestones during or after a cancer battle is huge. These events – like getting engaged, a wedding anniversary, or a family member turning another year older, may mean even more than they did previously, so it's important to take them all in and celebrate all that you've overcome.
"I'm Able to Be Here For More Milestones" One Cancer Survivor's Incredible Story
Chrissy Degennaro, a cancer warrior determined to keep enjoying these precious milestones, is a great example of this. She has been battling a rare blood cancer called multiple myeloma for 14 years, and was first diagnosed when she was just 36 years old with a 2-year-old son.
When she was diagnosed, she almost expected to not be able to see him enter kindergarten. But thanks to 27 rounds of chemotherapy, two stem cell transplants, a CAR-T cell trial and two CAR-T cell transplants over following 14 years, she's able to keep making memories with her family.
"You know, I do live one day at a time," Chrissy previously told SurvivorNet.
"Now, maybe I can go a week, a month, but things are looking pretty good. I'm able to be here for more milestones for my son, for more holidays, more birthdays. I do feel like I have had another chance at life."
RELATED: I Got to Dance With My Daughter at Her Wedding: Steve Silverstein's Cancer Story
"Made as Much Lemonade Out of These Lemons as I Could" – Survivor Rachel Miller Garcia Shares Her Story
Contributing: SurvivorNet Staff
Learn more about SurvivorNet's rigorous medical review process.
---