The wonderful, vivacious, always-upbeat Jessica Melore, who SurvivorNet interviewed about her journey with cancer, passed away yesterday morning. She was a very special member of our community, and we celebrate the spirit and hope she brought to everyone she met.
Jessica went through incredible hardships during her life. When she was 16 years old, Jessica found out that she was going to need a heart transplant in order to survive. That same week, she was told that due to complications during her hospital visit which led to an infection, she would need to have her leg amputated.
Read More
But she never let that hold her back from accomplishing her goals. Melore was a Princeton graduate and an internationally-known motivational speaker.
Recently, Jessica had to head back to the hospital because she needed a new heart and kidney transplant.
In her interview with SurvivorNet last fall, Jessica said, "I've learned never to take my health for granted. So, I don't believe in living in fear."
Far from lamenting her situation, Jessica Melore told us she considered herself lucky.
"We can't always control what happens to us in life, but we can control how we handle it. I've been through a lot, but I think how fortunate I am to still be alive when I think of others who don't make it this far, " she said. "Even though I'm in the hospital, I don't see it as putting my life on hold — I'm keeping busy working during the day and catching up with friends I haven't seen. It's not easy — and it wasn't easy knowing I'd have to wait in the hospital — but I know it's only temporary, and I'm making the best of it in the meantime."
When we asked Jessica to provide a little advice for people going through cancer, her guidance was all about looking for the light, even when the world seems to be at its darkest.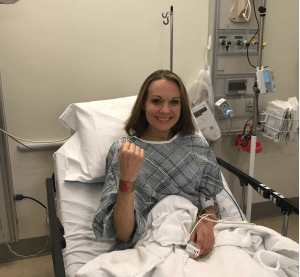 "If you are struggling, think about something that might bring you joy — a phone call with a friend you haven't spoken with for a while, a book you've wanted to read and never had time to. It can make a big difference in your mentality," Jessica said. "Do the best you can — some days will be harder than others — but you will also have good days to look forward to."
Jessica's passing was announced in a post on her Instagram page, "Jessica passed peacefully early this morning. Prior to her passing, she gave us this message to pass on to all of you: "Thank you for all your healing prayers and well wishes. Thank you for your support. And thank you for giving me the opportunity to know you and love you. Love, Jess."
The post also included a tribute to Jessica's inspirational personality, "Dream as if you'll live forever, but live as if you only have today."
Visit Jessica's Instagram here
Learn more about SurvivorNet's rigorous medical review process.