A 28-year-old breast cancer survivor's humorous take is shining a new light on the one side effect of chemo people really don't like to discuss.
Laila Roudsari, a sometime cancer researcher with a PhD from Duke and self described "dog-mom," is taking cancer blogging to a whole new level by talking frankly about her nails falling off.
Read More
"I reached a HUGE milestone this weekend!! Some of you may know that I lost all 10 of my fingernails after my 6th and final full chemo infusion. It was probably the worst of all of the chemo side effects," Dr. Laila, as she calls herself, wrote on Instagram to accompany a slide show of her nails over the course of her breast cancer treatment.
Chemotherapy for breast cancer is a lifesaver, but its side effects have been widely documented– we mostly read about hair loss, nausea, pain and vomiting. But not that many people talk about their fingernails falling off.
"Nail lifting" — where the fingernails loosen and begin to separate from the skin — and outright nail loss can happen to some chemo patients who are taking Taxol or Taxotere, two chemotherapy drugs most often used to treat breast cancer.
"About 25%-30 [of patients on those two drugs] have either nail lifting or nail loss. Its not a huge amount but it's some," says Dr. Marlene Meyers, Living With Cancer Specialist at NYU Langone Health.
Taxol or Taxotere are also sometimes used to treat ovarian cancer and prostate cancer. "We try not to use them in leukemia, lymphomas, but cancers with solid tumors do," says Dr. Meyers.
Even though the side effect, sometimes called "chemo nails," isn't a risk for a huge number of cancer patients, it's a very difficult side effect for those who go through it.
"It was probably the worst of all of the chemo side effects," wrote Dr. Laila.
Roudsari is originally from Charleston, South Carolina– "Half Persian, half Southern." Since graduating from Duke, the former cancer researcher has been working for a biotech company trying to grow lungs for people with chronic lung disease. Her boyfriend Joe is also a former cancer researcher.
Roudsari has undergone a double mastectomy, six cycles of chemotherapy, and 25 rounds of radiation. She also had what's called "axillary node dissection," which removes nodes from the underarm area, and which usually accompanies a mastectomy for women with invasive breast cancer.
For Roudsari, the effects of nail loss were kind of a shock. "At first I thought my oncologist was crazy when he warned me it would be the worst," writes Laila. "But he was right. It was so painful when anything barely touched touched my nails – oof!!" she writes. "The image progression shows my whole nail journey."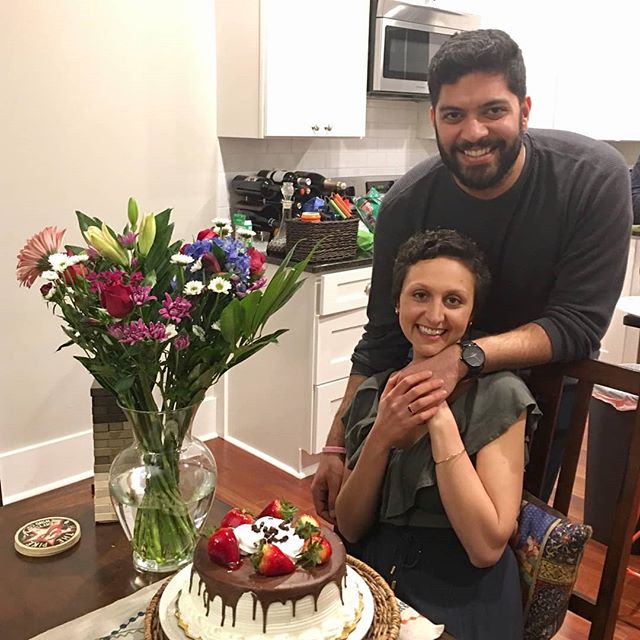 Dr. Laila Roudsari in her new apartment after the old one became "the apartment where cancer happened"
"First, my nails reddened," writes Dr. Laila. "Then they browned and lifted from the beds, followed by them starting to break off. At that point I had to soak them in Epsom salt 4-5 times a day to keep them clean and I bandaged them up after every soak to keep them dry (I tried everything, including the finger condoms pictured). Next is a picture of regrowth."
Dr. Laila also has a blog dedicated to documenting and sharing her post-cancer experience. "This blog's about boobies and life post-cancer.  My two real life fur pups are featured heavily too, because #theycutethough," Dr. Laila writes on her blog dedicated to sharing her experience post-cancer.
And her "life plan" is to make an impact in the world of breast cancer research. "So stay tuned," she writes.
It's important with lifting nails that patients use their nails as little as possible. "We tell patients to take precaution. Keep them short, don't use them as tools, don't do manicures where there may be bacteria introduced, because if the nail lifts and then bacteria gets under the skin, it can be painful, and unsightly," Dr. Meyers continues.
After a long journey with chemo, Dr. Laila's nails have returned to their former glory. "You can see the nail layers (I think from growth that stopped at every infusion). The final nail pic is this past Saturday right before getting them painted! The worst of the chemo journey is officially over!!!!! If you're suffering from nail issues during chemo, it will get better. So hang in there, it just takes time."
"The good news is the nails almost always do grow in, but a lot of people do report that the nails are rather sensitive and week," says Dr. Meyers.
Dr. Laila is celebrating their growth by giving her nails a special surprise. "I have waited 9 months for my nails to grow back. It has taken almost exactly that long to have full, attached nails. So I went and got a mani pedi to celebrate!!!! What a freaking treat!" she writes.
Learn more about SurvivorNet's rigorous medical review process.