Spreading Child Cancer Awareness
Maverick Pendleton, 4, is currently battling a cancerous brain tumor after experiencing symptoms that were initially thought to be from a stomach virus or a gastrointestinal issue.
Now, his family is sharing his story during Childhood Cancer Awareness Month.
Symptoms of brain tumors are often caused by increased pressure in the skull. Symptoms may include headache, nausea, vomiting, blurred vision, balance problems, personality or behavior changes, seizures, drowsiness or even comas. It is important to note, however, that these symptoms are not exclusive to brain tumors.
Here at SurvivorNet, we always encourage people to advocate for themselves when it comes to cancer and, more generally, health care. But when it comes to a child, the parent must become the advocate and make sure any possible signs of cancer are fully and expeditiously addressed.
When Maverick Pendleton, a 4-year-old boy from Spencer, Indiana, was feeling sick for a few months, doctors told his parents it was likely a stomach virus or a gastrointestinal issue — but they soon learned it was a cancerous brain tumor.
It wasn't until Maverick started getting headaches and a fever that his parents, Becky and Josh Pendleton, took him back to the doctors earlier this month. A CT scan looking for any fluid building up in the young boy's brain revealed Maverick had a tumor. He was admitted to Riley Children's Hospital in Indiana, Indianapolis, on September 2.
Read More
"I think I have felt every emotion that exists in the past few days. We just found out on Friday that he had a brain tumor," Maverick's aunt, Bari Soash, told
CBS4 Indy
. "Leading up to that point, for almost three months, he's been getting sick."
Bari, who learned of her nephew's tumor through a phone call from her twin sister, described the brain tumor as "very large." She said, "It's pushing on his eye behind his eyes. It's mostly on the left side of his brain and some major arteries run through it. They also, on the MRI, discovered that some of the cancer has likely spread down his spinal cord."
Related: Why Do Pediatric Drugs Take So Long to Develop? A Look into the Lag Time on Drug Approvals for Childhood Cancer & Other Illnesses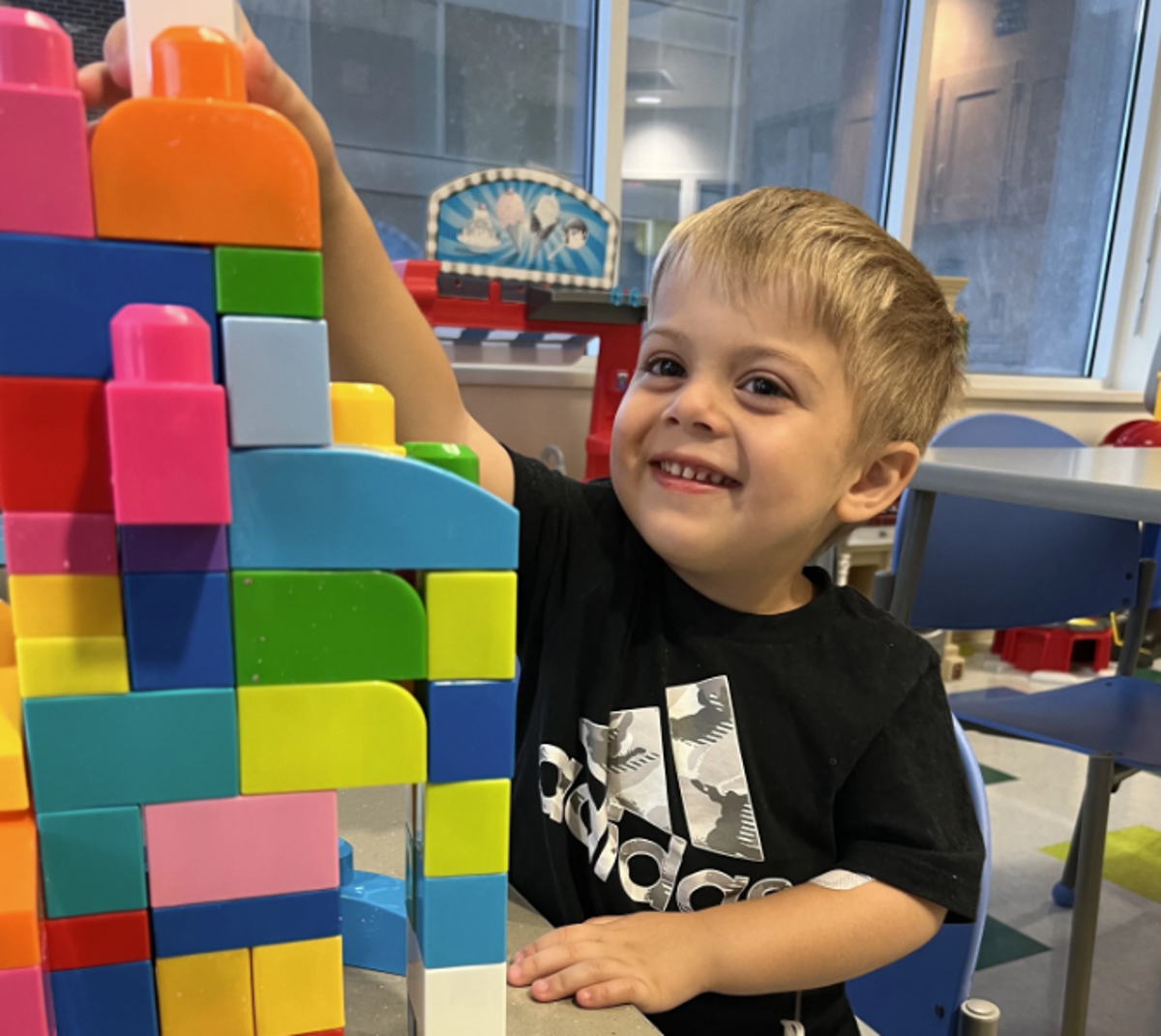 Bari said that Maverick, the young's of five siblings, had to undergo an eight-hour surgery to have the tumor, which was confirmed to be cancerous, removed. However, the tumor wasn't completely removed as Maverick lost a significant amount of blood during the surgery, Bari explained.
As Maverick recovers from the surgery in the ICU, his biopsy results are pending. The results will reveal the type of cancer he has and allow doctors to figure out what the best treatment plans will be. Bari said more scans, as well as an oncologist visit, will be needed.
Following Maverick's tumor discovery, Bari revealed her parents are struggling to comprehend the news, saying things like this are "supposed to happen to us at our age and not their youngest grandchild."
Related: Parents of New York Toddler Thought The One-Year-Old Had COVID; It Turned Out To Be Stage 4 Cancer
She is now urging other parents to listen to their children when they aren't feeling well. "You just really need to listen to them because most children don't have any reason not to tell you the truth," Bari added.
Meanwhile, a GoFundMe page has been set up for Maverick and his family, as his parents, U.S. Air Force veterans, are battling medical costs. Maverick also has an older sister with Cystic Fibrosis. "Please help me help them! It's so important to our family that they are able to have all of their focus on Maverick and his healing," the GoFundMe page's organizer wrote.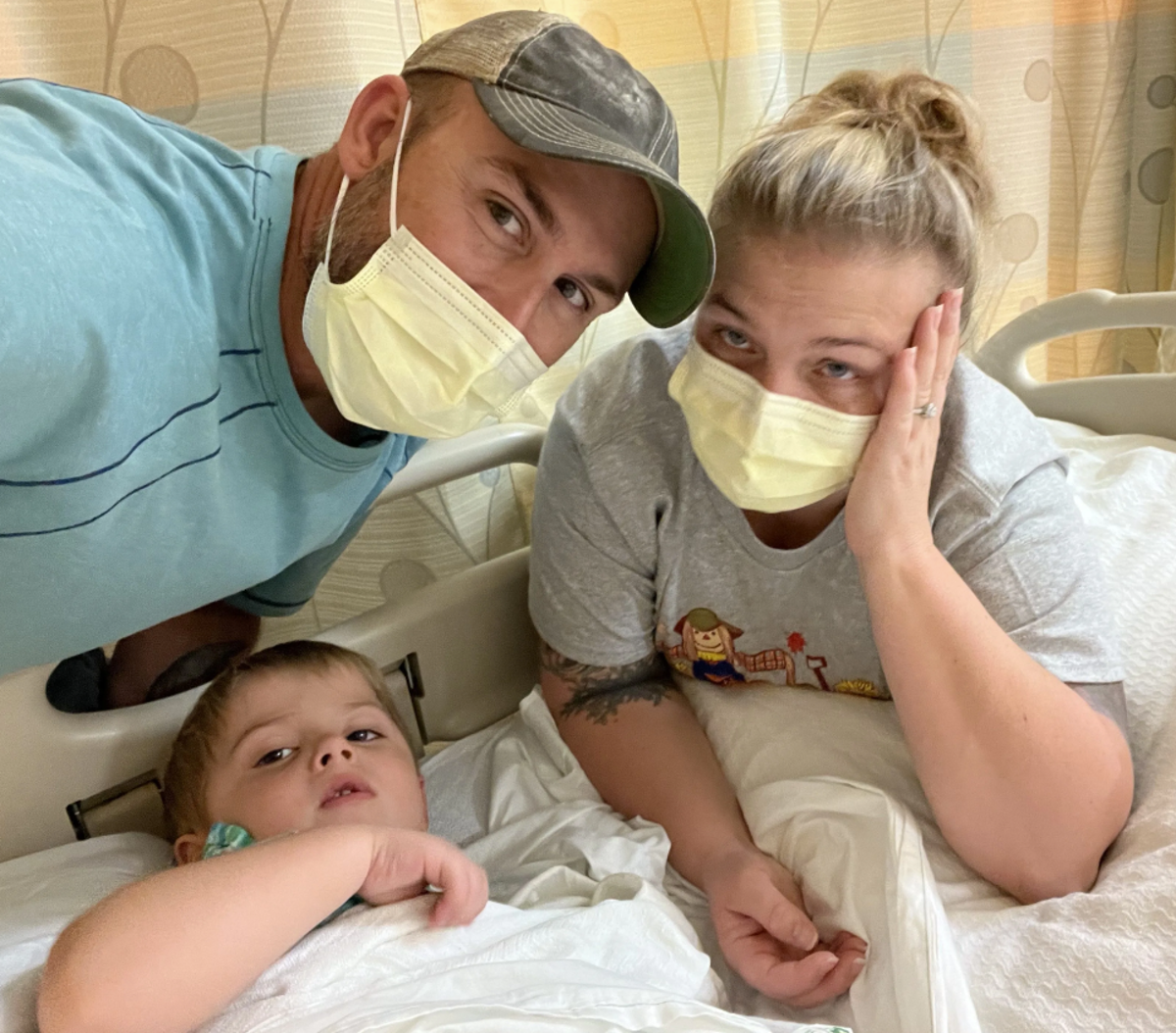 Understanding Brain Tumors
Brain tumors account for 85 to 90 percent of all primary central nervous system (CNS) tumors, according to the American Society of Clinical Oncology (ASCO). The central nervous system consists of the brain and spinal cord and acts as the main "processing center" for the nervous system. Normal function of the brain and spinal cord can become difficult if there's a tumor present that puts pressure on or spreads into nearby normal tissue.
Related: Toddler's 'Extreme Pain' Was Blamed On A Tick Bite: It Turned Out To Be Cancer
There are many different types of brain and spinal cord tumors. Some are more likely to spread into nearby parts of the brain or spinal cord than others. Slow-growing tumors may be considered benign, but even these tumors can cause serious problems.
General Symptoms of Brain Tumors
Symptoms of brain tumors, as a whole, are often caused by increased pressure in the skull. This pressure can be caused by tumor growth, swelling in the brain or blockage of cerebrospinal fluid (CSF), according to the American Cancer Society.
General symptoms may include the following:
Headache
Nausea
Vomiting
Blurred vision
Balance problems
Personality or behavior changes
Seizures
Drowsiness or even coma
But it is important to note that these symptoms are not exclusive to brain tumors. Still, you should always consult with your doctor if any health problems arise.
Understanding Childhood Cancer
Treatment advances in recent decades have led to 85 percent of children with cancer now surviving five years or more, according to the American Cancer Society. This is up from 58 percent from the mid-1970s.
But according to the National Pediatric Cancer Foundation, more than 95 percent of childhood cancer survivors have significant health-related issues because of the current treatment options, and only 4 percent of the billions of dollars spent each year on cancer research and treatments are directed toward treating childhood cancer in the United States. Since 1980, fewer than 10 drugs have been developed for use in children with cancer while hundreds of drugs have been created exclusively for adults.
Related: 'I Thought It Was Just A Tummy Bug:' Mom On How Her 'Never Sick' Young Son's 'Flu-Like Symptoms' Turned Out To Be Cancer
The Impact of a Childhood Cancer Diagnosis on the Whole Family
Dr. Elizabeth Raetz, director of pediatric hematology and oncology at NYU Langone's Perlmutter Cancer Center, reminded us in a previous interview that there is still reason for hope.
"There are also targeted treatments and different immunotherapies that have been studied in adults and have now moved into clinical trials for children and there has been a great deal of excitement in the community about that," Dr. Raetz told SurvivorNet.
Advocating for Your Child
Here at SurvivorNet, we always encourage people to advocate for themselves when it comes to cancer and, more generally, health care. When it comes to a child, the parent must become the advocate – just as we saw in the case above.
And even if you're called 'pushy' or people dismiss the concerns you have for your child, it's important to remember that you never know when speaking up about a seemingly unproblematic issue can lead to a very important diagnosis – cancer or otherwise.
Be Pushy, Be Your Own Advocate… Don't Settle
"Every appointment you leave as a patient, there should be a plan for what the doc is going to do for you, and if that doesn't work, what the next plan is," Dr. Zuri Murell, director of the Cedars-Sinai Colorectal Cancer Center, told SurvivorNet in a previous interview. "And I think that that's totally fair. And me as a health professional – that's what I do for all of my patients."
Contributing: SurvivorNet Staff
Learn more about SurvivorNet's rigorous medical review process.
---