It's exciting to be a college student but it's also challenging on so many levels: living on your own, in some cases supporting yourself, figuring out a career path, and just facing your future in a way you don't have to do when you are younger. For Swathi Srinivasan it got much more difficult this past January when she was told she had cancer. Oh, and the world was also heading into a global pandemic. Swathi, 21, had to figure out how to process her Hodgkin's lymphoma diagnosis as she was entering the spring semester of her junior year at Harvard College.
"I remember others calling me after hearing about my diagnosis and saying 'this is just a bump in the road.' But this wasn't a road bump. This wasn't a wrong turn. This just is," says Swathi Srinivasan, on how she felt when she found out she was sick.
Read More
RELATED: Veterans at High-Risk for Lung Cancer are Finally Getting the Support They Deserve
Swathi's life changed once she got her diagnosis. She gained a sense of appreciation and gratitude for some things while, at the same time, coming to terms with insecurities that developed after the cancer, like her lethargy or weight gain from treatment.
With the great change that came after her diagnosis, Swathi began to appreciate things more and had a greater sense of gratitude for normalcy. She also appreciated the cancer treatment and care that her cancer team and loved ones provided. From these experiences, Swathi was reassured of her desire to work at the intersection of policy, law, and science.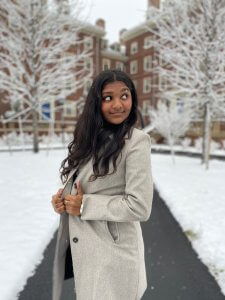 Who Is Swathi?
Swathi grew up surrounded by science, with a mother who worked as a chemistry lecturer and a father who worked as an engineer. She was born in Cleveland, Ohio, where she spent most of her life. Swathi spent her childhood exploring physical activities like Bharatanatyam (a traditional Indian classical dance) and playing soccer while also feeding her creativity with art and learning. When not outside, Swathi's days were filled with music, listening to rock, and collecting vinyl. She was also enthralled by learning.
RELATED: Medical Social Workers Offer Emotional Support to Ovarian Cancer Patients
Her curiosity was evident from a young age as Swathi attended her mother's chemistry lectures. She loved preparing a science fair project, usually incorporating her Indian heritage and designing projects to understand how Something might work. In one she explored how various nutrients in Indian food might have properties to mitigate aspects of neurodegenerative diseases like Alzheimer's. This fed into her wanting to understand the social determinants of health, specifically with the HIV/AIDS and opioid epidemic.
Swathi eventually left Ohio to attend Harvard College where her academic interests transcended her initial exploration.
She entered on the pre-med route, assuming her love for science would potentially lead her down a path of medical practice. However, she was also immensely interested in the intersection of policy, law, and science. Through Harvard and its various resources, Swathi was able to conduct research about the opioid epidemic to further solidify her interests.
RELATED: How Can We Support The American Cancer Society After 1,000 Job Cuts? Virtual Fundraisers Not Collecting Enough Money
Swathi studies History of Science and Social Studies with a minor in chemistry. "I like the problem solving nature of chemistry and the intuition in it. I also love the perspective that the social sciences offer." Prior to her diagnosis, Swathi was particularly interested in the notion that being born in a certain place to certain people at a certain time can lead to a certain outcome in one's life. However, she wondered what she wanted to do as her interests aligned with many professions. She noticed in the research she conducted that there was an evident stigma against people with infectious diseases and that affected the care they were getting since being HIV positive was looked down upon. However, Swathi did not realize that she, too, would have her own experiences with healthcare and its biases towards those who are afforded secure situations.
How She Found Out She Had Cancer
Swathi had a trip to England and Portugal this past fall. She was accepted to a Harvard School of Public Health class in Brazil for the winter term and she was going to study HIV in a field course. However, she had to get the yellow fever vaccine to be permitted on the trip. To get the vaccine, Swathi's doctor had to sign off that she was healthy enough to receive it . At her checkup, Swathi mentioned that she had been feeling fatigued, especially when it came to being motivated to do school work, something she had never felt before as she was very passionate about her academics. Yet, she could not find it in herself to finish her term paper. Once mentioning this exhaustion to her doctor, Swathi realized that, for a while, she had been suppressing her health for the sake of finishing up all the things she had on her to do list on any given day.
RELATED: Sisterhood of Support: A New Zealand Woman Shaved Her Head in Solidarity with Her Sister, Who was Diagnosed with Acute Lymphoblastic Leukemia
Swathi had swollen lymph nodes a few months earlier and was told to keep an eye on them but it wasn't until she was being examined that her medical team decided to look into her symptoms further; she got an X-ray and biopsy. Then, the day before Christmas she got a phone call from her nurse telling her she had been diagnosed with Hodgkins Lymphoma.
That evening, as her mother was away India, Swathi had to tell her dad about her diagnosis. She said that internally she isn't really a person who thinks things are problems until they are problems, and she tries not to worry too much about anything, especially things out of her control. This is similar to her father; Swathi describes him as stoic and proactive, addressing issues rather than worrying about them.
So when Swathi told her dad, he responded: "All right, what's next?" And Swathi replied: "Good question. We'll figure it out."
How a Young Mother Learned From Her Terminal Cancer Diagnosis
Help From a Dear Mentor and Harvard Professor
As one of Swathi's next steps, she called her adviser and mentor Anne Harrington, a History of Science Professor at Harvard College and the Director of Undergraduate Studies for the History of Science Department. Swathi asked her how she should approach all of this especially with all the goals she had. Harrington told her that they would take it one step at a time and reassured Swathi that everything would be okay.
Fortunately, around that same time, Harrington was having a lunch with Professor David Nathan, who was the former president of the Dana-Farber Cancer Institute. Harrington mentioned Swathi during the dinner and before Swathi knew it, she was in communication with Dr. Nathan.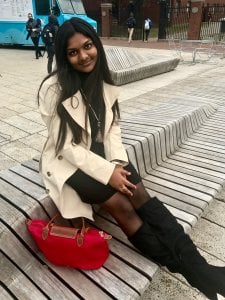 Dr. Nathan told Swathi that one of his best students, Dr. Ann LaCasce, is now a lymphoma oncologist. Once in communication with Dr. LaCasce, Swathi booked her staging appointment. She returned to Harvard on January 2nd, 2020, met with Dr. LaCasce in person the next day and then left for Brazil on the 4th. Dr. LaCasce told Swathi that they would start treatment in two weeks but Swathi asked to hold off for a week longer, hoping she could complete her trip in Brazil so she could start off her year on a happy note rather than with chemotherapy. The trip ended up being informative for Swathi in ways she did not expect, as it helped her contextualize her experiences with healthcare.
RELATED: Actor Patrick Dempsey Shares Tips On How We Can Support People Battling Cancer — Reach Out, Know Information, And Practice Self Care
Treatment Begins
'Be Grateful For The Good Things' Ovarian Cancer Survivor Donna Cleland's Story
When she returned to school, Swathi met with her Faculty Deans to discuss her plans. She started classes on a Monday, got her chemotherapy port in on that day and then began chemotherapy the next day. She would take free Harvard transportation from campus to Dana-Farber and back. She had an immense sense of gratitude for all the ways in which the people around her and her circumstances allowed for her experience to be the easiest that it could be for anyone in her situation.
"There is no other path besides the one that I am on. There is no other outcome where this didn't happen to me," says Swathi about her journey. She accepted what was and she faced the cards she was dealt. She began to understand that she could not control everything in her life and realized she needed accept help when offered.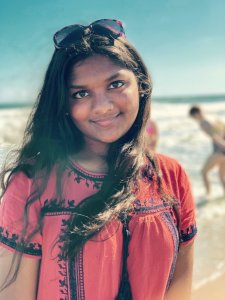 She came to terms with the inevitable side effects she would have from her reaction to chemotherapy, like gaining more weight or having a diminishing athletic capacity. However, even with all of this, she could not imagine having taken a semester off as school motivated her and kept her sane. This changed when the COVID-19 pandemic began.
RELATED: Kelly Preston Filmed Movie While Secretly Battling Breast Cancer; It's Important To Keep Doing What You Love
Self-Love
He Chose to Be There for Me — Getting the Support You Need During Treatment
Swathi was too preoccupied during this time to consider a romantic relationship a priority but she found that cancer tested her self-confidence and self-perception. "There were moments when I put on weight from the medication despite having a smaller appetite, and I would work out harder to compensate. I wasn't kind to myself, and there were points where I didn't love myself or my body." She had to find ways to cope with this and begin to love herself again. "Thankfully, I pushed past that somewhere midway into treatment, and distracted myself with friends, classes, and extracurriculars. I didn't once consider a romantic relationship during any of this, especially with all that was going on in the world and the fact that I had difficulty even loving myself at times."
RELATED: 'Do All the Things You Love, Now' — Baltimore Ovarian Cancer Survivor Rhonda Gold's Story
The Impact of COVID-19
Swathi began to cut herself some slack and wasn't as hard on herself about the changes she was seeing due to her treatments, especially once she began losing her hair. Her mentality was that if her hair was falling out then the therapy was working. She took this as good news. Generally, her trips to Dana-Farber were good but when she went to her treatment on Tuesday, March 10, something was different.
RELATED: I Have Cancer & Live in a COVID-19 Hotspot—What Should I Do?
On that day, at around 8:00 AM, Harvard College students were asked to move out of their dorms by March 15 at 5:00 PM and to not return to campus because of COVID-19. Swathi left intramural crew practice that morning to go to Dana-Farber for her chemotherapy.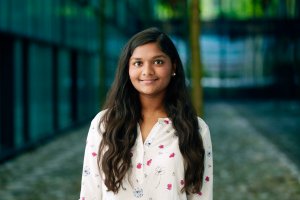 That entire day she could not help but wonder what would happen to her without her support network, sports, classes, and community. She recalls that treatment as being the worst visit she had had in a while, which resulted in her sleeping for the better part of the three following days.
RELATED: Alone In The Hospital During COVID-I9, Ovarian Cancer Survivor, Joanne Messeri, Created A Neighborhood Prayer Tree
She was too fatigued to go out and say goodbye to her friends as they quickly began leaving campus but she also did not feel safe doing so as COVID-19 was preying upon those with immunocompromised systems. Luckily, Swathi's father traveled to Boston to support her through her remaining chemotherapy, as campus was virtually empty. Swathi was approved to stay on campus for the remainder of her chemotherapy.
Coping Without A Regular Support System
Cancer Survivor Robyn Smith on Finding Support Networks 
After students left campus, Swathi had to readjust her expectations. She was no longer able to take public transportation or ubers so she began biking to and from chemotherapy. She did not have her usual support system with her so she began looking to other things for escape.
RELATED: Coping with Hair Loss During Ovarian Cancer Treatment
Her daily routine became waking up and biking to Dana-Farber, as she switched from chemotherapy to radiation therapy. After radiation, she biked back to her dorm where she attended classed via Zoom. Biking became something that Swathi looked forward to as it took her to and from her treatment. She found comfort in her traveling as it allowed her to have a sense of "calm and normal" with everything going on in her life but also in the world. She had a renewed appreciation for normalcy.
Swathi's activities helped her keep her mind off the difficult moments. She would sit by the Charles River to paint, played guitar, and found she had an interest in cars and learning how they worked.
The Future
Coping with Financial Burdens of Cancer Treatment
Prior to her diagnosis, Swathi was considering a multitude of paths for future. She wondered if she wanted to go to medical school or law school. She enjoyed that science allows you to answer questions about the unknown and that any question one has about science can be answered with science. Then, she began to think to herself, "You could solve and answer all of those questions but would HIV/AIDS medication make it to everyone if we don't also solve the issues of bias against LGBTQ populations, against sex workers, or against drug users? No. We have amazing technology and it's not getting to all people."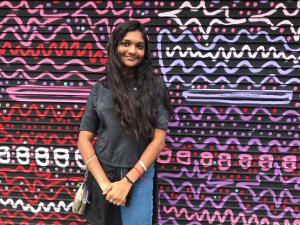 She began to ask herself who she wants to be. "Do I want to be the person that comes up with a cure to cancer? Or do I want to be the person that makes sure that a single mother living in a certain part of a certain city who is too busy taking care of her kids and working several jobs to worry about her own health gets the treatment any person deserves?"
RELATED: How to Find Your Confidence and be Bold
The answer to this question became much clearer when she was at Dana-Farber and the nurses asked her what kind of bagel she wanted and what kind of fruit she wanted on the side. She thought to herself that this is the golden carpet of treatment. Then she thought, "what is it like 3 miles from my campus where people are fighting for a spot at the local clinic because it's a clinic and a homeless shelter?" In that moment of pondering Swathi knew that she wanted to work on social intervention and public policy so that people could have the same fortunes she did, no matter where they grew up or whom they were born to. This is particularly important to Swathi because of the situation she was afforded.
RELATED: "I Compared My Noggin To Different Objects" — Blogger Georgie Swallows, 27, Says Playing With Her New Look Gives Her Confidence During Cancer
When Professor Harrington first found out about Swathi's diagnosis she told Swathi to find her quarterback. To find someone who she can trust to be there for her. To find someone she can put her life in the hands of and trust to help her figure out her situation. Swathi realized that Professor Harrington was her quarterback: her patience, her love, her tenacity to make sure Swathi had the will to get through this all made her Swathi's initial quarterback. Because of Swathi's circumstances, she found a quarterback not only in her Harvard Professor but also through her professor as she became connected to her medical team at Dana-Farber and the many others who helped her along the way. Now, Swathi wants to ensure that all other people have their quarterbacks too.
Learn more about SurvivorNet's rigorous medical review process.