The Lowdown on Wigs During Chemo
Wigs can run $30 to $2,000, but you may not have to cover the full cost.
It might be best to shop for wigs before you start chemotherapy.
Both synthetic and natural wigs have advantages and disadvantages.
Don't second-guess your feelings about losing your hair. Of course you're happy to be alive and know that there are other things more important than hair. But, that doesn't mean you can't mourn the loss of your hair. Hair loss is a very difficult part of cancer treatment. It's perfectly normal to feel low about it.
"To look into the mirror and see a bald head is difficult for most people," Laurie Ostacher, a medical social worker at Sutter Bay Medical Foundation, told SurvivorNet. "There's a lot of grief that comes with a cancer diagnosis and losing your hair can feel like another loss. The more we try to push it away and say it doesn't matter, the longer it tends to stick around. Grieve that loss, so you can move on."
Read More
Related: The Courage to Be You: Meet Survivor Ericka Hart
For many people who lose their hair during chemotherapy or radiation, part of moving on is getting a wig. Here's what you need to know about wigs, where to get them, what types you'll find, and whether you'll have to cover any of the cost.
From Insurance Coverage to Charities—The Cost of a Wig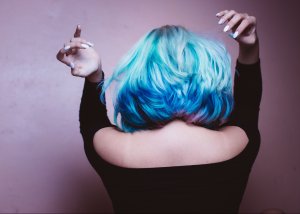 Wig prices vary a lot. You can get a good basic wig, made of synthetic hair for as little as $30. Higher quality ones can go up to $400. And, wigs made of human hair can run up to $2,000. You may be surprised to know that some health plans cover some or all of the cost of a wig. Hair loss is a side effect of some cancer treatments, and health insurance covers treatment for those side effects. It's definitely worth looking into it to try to save yourself some money.
Ask your insurance company if you have coverage for "cranial prosthesis" or "hair prosthesis" for cancer treatment-related hair loss. Those are medical words for wigs and the terms the insurance companies use.
Related: Celebrity Stylist Ann Caruso on Beauty and Femininity After Cancer
If your health insurance covers wigs, ask them what they need from you. The answer may be a written prescription from your doctor that uses the specific words "cranial prosthesis" or "hair prosthesis" and a code that shows you have cancer. You might also need to send them the receipt for the wig after you pay for it upfront.
Some wig shops will file the insurance claim for you and not ask you to pay upfront. You can call around to shops in your area or contact online wig retailers to see who offers this benefit.
If you don't have insurance coverage for a wig or can't afford the out-of-pocket portion, some charities provide wigs for adults who have cancer. Your social worker, church, support group, or local chapter of the American Cancer Support may have advice.
When to Get a Wig & How to Prepare
Before you go shopping for wigs, make sure that you are going to lose your hair. Not all chemotherapy causes hair loss. Talk to your doctor about what you can expect.
Will I Lose My Hair During Chemotherapy for Ovarian Cancer?
If your doctor tells you to plan for hair loss, you may want to buy a wig before you lose your hair. There's a number of good reasons to do this. For starters, chemotherapy can sap your energy. You might not feel up to shopping after you start treatment. You can also start getting used to the wig before you feel you have to wear a wig.
Some survivors recommend cutting your hair short or shaving your head before you lose your hair and before you shop for a wig. The reasons for this are partly psychological and partly practical.
Related: You're Still You After Cancer: Chiara D'Agostino's Survivor Story
First, it may be less traumatic than seeing large clumps of hair fall out gradually. "It was very empowering [when I shaved my head]. It felt like I had control of something," Edie Pursifull, who has stage 3C ovarian cancer, told SurvivorNet.
Taking Control Helped One Ovarian Cancer Survivor Come to Terms With the Loss of Her Hair
Cutting your hair short or shaving your head can also make it a lot easier to try on wigs. If you do go this route, plan to bring with you some pictures of the hairstyle you want – whether it's pictures of yourself with your usual style or pictures of a new look you want to try.
Where to Find a Wig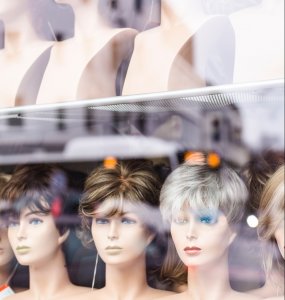 Your social worker, support group and other cancer survivors may be a good resource on wig shops worth trying. You can also do a search online, read the reviews, and/or call them up to see if they seem helpful over the phone. You can likely find brick and mortar shops in your area. Some may specialize in "medical hair loss." Like everything, you can also buy wigs online.
Human Hair or Synthetic — Types of Wigs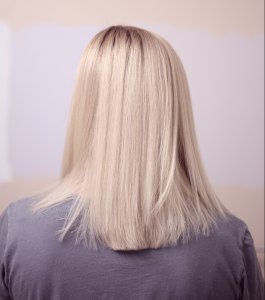 The biggest difference in synthetic wigs and the ones made of human hair is the cost. The real deal costs a lot more. But, that doesn't necessarily mean it's the best choice for everyone. Here's what you should know:
A very good quality synthetic wig might not look too different from a human hair wig
Synthetic wigs won't fall limp in the rain or frizz out in humidity – they hold their style all the time
Synthetic wigs don't fade
Synthetic wigs come in more colors than natural wigs
You can change the hair style, color and cut on a natural wig just like on real hair
Natural wig hair styles react to the weather – this could be a nuisance or help you feel more normal!
Some wigs can look so natural, people might not even know it's not your real hair. That's what survivor Teri Chow told SurvivorNet. "Other moms at my kids' school didn't know that I was going through this and they'd compliment on my hair – not knowing it was a wig," she says.
How Ovarian Cancer Survivor Teri Chow's Wig (& Humor) Helped Her Cope with Hair Loss
Hair Loss is Temporary
Whatever wig you choose, remember it's only temporary!
"Once chemotherapy is completed," gynecologic-oncologist Yvette Williams-Brown tells SurvivorNet, "your hair will grow back. It may change color or texture, but it can regrow as normal."
How to Slow Hair Loss During Chemotherapy for Ovarian Cancer
Learn more about SurvivorNet's rigorous medical review process.