Hip-hop dancer, Criscilla Anderson, 39, has shared the highs and lows of her stage 4 colon cancer treatment, demystifying life with cancer while raising awareness. Now, in an Instagram video, she reveals the secret to making hospital visits a little less painful: A port.
"I can't watch," she says, as a nurse cleans her port for a blood draw, adding, "it's a thing." But for Anderson, the port a device placed under the skin on the chest lets her avoid needles. "That thing's staying in there forever," she says on her Instagram video (below). "I like it. A lot of people like it."
Read More
Her nurse agrees, adding, "it's very reliable."
"I Know This Is My Miracle"
A hip-hop dancer who has appeared with Katy Perry and Rhianna in music videos, Anderson, 39, was first diagnosed with stage 3 colon cancer in 2018. After a brief remission, she reported a stage 4 metastatic
colon cancer diagnosis i
n 2019. In April, Anderson shared that her tumors had shrunk, saying, 
"I know this is my miracle."
Criscilla and her husband, country-singer
Coffey Anderson
, met in church in 2008 and married in 2009. They have three young children.
View this post on Instagram
What Is A Port?
A port — also known as a port-a-cath — is used to give chemotherapy, blood transfusions, and IV fluids. It's also used for taking blood samples, allowing patients to avoid repeated needle-sticks.
RELATED: Country Singer Coffey Anderson and Brave Wife, Criscilla, Tackle Her Stage 4 Colon Cancer as a Family: 'We are a Team'
The port device is surgically placed under the skin, usually on the right side of the chest, below the collar bone. It's attached to a thin, flexible tube known as a catheter (hence the port-a-cath name), which is threaded into the superior vena cava, the large vein on the right side of the heart. A port may stay in place for weeks or months.
To Port? Or Not To Port?
Ports are optional for cancer patients, but many find it makes treatment easier. "Chemotherapy medications can be a little bit tough on the blood vessels," says Dr. Peter Argenta, a gynecological oncologist at University of Minnesota Health Cancer Care.
"Some people can receive them through a regular IV in the arm but most people will benefit from getting a port."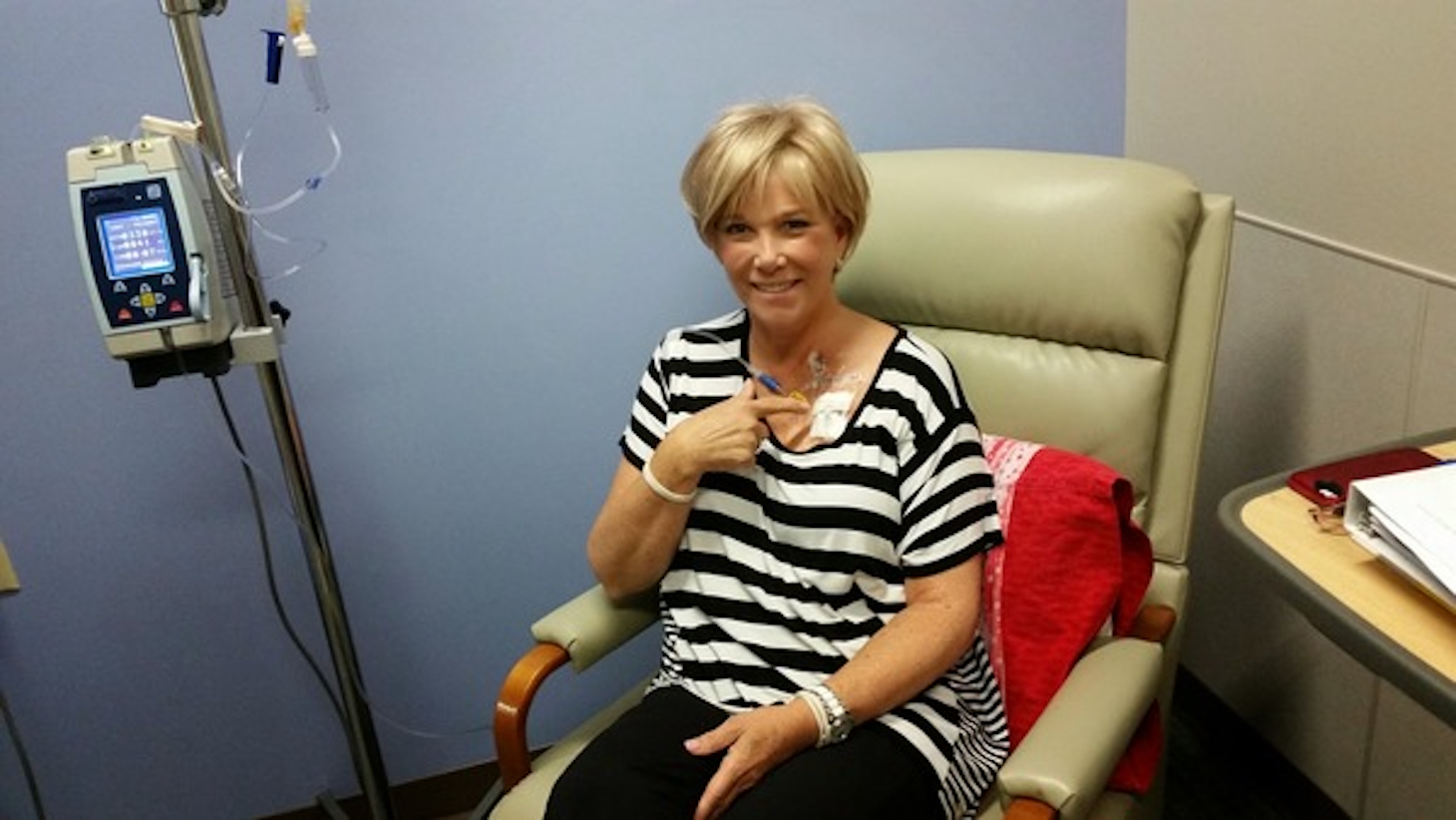 While a port isn't for everybody, Joan Lunden a self-described "needle weenie" opted to have a port surgically implanted while undergoing chemotherapy for breast cancer in 2014.
"Save My Veins, Save Myself"
When author and former GMA news-anchor, Joan Lunden, underwent treatment for breast cancer, she shared her decision to get a port: "I am not great with needles, and of course the treatment is all about needles. I had a few "bad sticks" which left me with massive bruises not to mention it really hurts when that happens."
RELATED: 'I Ended Up Where I Needed to Be': TV Legend Joan Lunden Says Her Breast Cancer Diagnosis Lit a Fire in Her
After talking to her doctors and fellow breast cancer survivors, Lunden opted for a port. "Going through months of having chemotherapy intravenously in your arms can be pretty rough on your veins. By getting a port, it could save my veins as well as save myself from the emotional anguish of inserting the IV into my arms each week," she wrote on her breast cancer blog.
Port Placement: A Surgical Procedure
Port placement is a short surgical procedure done with IV medication that makes you feel drowsy and controls pain and anxiety. Before a port placement, tell your doctor if you're allergic to heparin, a medication that prevents blood clots from forming. If so, you will need a special type of port.
RELATED: Chemotherapy for Ovarian Cancer: What to Expect, Why a 'Port' Makes Things Easier
During the procedure, a small surgical incision will be made at the base of your neck. A second incision will be made on your chest, under your collarbone. The catheter will be placed through the second incision, tunneled under your skin to the first incision, and threaded into your vein.
Dr. Paul Oberstein a medical oncologist at NYU's Perlmutter Cancer Center, on treatment options for stage 4 colon cancer.
Any discomfort after the procedure — at incision sites and where the catheter was tunneled under your skin — can be managed with over-the-counter pain medication and should resolve in 24-48 hours. Once your incision heals, you can return to your normal daily activities and bathe or swim as usual.
Accessing Your Port
You won't need to cover the port when it's not in use, but when a nurse places a needle through the access point — called accessing your port — they'll cover it with a see-through bandage. The fluid or medication will move from your implanted port through the catheter and into your bloodstream. Don't allow anyone who isn't trained in port access to access your port.
Flushing Your Implanted Port
Your port will need to be flushed by a nurse every four weeks when it's not in use to make sure the catheter does not become blocked. A port that becomes blocked may not work anymore and may have to be removed. When properly maintained, a port can stay in place for weeks or months.
Learn more about SurvivorNet's rigorous medical review process.
---