"I've always loved the quote, 'There are two great days in our life: the day we're born and the day we discover why.'"
In a wide-ranging and intimate interview with SurvivorNet,  television legend Joan Lunden — who hosted "Good Morning America" for nearly 20 years and just released a new book, "Why Did I Come Into This Room?" about the aging process — explained that for her, the quote really resonates — because she feels one of the reasons she was born was to use her own experience with breast cancer to advocate and spread awareness for other women.
Read More
Lunden, 69, was one of the first female TV news anchors to really become a household name. One of the really incredible things about her career, she says, is the fact that she was able to balance being a working journalist and a mom on national television for the whole country to see. Lunden is a mother of seven. She found out she was pregnant with her first child the same day she got the job offer from "Good Morning America," she tells SurvivorNet.
RELATED: 'Charlie's Angels' Jaclyn Smith Opens Up About How the Angels Cast Leaned on Each Other During Cancer Battles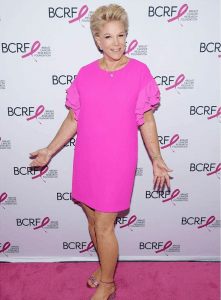 Advocating For Women
"One reporter after another from TIME, to Newsweek, to Good Housekeeping, to the New York Times … that was all they really wanted to talk about, because a cooperation was allowing a woman to return to work a breastfeeding mom — and bring her baby to work with her," Lunden says. "I then started getting boxes of mail from women all over the country, saying, 'We need help like that. But we don't have access to any kind of benefits.' That kind of lit a fire in me and set me on this path of being a woman's advocate."
And she continues that advocacy tenfold after going through breast cancer. Lunden says the diagnosis — as someone who regularly discusses and is so on top of their health — came as a huge shock.
"Candidly, I never thought I would be one of the women who would get breast cancer," she says. "The fact that I didn't understand the significance of dense breast tissue kind of just lit a fire in me and sent me on this mission to say, 'Here I am a journalist, and how could I have been so uneducated about something so incredibly important."
RELATED: When You're Getting a Mammogram, Ask About Dense Breasts 
Lunden's Cancer Diagnosis
She was diagnosed with triple negative breast cancer in 2014 — and has used the experience to educate and advocate for other women who have taken on the disease. One of the topics discussed in her memoir about the experience — Had I Known — is how it can be harder to detect breast cancer in women who have dense breasts, an important topic women should know to ask their doctors about when they get mammograms.
RELATED: When Should I Get a Mammogram?
Lunden's co-author for that book, Laura Morton, was actually diagnosed with breast cancer shortly after working with Lunden — and told SurvivorNet in a previous interview that she never would have known to ask about dense breast tissue if it hadn't been for Lunden's experience.
The world-famous TV journalist also advocates for the rights of cancer patients, and has a special section on her website dedicated to sharing what she's learned from her own experience with the disease. Her passion for health and wellbeing as well as advocating for women's issues has changed as she's been through challenges in her life, Lunden says, but it's never faltered.
"I probably ended up where I needed to be," Lunden says. "Those are the things, when you fight a life-changing battle, that you contemplate — and maybe you would never have contemplated them otherwise. So, when you contemplate those things it sure does focus you on what you want to do with the rest of your life."
Learn more about SurvivorNet's rigorous medical review process.