Losing a Spouse to Cancer
Actor Damian Lewis spoke publicly for the first time about losing his wife, actress Helen McCrory, to a private battle with breast cancer.
Many women develop breast cancer every year, and the disease is the subject of much research. There are many treatment options out there, but treatment paths depend greatly on the specifics of each case.
Losing a spouse to cancer can cause immeasurable pain, but it's important to try to have uncomfortable conversations with your loved one – if they're open to it – during their cancer battle.
It's been nine months since actor Damian Lewis lost his wife of 14 years, actress Helen McCrory, to breast cancer. But grief is a journey, and Tuesday night marked the first time he's spoken publicly about his loss.
McCrory, best known for her roles as the villainous Narcissa Malfoy in the Harry Potter films and as matriarch Aunt Polly in the Peaky Blinders series, was a fan of poetry. So, a night of poetry at the National Theatre celebrating the launch of writer Allie Esiri's latest anthology, A Poet For Every Day Of The Year, was dedicated to her.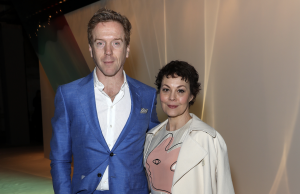 Read More
Esiri, who was a friend of McCrory, also dedicated the book to her.
"We dedicated the evening to Helen, and Damian said a few words, but we just wanted to get on and do the show," Esiri said. "It's what she would have told us to do – 'OK, enough already, get on with the show!'
"She loved poetry and I think she would have been pleased to be kind of here with us. It felt right."
In his dedication, Damian Lewis, 50, talked about why the night was made for his "perfect Helen."
"This evening is dedicated to her and it's perfect, because Helen loved the National Theatre," Damian Lewis said. "One person whose thunder would absolutely not be stolen was Helen McCrory."
The event featured readings from some of McCrory's colleagues and friends as well as a recording of McCrory reading Wild Geese by Mary Oliver at a previous event. And with McCrory and Damian Lewis' daughter Manon, 15, and son Gulliver, 14, sitting in the audience, Lewis also read Everything Is Going To Be All Right by Irish poet Derek Mahon to the 900-person audience.
"There will be dying, but there is no need to go into that…The sun rises in spite of everything…Everything is going to be all right," he read.
Understanding Breast Cancer
McCrory passed away at age 52 in April 2021 after a private battle with breast cancer. And while we don't know much about the specific case of the wife of Damian Lewis, but this disease has been the subject of much research. Many women develop breast cancer every year, but men can develop this cancer too – though it is more rare, in part, due to the simple fact that they have less breast tissue.
There are many treatment options for people with this disease, but treatment depends greatly on the specifics of each case. Identifying these specifics means looking into whether the cancerous cells have certain receptors. These receptors –  the estrogen receptor, the progesterone receptor and the HER2 receptor – can help identify the unique features of the cancer and help personalize treatment.
RELATED: 'It's A Game Changer': FDA Approves Keytruda, Chemo Combo To Treat Aggressive Triple-Negative Breast Cancer
"These receptors, I like to imagine them like little hands on the outside of the cell, they can grab hold of what we call ligands, and these ligands are essentially the hormones that may be circulating in the bloodstream that can then be pulled into this cancer cell and used as a fertilizer, as growth support for the cells," Dr. Elizabeth Comen, a medical oncologist at Memorial Sloan Kettering Cancer Center, previously told SurvivorNet.
The Unique Features of Breast Cancer: Deciding the Right Course of Treatment
One example of a type of ligand that can stimulate a cancer cell is the hormone estrogen, hence why an estrogen receptor positive breast cancer will grow when stimulated by estrogen. For these cases, your doctor may offer treatment that specifically targets the estrogen receptor. But for HER2 positive breast cancers, therapies that uniquely target the HER2 receptor may be the most beneficial.
Losing a Spouse to Cancer
Losing a loved one to cancer can cause immeasurable pain – as Lewis can surely attest to. And while it's difficult to imagine life without someone like your significant other, it can be important to have difficult conversations with your loved one in advance if both parties are willing to talk.
No one knows this better than John Duberstein who lost his wife, writer Nina Riggs, to metastatic triple negative breast cancer. He previously told SurvivorNet all he wished for while she was suffering was for things to go back to the way they were – but Nina had already accepted her new normal.
The Toughest Conversations: Losing a Spouse to Cancer
"I really wanted things to go back to normal, whatever that meant," John said. "She was not for that. She wanted to embrace the existence that she had, even before she knew she was going to die imminently. I did not want to talk about what was going to happen with me after Nina died. Nina is the one that really brought it up, she brought it up a number of times. She wanted to make sure that I knew that it was OK … she really wanted me to have another relationship after she was gone."
RELATED: Folk Legend John Prine's Widow Shares the Story behind the Musician's Clairvoyant Song 'When I Get to Heaven'; Musician Battled Cancer Twice, but Passed from COVID
John said that even with the pain of losing Nina, and even though he didn't want to talk about it at the time, he's so glad that his wife started those seemingly uncomfortable conversations.
"In retrospect, I can't even explain how glad I am that I had that," John said. "And I think, across the board, the people who have had those conversations who I know who have lost a spouse are immeasurably glad that they did."
And there's definitely no one way to cope with the loss of a spouse, but Doug Wendt shared his thoughts on grief in a previous interview with SurvivorNet after losing his wife, Alice, to ovarian cancer.
"I Don't Want to Move On; I Do Want To Move Forward": Doug Wendt On Being A Caregiver and Tragically Losing His Wife to Ovarian Cancer
"We're never gonna move on, I don't even think I want to move on, but I do want to move forward," Wendt said. "That's an important distinction, and I encourage anybody who goes through this journey as a caregiver and then has to face loss, to think very carefully about how to move forward."
Learn more about SurvivorNet's rigorous medical review process.