When Ronald Reagan was in the fourth year of his presidency in 1985, he took a brief break from running the country to have a cancerous polyp removed from his colon. And then, he got right back to work. The cancer was discovered during a routine colonoscopy, according to Politico, and it serves as a reminder — especially as March is #ColorectalCancerAwarenessMonth — about just how important screening is.
At the time of the former President's surgery, which was performed at Bethesda Naval Medical Center in Maryland, Reagan was the oldest serving President at age 74. Still, he only took a week off before returning to work.
Read More
RELATED: How Does a Colon Polyp Turn Into Cancer?
Dr. Steven Rosenberg of the National Cancer Institute, who has spoken to SurvivorNet in-depth in the past about the promise of the immunotherapy revolution for cancer treatment, predicted at the time (accurately) that there was a good chance that the then-President would be completely cured, since the cancer stayed in the colon and had not penetrated the bowel wall or any surrounding nerves or lymph nodes. To this day, for colon cancers that are diagnosed in stage one — meaning cancer has not penetrated deeper layers of the colon and has not spread — surgery is the best and most effective option.
Dr. Rosenberg's prediction turned out to be correct — and Reagan went on to live to be 93 years old, before passing away in 2004.
RELATED: 'You Shouldn't Die From Embarrassment': Colon Cancer Can be Prevented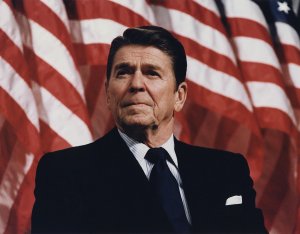 Despite the health struggle, Reagan didn't invoke a clause in the 25th Amendment that allows a president to temporarily transfer power to the vice president if they become briefly incapacitated, according to Politico, choosing instead to head back into work as soon as he was given the go-ahead.
Reagan didn't speak much about the brush with cancer, simply stating, "Well, I'm glad that's all out," after his surgery — still, his experience and speedy recovery serve as a reminder that colon cancer screening is incredibly important and it does save lives.
RELATED: Monitoring After Colon Cancer Surgery
Catching Colon Cancer Early is Key
Currently, the American Cancer Society recommends that people with an average risk of developing colon cancer begin getting regular colonoscopies at age 45. If you have a higher risk, because colon cancer runs in your family or because of certain lifestyle risks, your doctor may recommend you begin getting colonoscopies earlier.
The benefit of colonoscopies is that cancer can be detected before it even begins to grow, Dr. Zuri Murrell, a colorectal cancer surgeon and Director of the Cedars-Sinai Colorectal Cancer Center, told SurvivorNet in a previous interview on the subject.
Dr. Zuri Murrell explains that paying attention to diet and getting regular colonoscopies are the two best ways to reduce colon cancer risk. 
"It's always my goal, and I think the goal of every colorectal surgeon, to basically end the disease," Dr. Murrell said. "…[A colonoscopy is] a way to actually look in the colon. And all colon cancer starts as these small growths called polyps, and these polyps have no signs, no symptoms. The only way you can know you have them is if you do a colonoscopy, and you see them. And you take them out during that procedure, and if you do that, those cannot grow into a colon cancer."
Getting cancerous polyps removed is precisely what happens with former President Reagan, and allowed him to go on and serve his second term.
Learn more about SurvivorNet's rigorous medical review process.