Elvis Set an Example for Vaccine Use
Elvis Presley was an important role model to others when it came to vaccines and public health; he was photographed in 1956 before an appearance on The Ed Sullivan Show getting the polio vaccine.
With the COVID-19 vaccine being shipped across the country, some are still hesitant about the safety of the vaccine.
President-elect Joe Biden has received the vaccine and Presidents Barack Obama, Bill Clinton, and George W. Busch have said they will get the vaccine publicly to help prove to others that it is safe.
Elvis Presley changed the American music landscape in the 1950s, but many people don't know that he also changed attitudes towards the polio vaccine, too. Polio is a life-threatening disease caused by
the poliovirus
. Like the coronavirus, it spreads from person-to-person contact. It can lead to paralysis, by affecting a person's spinal cord.
Related: More Than 80% of Black Americans Say They Don't Trust COVID-19 Vaccine Safety; What Does That Mean for Those With Cancer?
Read More
Presley was
photographed in 1956
before an airing of
The Ed Sullivan Show
receiving the polio vaccine
from New York City Assistant Commissioner of Health, Harold Fuerst. In the years before the vaccine, poliovirus caused over
15,000 cases of paralysis
per year in the U.S. It was – like COVID-19 is now – "one of the
most feared diseases in the U.S.
," said the CDC.
Related: I'm In Active Cancer Treatment – Can I Get the COVID-19 Vaccine?
The first polio epidemic in the U.S. occurred in 1894, but it wouldn't be until the mid-20th century when a vaccine was widely available and administered. Presley was likely an influencing factor for many people who admired him, and followed suit to get the vaccine, as he did in 1956. Two years earlier, the New York City Department of Health launched a widespread publicity campaign to promote the polio vaccine. And by 1963, polio cases in New York City had fallen to zero.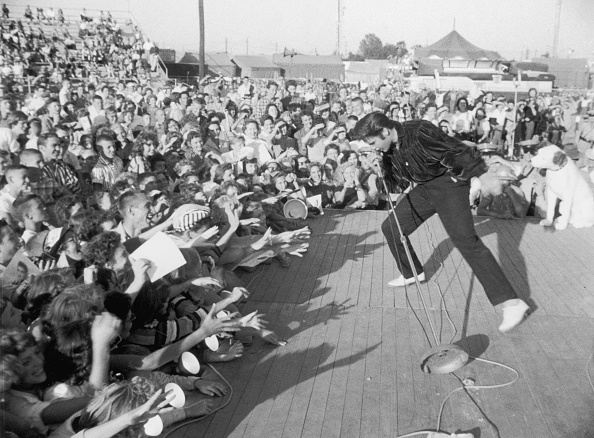 The COVID-19 Vaccine
The COVID-19 vaccine is currently being administered throughout the U.S. to healthcare workers, and some politicians, too. President-elect Joe Biden received the vaccine on live television, and Presidents Barack Obama, Bill Clinton, and George W. Busch have also pledged to publicly document themselves receiving the vaccine, as a way to assure the public that it is safe to get it.
Related: Sir Ian McKellan, 81, Is One of First to Get COVID-19 Vaccine As He Continues to Monitor Prostate Cancer
In a culture as celebrity-driven as the U.S., it's no wonder that the health commissioner enlisted the help of the "King of Rock n' Roll," Elvis Presley, to help show others that getting the vaccine was safe to do. For the COVID-19 vaccine, having prominent figures, such as President Barack Obama, and actor Sir Ian McKellan (who received the COVID-19 vaccine), be public and vocal about the vaccine, it may help assuage others who have reservations about it.
A Cancer Vaccine for Multiple Myeloma
In the cancer world, there is also vaccine development underway. There are currently several ongoing clinical trials for vaccination for patients with smoldering myeloma – a disease that's close to becoming active myeloma, but does not yet have symptoms.
Related: How to Diagnose and Treat Smoldering Multiple Myeloma
Dr. Irene Ghobrial, a Medical Oncologist at Dana-Farber Cancer Institute, said in a previous interview, "We know that, in general, your body should not have cancer cells. Because they should be foreign to your body. So your immune system is supposed to recognize a cancer cell, because it's changed, it's mutated."
Related: Preventing Multiple Myeloma: A Promising New Approach For People at High Risk
"And therefore, it should not be a normal cell in your system and should be attacked by your immune cells and get killed," said Dr. Ghobrial. "Yet, cancer cells are smart enough. And they develop something, sort of a shield to prevent immune cells from recognizing them. With a vaccine, we basically show to the immune cells those changes that are present in a cancer cell. So now, you rev up the immune system against two specific changes. And now, they go around, recognize it, and find it."
COVID-19 and Cancer Screenings
As the COVID-19 pandemic has led to crowded hospitals and extra safety precautions, it has delayed cancer screenings and some cancer treatments. Dr. Mikkael Sekeres, Director of the Leukemia Program at Cleveland Clinic Cancer Center, said in an earlier interview, "What we've noticed at our cancer center is that as the COVID-19 pandemic hit, we saw our patient numbers drop. We did expect that to some extent. People are fearful of a virus that they don't understand. And frankly, people are getting conflicting messages about what's safe to do."
Related: Smart Tips For Getting Cancer Screenings Right Now From The Chief Medical Officer of the American Cancer Society
It's important to continue cancer screenings through COVID-19 because often the sooner most cancers are caught, the better the prognosis may be, and the wider the treatment options.
It's Important To Continue Cancer Screenings Through COVID-19
Learn more about SurvivorNet's rigorous medical review process.