Do blood tests to find cancer early work?
Cancer detection company Grail made headlines earlier this month with the release of Galleri,  a multi-cancer early detection blood test that the company says has the ability to detect over 50 different forms of the disease. A recent study in the Annals of Oncology found that Galleri had the ability to detect 45 types of cancer that lack recommended screening tests while still in the early stages of the disease.
Read More
Early detection is still the most powerful tool in fighting cancer, but the
Centers for Disease Control
have only recommended screening tests for five forms of the disease in the US – breast, cervical, colorectal, lung, and prostate. Galleri offers a way for medical professionals to screen for those other cancers by analyzing the patient's blood.
Grail will now keep working to improve this test, with the hope being that the mortality rate in cancer patients decline as early detections start to climb.
How Blood Tests Detect Cancer Early
The test works by analyzing blood samples for cell-free DNA (cfDNA), which are degraded fragments of DNA that are expelled in the blood plasma after leaving the confines of the cell. Patients with cancer have increasingly high cfDNA numbers because the tumors inside their bodies are shedding and depositing fragmented DNA into the bloodstream in large quantities.
At the same time, the test also searches for evidence of methylation, a chemical change that occurs with the DNA in the earliest stages of cancer. If the test finds any abnormal methylation patterns in a patient's blood test it would not only suggest that cancer is present but also provide a location from which the cancer originated inside the body. This also provides clues to how far along the cancer is inside the body.
"Finding cancer early, when treatment is more likely to be successful, is one of the most significant opportunities we have to reduce the burden of cancer," explained the lead author of the study Dr. Eric Klein, chairman of the Glickman Urological and Kidney Institute. "These data suggest that, if used alongside existing screening tests, the multi-cancer detection test could have a profound impact on how cancer is detected and, ultimately, on public health."
How Reliable Are Blood Tests to Detect Cancer?
In the most recent study, the Galleri test correctly determined cancer was present in 51.5 percent of cases.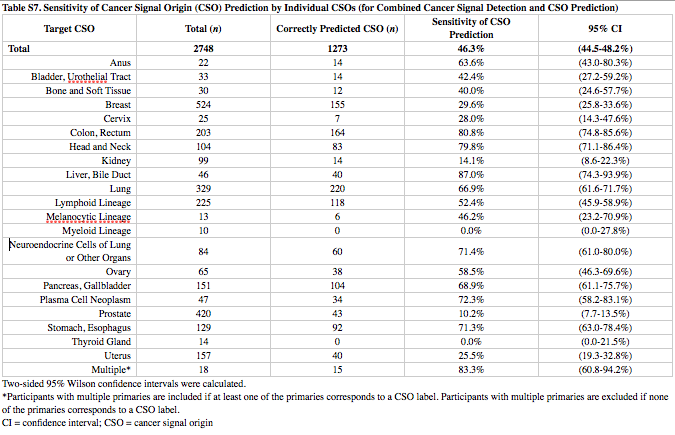 The accuracy with which cancer was detected improved significantly with each cancer stage. Stage I patients had a sensitivity rate of 16.8 percent, while that number jumped to 40.4 percent in stage II patients. That result then nearly doubled in stage III patients who had a 77 percent sensitivity rate while stage IV patients topped the list with a 90.1 percent sensitivity rate.  A stage IV cancer patient is easier to identify than an early stage patient because the amount of cfDNA in the bloodstream increases as the cancer advances.
The Galleri test was most successful in identifying liver, head/neck, esophagus and pancreas cancer.  It struggled to detect thyroid, prostate and kidney cancer in participants.
Grail has said they will be working to improve the test in the coming years. And Grail has been upfront telling consumers that the test:
Is only recommended for use in adults over 50 with an elevated risk for cancer
Is not able to detect all cancers
Should be used in addition to routine cancer screening tests recommended by a healthcare provider
Should be interpreted by a healthcare provider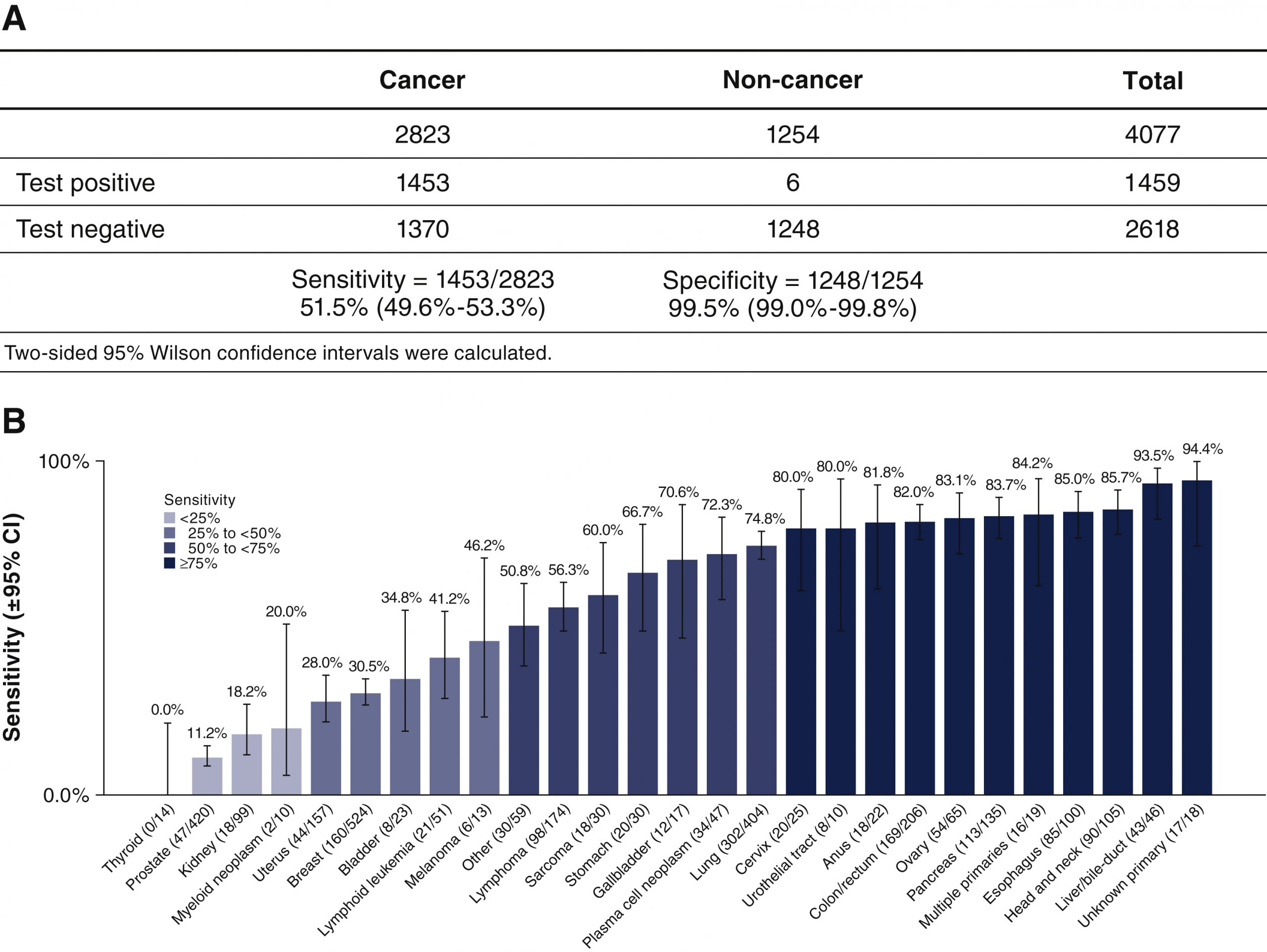 The success of Galleri also showed the difference money can make when developing these technologies, with Grail raising $2 billion in capital last year to support efforts to bring the test to market. And even if the test is not yet perfect, this is a strong start for the company.
Dr. Vernon Sondak from Moffitt Cancer Center says the blood test is another effective tool people should be using when it is time for their cancer screening.  The test isn't perfect, but there are still people whose lives will be saved because they will detect cancer earlier.
All the test requires is a blood draw, which can be done by a physician during an annual physical. The test costs just under $1000, and patients can expect results within 10 days of the doctor sending their blood sample to the lab. The company is not seeking FDA approval until 2023.
Grail included cancer patients from the Mayo Clinic, Dana-Farber Cancer Institute, Cleveland Clinic, Sutter Health, OHSU, Intermountain Healthcare, and U.S. Oncology Research in the evaluable groups used in the various studies of Galleri.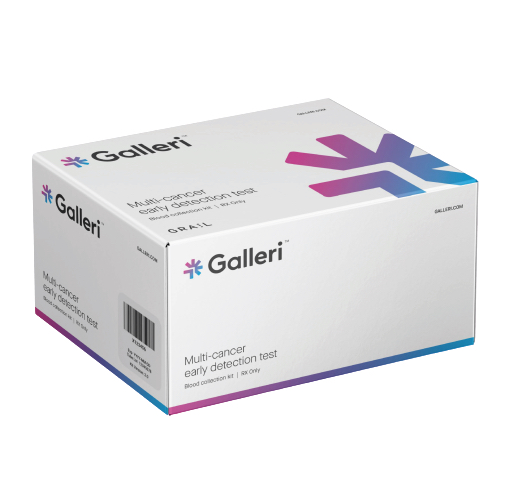 The Blood Test That Did Not Detect Cancer
All of this stands in stark contrast to Theranos, which was run under a veil of secrecy.
Theranos was a health technology corporation founded by Elizabeth Holmes on the false claim that she had devised the technology to do what Galleri does –  and more. Theranos told investors on its way to a $9 billion valuation that its machines could analyze just a single drop of blood for everything from cancer to diabetes to Zika. It was never peer-reviewed though, and did not participate in any clinical study programs. It also did not work and was soon worth nothing, a sequence of events that will be detailed in full no doubt when Holmes prepares for her federal trial in August.
More Blood Tests to Detect Cancer Early
The Galleri test is similar to a number of others on the market, such as Guardant 360 which uses cfDNA technology to locate tumors in patients with advanced-stage cancer. The drug company Natera has also used cfDNA for everything from inherited condition testing in pregnant women to allograft rejection in transplant patients. That company also has a cancer detection test, but it utilizes circulating-tumor DNA (ctDNA) rather than cfDNA.
The success of these tests have all helped to turn the narrative around when it comes to blood testing, and undo some of the damage caused by the collapse of Theranos.
Galleri also comes a year after  CancerSEEK, a test developed at Johns Hopkins University and acquired by Thrive Early Detection. A study published in Science last year revealed that the test had discovered 26 malignancies that were not detected during mammograms or colonoscopies in the 10,000 participants, all of whom were healthy females over the age of 50.
"What I'm most excited about in the field of cancer care, generally speaking, is that I think we're really on the cusp of a paradigm shift to understanding and identifying earlier stage cancer," said Steve Kafka, a Chairman at  Thrive previously told Survivor Net. "That's important because we know that the earlier the better in terms of finding cancer, and being able to have treatment options available to patients that lead to vastly improved outcomes and cures in many cases."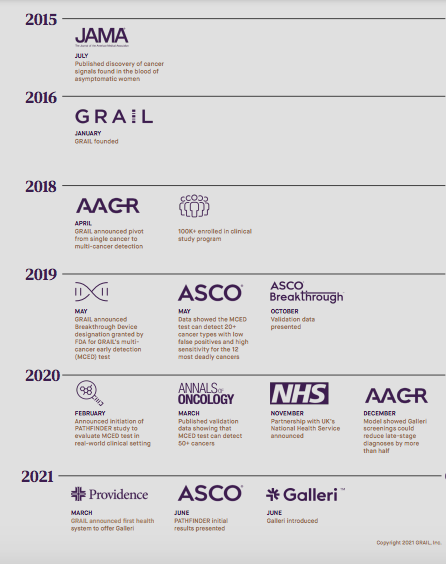 Learn more about SurvivorNet's rigorous medical review process.
---