Scientists don't know if the weed killers used in gardening cause cancer. That has not prevented people from suing with claims that their cancer was the result of direct contact with these products. And the lawsuits keep coming.
A jury in San Francisco ordered the agricultural conglomerate Monsanto to pay $289 million to a groundskeeper who claimed the company's weed killer, Roundup, gave him non-Hodgkins Lymphoma. The company is appealing.
Read More
Now there's a new lawsuit in California with a similar claim.  A married couple, both of whom have non-Hodgkin's lymphoma, is blaming years of exposure to Roundup for their cancer.
The lawsuits and the counter claims are likely to keep happening. But if you are concerned about the risk posed by these sorts of products, here is what we know:
In 2017, the United States' Environmental Protection Agency determined that the primary chemical in weed killer, Glyphosate, was not likely to cause cancer. However, the World Health Organization (that's actually part the United Nations) claimed in 2015 that it probably did contribute to cancer.
Why is there so much confusion? In general, it's difficult for studies to prove that any chemical is definitively bad. "Establishing that a given agent causes a health outcome is close to impossible," says Dr. Melissa Furlong, an environmental health expert from University of Arizona College of Public Health.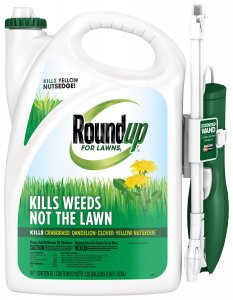 One reason these studies are so hard to execute is because of ethical concerns: Researchers are not able to specifically expose subjects to large amounts of pesticides and watch their health over the years, as that would be knowingly putting them in harms way—and looking at people who have been exposed to pesticides and developed cancer does not prove that the former actually caused their disease, but rather, just an association between the two. So while studies have been done that show that pesticide chemicals do cause cancer in animal subjects, doing the same for humans has yet to be accomplished.
Without that definitive data from reliable studies, it's difficult to change regulations around consumer goods, says Dr. Arch Carson, associate professor of environmental and occupational health sciences at the University of Texas School of Public Health in Houston, in part because there are lobbyists (not unlike those who fight to keep tobacco products available) that put political pressure on government groups to protect and limit regulations on the companies that make pesticides and other consumer products.
So what should you do to protect yourself from these chemicals on a daily basis? "The easy answer is 'buy organic,'" Dr. Furlong recommends. "Washing and soaking produce is also effective, and studies in China have shown that longer soaking times for produce are associated with lower pesticide metabolites in urine."
Learn more about SurvivorNet's rigorous medical review process.
---