It's very clear that Duane (Dog the Bounty Hunter) Chapman is still grieving after losing his wife, Beth, to cancer in June. However, he did say in a recent interview that he will date again at some point, with Beth's blessing, of course. Dog confirmed to Entertainment Tonight that he plans to have more girlfriends, but he'll never have another wife.
As Dog made the interview rounds ahead of the release of his new show Dog's Most Wanted this week, he fielded plenty of questions about how he is holding up just two months after losing Beth. In August, some rumors began swirling about Dog moving on just weeks after losing his wife, after the world-famous bounty hunter was spotted out with a brunette woman at an LA restaurant. Dog disputed the rumors that he is currently seeing anyone, but said he will date — eventually.
Read More
RELATED: BONNIE CHAPMAN TALKS TO SURVIVORNET ABOUT GRIEF AND RUMORS PLAGUING HER FAMILY
"I walk by all these girls … I said, 'Hey, Mama, I'll make you famous,'" Dog said in the interview with ET. "They're not really my girlfriends. I'm not saying I'm not gonna have one, 'cause I will, [but] I'm not gonna get married."
Dog confirmed in the interview that like so many couples, Dog and Beth had the difficult discussion about him moving on romantically before she passed away — and they came to an agreement. Dog will never marry again, and he will always keep her named tattooed on his chest.
"There will never be another Mrs. Dog," he confirmed.
RELATED: HAVING THE TOUGHEST CONVERSATION – LOSING A SPOUSE TO CANCER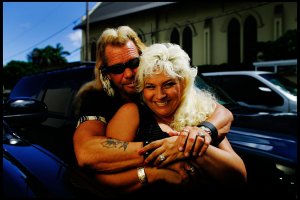 In a recent interview with SurvivorNet, Dog spoke in depth about the grieving process — explaining that he's still trying to figure out what to do with his feelings. He still feels lonely, and he doesn't understand why Beth was taken from him.
"I'm still trying to find out what to tell my fans, and my brothers and sisters across America about how they can get through it," Dog told SurvivorNet. "I still am not there yet… It's going to take me some time to find that out."
Beth passed away at age 51 on June 26 after a battle with stage 4 lung cancer. Her first diagnosis came in 2017, when she was diagnosed with stage 2 throat cancer. She was treated at the time and declared cancer-free. However, her cancer returned at the end of 2018 — and by that time it had progressed to stage four, and spread to her lungs.
RELATED: STAGE 4 LUNG CANCER – WHAT ARE THE TREATMENT OPTIONS?
While Beth was alive, she remained relatively private about how her disease was being treated, if at all. Dog confirmed after she passed that she had attempted chemotherapy, but decided to stop because her tumors were not responding to treatments, and she began experiencing really difficult side effects. Her loss of appetite was so extreme that the TV star lost nearly 50 pounds. Dog confirmed that the family backed her 100% when she decided to stop chemotherapy, and said that she chose to have a better quality life, instead of a longer one.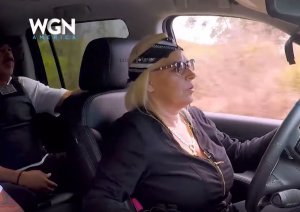 On Wednesday, when Dog's Most Wanted debuted on WGN America, the family confirmed that Beth's medical team had also attempted to make use of immunotherapy. The show kicked off with some commentary on the couple's situation. "In 2014, Duane (the Dog) Bounty Hunter and his wife, Beth Chapman, retired from full-time bounty hunting," a narrator explains. "And in 2017, Beth won a year-long battle with cancer after having a tumor removed from her throat. But today, for the entire Chapman family, everything is about to change."
The camera then pans to a scene where Beth, Dog, and their daughter Cecily are driving in a car together and receive a call from Beth's doctor. The call revealed that they attempted a round of immunotherapy — or harvesting the body's immune system to fight an individual's cancer — but Beth's tumors did not respond. The doctor then suggests getting Beth in to begin chemotherapy immediately, but an emotional Beth says she needs a minute to process the diagnosis.
This season of Dog's Most Wanted will give more intimate looks at how Beth's disease affected the entire Chapman clan. But, naturally, will also feature plenty of bounty hunting antics. Beth did say, after all, that she wanted to spend the last months of her life doing what she did best — hunting fugitives with Dog and the rest of the family.
Learn more about SurvivorNet's rigorous medical review process.