The Chapman family has been through an incredible struggle this summer, ever since family matriarch and fan-favorite on their Dog the Bounty Hunter TV series, Beth, passed away after a battle with lung cancer. She was just 51 years old. The family has had to deal with robbery, false accounts asking for donations after Beth's passing, and even hurtful rumors swirling about family drama. The latest rumor — sparked by some paparazzi photos of Duane (Dog) Chapman out with a mystery woman six weeks after losing Beth — were promptly squashed by the couple's youngest daughter Bonnie, 20, who spoke to SurvivorNet in an exclusive interview.
Several outlets reported, with accompanying photos, that Dog appeared to be moving on and dating again in the wake of losing his partner of nearly three decades. The photos show Dog out with a brunette woman at a Los Angeles restaurant. Bonnie quickly disregarded the notion that Dog was already seeing other women in her Instagram story — and cleared up the speculation in her interview with SurvivorNet.
Read More
"My dad went on a business dinner and he had been accused of moving on and going on a date with some woman when really there were 8 other people there with them," Bonnie told SurvivorNet.
"It's really hard for my dad right now," she added. "My family has been through enough in the past few months. We are trying to grieve and dealing with the additional rumors and accusations is not helping. I don't care if you love us or hate us. Just remember, we're human beings. We deserve a time to pause, take care of ourselves and our family as we heal."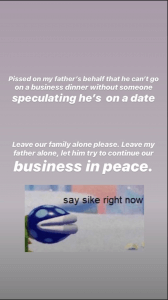 In her Instagram story, Bonnie continued to say that the woman in question was a member of the family's "crew" and there were several other members of their team in attendance at this dinner. It's unclear which crew Bonnie was referring to, though it's possible that she was talking about the crew for the family's upcoming show Dog's Most Wanted — which premiers on WGN America on Sept. 4 and follows the family's bounty hunting antics, as well as Beth's cancer battle.
Beth's Cancer Battle
Beth passed away on June 26 after a rough battle with cancer — her second bout with the disease. She was first diagnosed with stage 2 throat cancer in 2017. She underwent treatment, including surgery, and was declared cancer-free several months later. However, her cancer returned in late 2018, and by then it had spread to her lungs.
A lot of fans were really inspired by Beth as she took on stage 4 cancer — especially since she was so candid about the ups and down of facing cancer in the public eye. She did remain mum on how, or if, she was being treated for the disease this time around, indicating to fans that she didn't want to put her body through the trauma of chemotherapy. Typically with stage 4 lung cancer, doctors will try to make use of precision medicine — or catering treatment to the individual characteristics of a person's cancer.
Faith and Cancer
Beth did, however, maintain a really positive attitude throughout her cancer journey — and she made it clear to fans that as a devout Christian, she was relying heavily on faith as she faced her ultimate challenge. Many members of the SurvivorNet community have relied on faith to give them the strength to keep fighting during their cancer battles.
When discussing Beth's last words after she passed, Dog told reporters that his wife knew her time was coming — and devoted her final moments to the two things that mattered the most to her — faith and family.
"When she had the attack, I didn't know anything to do but to say, 'In Jesus name,' and to hold her," Dog said, referring to an attack that Beth had several days before she passed, which led to her being brought to the Hawaii hospital where she would spend her final moments. "And when I said, 'In Jesus' name,' she said, 'Say it again, say it more.' And then she … told the girls and everybody … I love you. Are you guys all OK? Don't worry."
Learn more about SurvivorNet's rigorous medical review process.