Learning About Thyroid Cancer
Christina McKnight, of Oklahoma City, began her battle with thyroid cancer at age 27 after her husband pushed her to make an appointment with a doctor. She says she initially dismissed her cancer symptoms as work-related stress.
Thyroid cancer, like many other cancers, can be difficult to spot and early detection is key to successful treatment. It is important to talk to a doctor if you have any concerns about your body.
Symptoms of thyroid cancer can include a lump, swelling or pain in the neck, voice changes, trouble swallowing or breathing or even a constant cough.
Christina McKnight, of Oklahoma City, began her battle with thyroid cancer at 27 years old after her husband Matthew Mcknight "knew something wasn't right" and pushed her to make an appointment with a doctor.
Now 35, she has opened up about how she initially dismissed her cancer symptoms — consisting of fatigue, exhaustion, extreme brain fog, confusion, irritability, slow weight gain, brittle hair and not wanting to work out when it was once her favorite activity — as work-related stress.
Read More
Prior to her 2014 diagnosis, Christina, a content creator, suspected her onset of symptoms was caused by her new promotion at the commercial bank she worked at. Now, the mom to a five-year-old boy admits cancer is something she "never thought would happen" to her. "I was young, fit and healthy. I'd just run a half marathon, did CrossFit for three years and had
no known hereditary thyroid disease in the family
at all. I just started to feel very tired and had loads of brain fog, but I thought it was just because of my promotion," she explained, according to the Independent.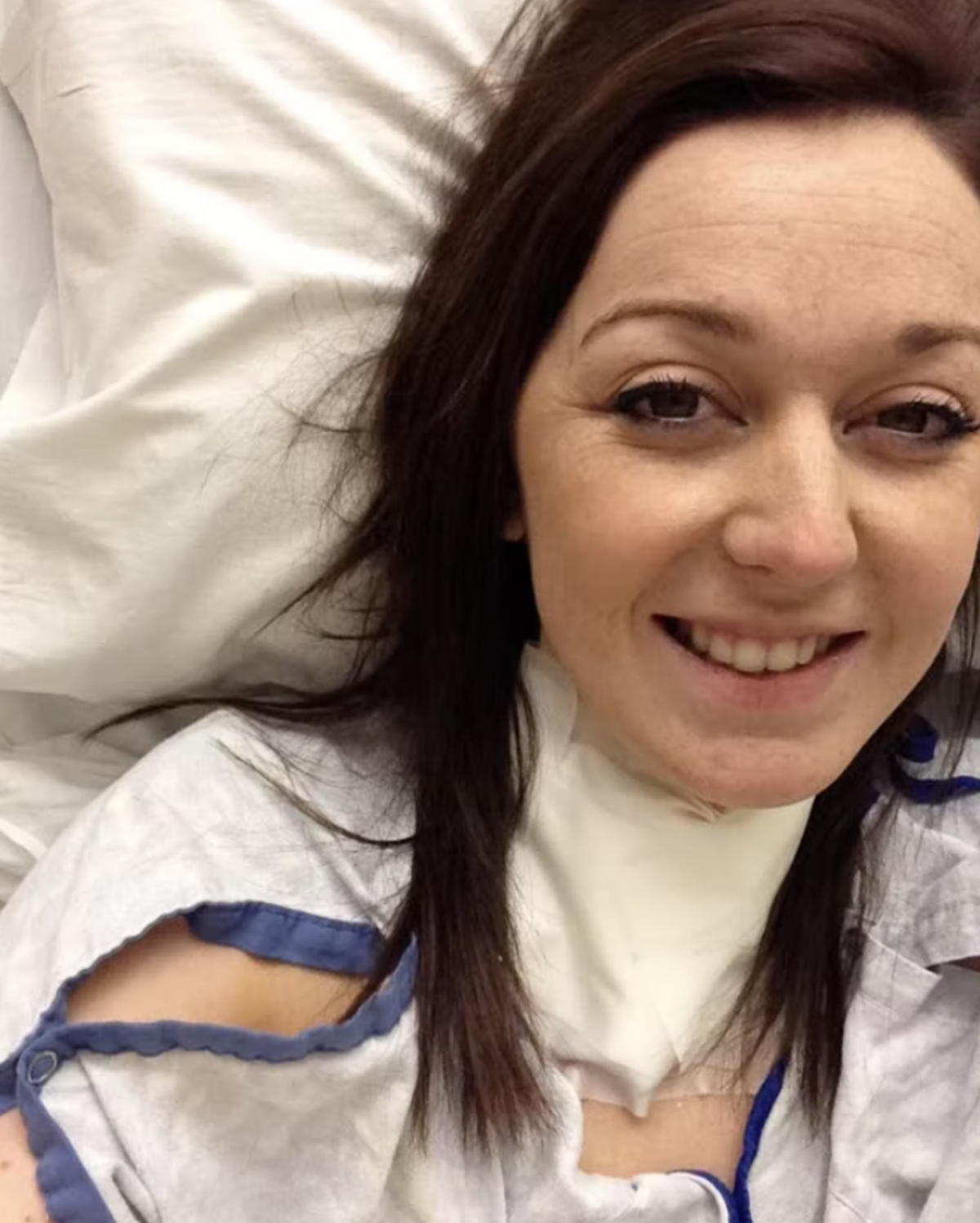 "Then my husband noticed how tired I was and my lack of interest in things like the gym, which I usually love. I couldn't get stuff done like I used to. I would have to go to work on a Sunday to catch up because my brain was so foggy," Christina said.
She admitted to "brushing" off her symptoms, but her husband "knew something wasn't right" and pushed her to schedule a doctors appointment.
"I finally went to the doctor to appease him mostly. I said my symptoms were because I wasn't looking after myself. I was eating fast food and stressed at work," she said. "Thankfully my doctor recognized my symptoms as he had recently diagnosed others with thyroid cancer. He felt my neck and found a lump which I wasn't even aware of and got the ball rolling with diagnosis."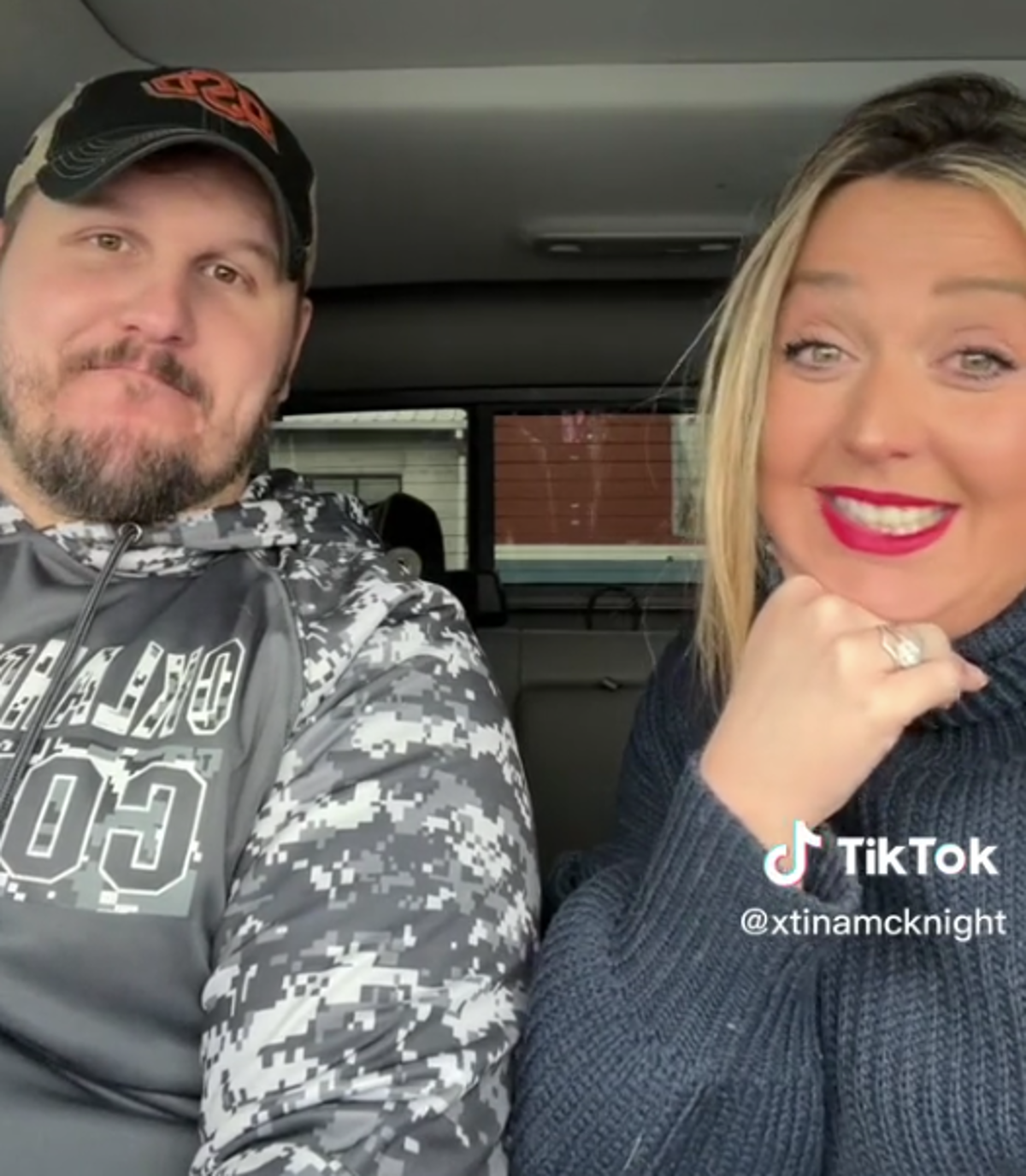 Doctors revealed she had thyroid cancer after she underwent an ultrasound and a biopsy, but Christina sought a second opinion, which also confirmed her diagnosis — ultimately prompting her to move forward with treatment.
After first feeling symptoms and getting diagnosed around September 2014, Christina had a thyroidectomy two months later. Months later, she followed up with a radioactive iodine ablation treatment to rid of any other areas of her remaining thyroid gland.
Then in 2016, she was dubbed cancer-free, only to follow up with thyroid replacement injections after losing hormones.
She has since been spreading awareness for thyroid cancer on her TikTok page.
"I share my story, not to scare people, but to remind them to pay attention if you're experiencing changes and to go to the doctor. Listen to the people around you if they notice changes in you. Sometimes they see things in us that we don't see," she says in one of her videos.
"Thankfully I'm OK and my husband made sure I saw a doctor, but I never would've thought that being tired and having dry hair was cancer. It's so important to be aware of these lesser-known symptoms and to not assume it wouldn't happen to you, listen to the people around you and listen to changes in your body. It could save your life."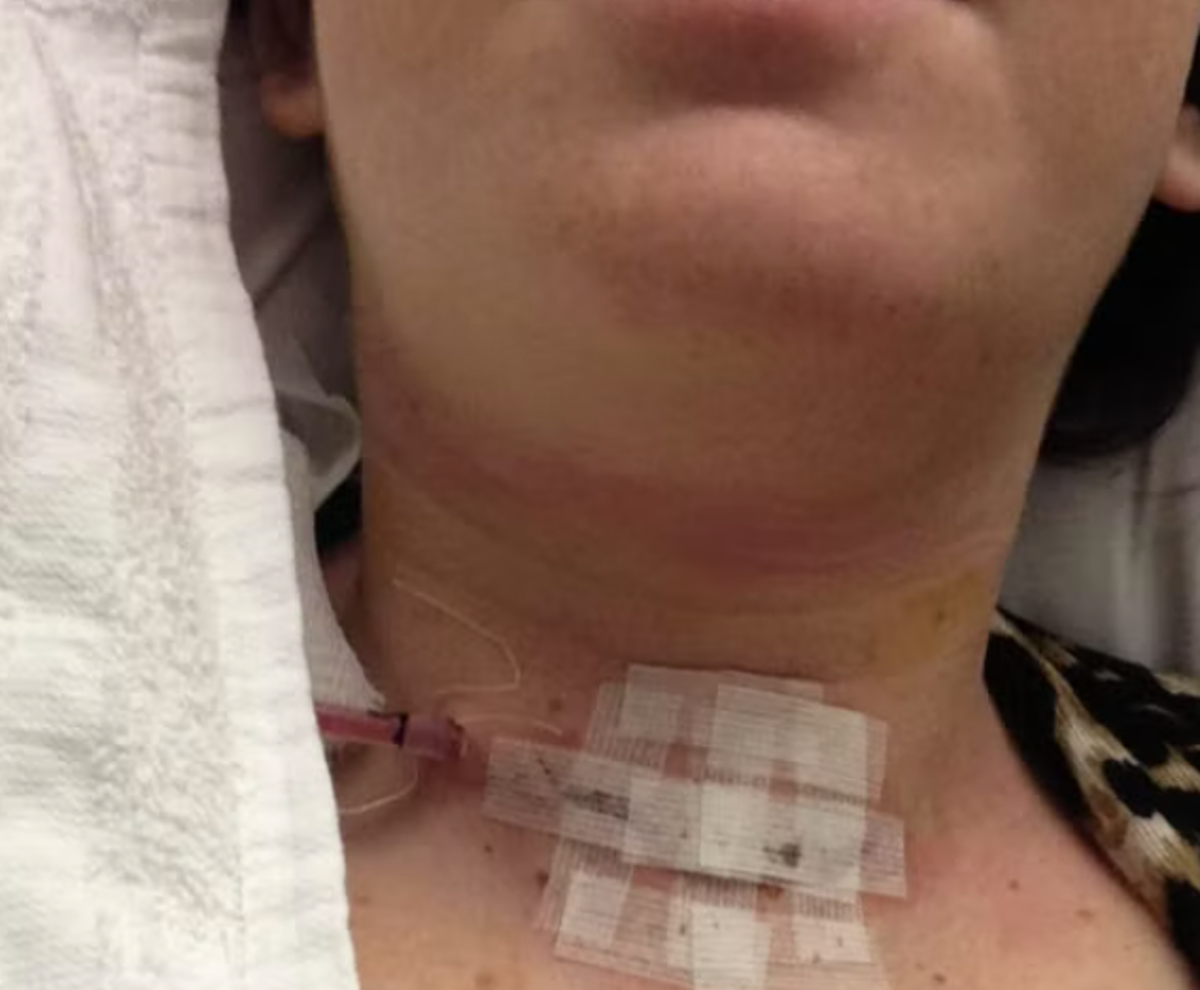 Understanding Thyroid Cancer
Thyroid cancer is a type of cancer that starts in the thyroid gland which makes hormones that help regulate your metabolism, heart rate, blood pressure and body temperature. Treatments for this type of cancer can include surgery, hormone therapy, radioactive iodine, radiation and chemotherapy.
Spotting thyroid cancer can often be difficult. The American Cancer Society reports that symptoms may include a lump, swelling or pain in the neck, voice changes, trouble swallowing or breathing, or even a constant cough.
'You Are Your Own Best Advocate'
"Most people have no discrete symptoms — the majority of cases now are found incidentally," Dr. Allen Ho said in a previous interview with SurvivorNet. "However, a sizable number of people may first discover their cancer when they feel a bump on their neck. Other possible late symptoms include problems swallowing, the sensation of something in their throat, neck compression when laying flat or voice changes."
The good news is that many of these possible symptoms, including lumps in the thyroid, are both common and commonly benign — but it never hurts to ask your doctor.
Chances of cancer recovery increase significantly with early detection, so it's important to address any warning signs of thyroid cancer, or any cancer for that matter, with a medical expert swiftly.
Symptoms of Thyroid Cancer
Thyroid cancer is a disease that begins in the thyroid gland, which is at the base of the neck. The cancer will often present itself as a large bump (tumor) in the neck. It remains unclear what causes the disease. Some symptoms of thyroid cancer can be mistaken for a common cold.
Symptoms of thyroid cancer include the following, outlined by the American Cancer Society (ACS):
Related: 7 Common Signs of Thyroid Cancer & How to Spot Them
A lump in the neck, sometimes growing quickly
Swelling in the neck
Pain in the front of the neck, sometimes going up to the ears
Hoarseness or other voice changes that do not go away
Trouble swallowing
Trouble breathing
A constant cough that is not due to a cold
Luckily, thyroid cancer is typically slow-growing, but that doesn't mean it can't be serious. If you have any of these symptoms, be sure to flag them with your doctor.
A Variety Of Treatments
Treatments can vary, depending on the type of cancer present. According to the Mayo Clinic, some varieties might not even require any treatment at all, at first, due to how slowly they grow.
However, surgery is often recommended as part of a course of action. These surgeries can range in severity, from removing a portion of the thyroid to removing the lymph nodes in the neck.
The Importance Of Speaking Up When You Feel That Something Is Wrong
While recovery from surgery can vary from person to person, most patients make a recovery in 10 days to two weeks.
Aside from surgery, there are a range of other possible treatments that a doctor might recommend. Those include hormone therapy that can suppress the growth of cancerous cells, radiation therapy, chemotherapy or using targeted drugs.
Coping When A Partner Is Diagnosed With Cancer
After a partner receives a cancer diagnosis, it's very fair to experience a wide range of emotions. Anger, fear, sadness and anxiety are often a part of the equation, but it's important to try to do your best to take care of yourself while also prioritizing your partner's needs. And if you're looking for some ways to cope, check out these suggestions below:
Consider seeing a therapist to share the feelings you're dealing with.
Openly discuss the diagnosis with your spouse if they are willing to discuss.
Research the disease and learn about potential treatment paths for your partner.
Be involved as a caregiver. "I encourage caregivers to come in to visits with my patients, because in that way, the caregiver is also listening to the recommendations — what should be done in between these visits, any changes in treatment plans, any toxicities [side effects] that we need to look out for, changes in dietary habits, exercise, etc.," Dr. Jayanthi Lea, a gynecologic oncologist at UT Southwestern Medical Center, previously told SurvivorNet.
Think about joining a support group to connect with people in a similar situation.
Try to stay positive when you can. "The only advice I have for anyone watching this is laugh —  and laugh often, laugh at yourself. Don't take yourself seriously. Things are already bad. Because once you do that, it's a game-changer," Jesus Trejo, a stand up comedian who took care of his parents during their cancer battles, previously told SurvivorNet.
Take care of yourself and find ways to express your emotions. "I try to stay strong, but then sometimes you just want to go and cry, and you need to cry… it's good to cry," Jayne Wexler, a caregiver who took care of her son when he battled cancer, previously told SurvivorNet
Pushing for a Correct Diagnosis
It is so critical to listen to your gut when it comes to matters of health for you or your loved ones. Keep pushing for answers if you're unable to get a conclusive, correct diagnosis.
In an earlier interview, Dr. Zuri Murrell of Cedars-Sinai advised patients to lead each doctor's appointment with a plan and to "be pushy," if needed. He says you are your own best advocate.
Be Pushy, Be Your Own Advocate… Don't Settle
Contributing: SurvivorNet Staff
Learn more about SurvivorNet's rigorous medical review process.
---