Treatment Options for Advanced Prostate Cance
Duran Duran guitarist Andy Taylor, 62, recently revealed the innovative drug Pluvicto added years to his life amid his battle with metastatic prostate cancer, and now, the musician claims he no longer has symptoms.
Pluvicto (lutetium Lu 177 vipivotide tetraxetan) was approved by the Food and Drug Administration in March 2022. The drug specifically treats patients with a type of disease called prostate-specific membrane antigen (PSMA)-positive metastatic castration-resistant prostate cancer (mCRPC).
PSMA is a protein expressed in some prostate cancers that can be targeted with medication. Metastatic castration-resistant prostate cancer means the cancer has spread beyond the prostate and does not respond to hormone therapy.
Pluvicto may be helpful for anyone with prostate cancer that has spread beyond the prostate and has not responded to hormone therapy.
Guitarist Andy Taylor is no longer showing symptoms of stage four prostate cancer—which is extraordinary news for the 62-year-old father of four, who played guitar for Duran Duran between 1980 and 1986, as well as 2001 to 2006.
Taylor has been battling prostate, a disease that starts in the walnut-shaped prostate gland located between the rectum and bladder, since 2018. However, he decided to keep his diagnosis private until late last year.
Read More
RELATED: Prostate Cancer: Overview
Now he has revealed a new health update to
The Times
, according to
People
, saying he's now "asymptomatic," after previously being classified as "palliative, end-of-life care."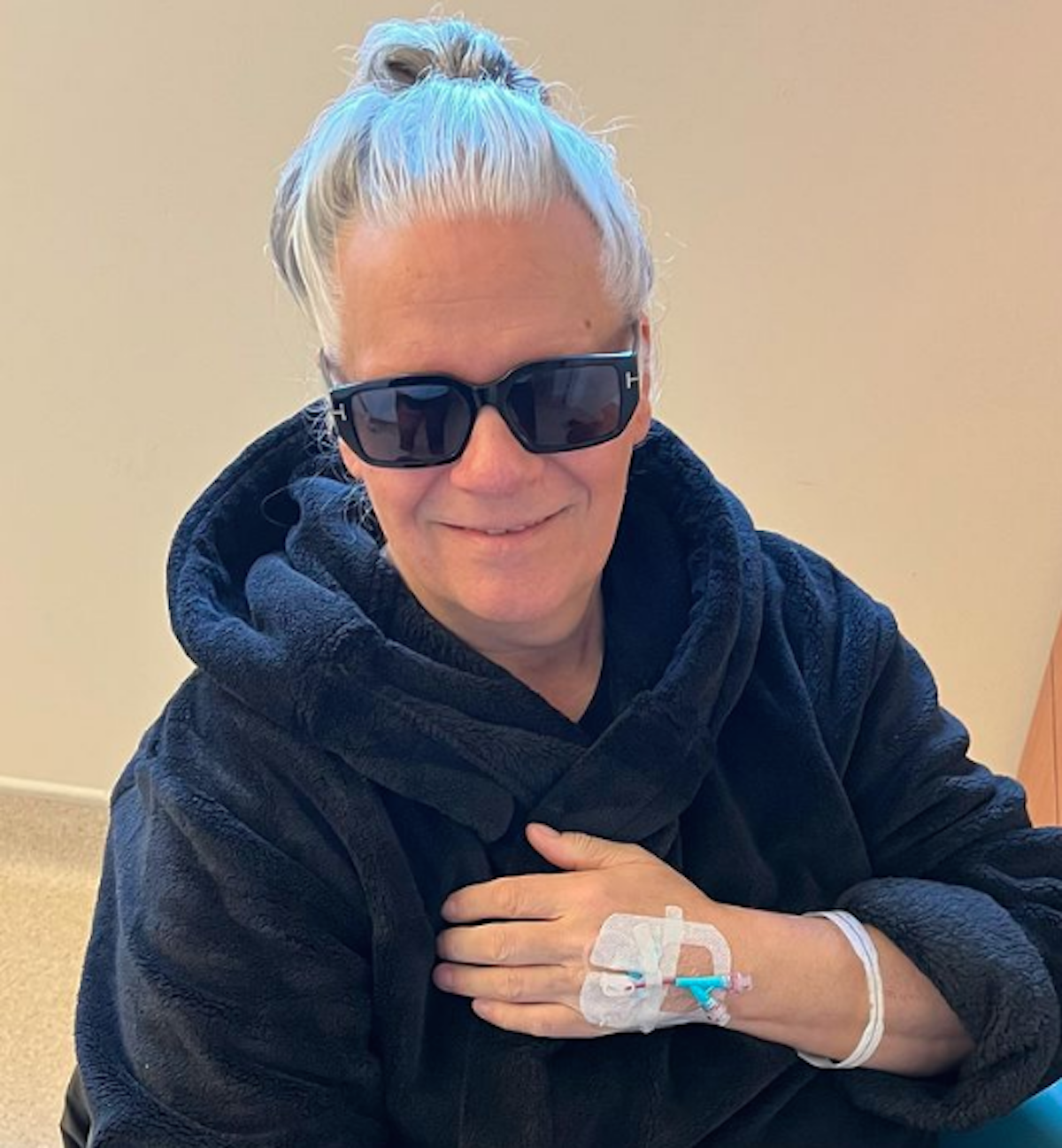 Taylor, who has been given a recently FDA-approved, radiopharmaceutical drug, called
Pluvicto (lutetium Lu 177 vipivotide tetraxetan)
, praised Welsh scientist Christopher Evans, the man who created the miraculous treatment that has led to the guitarist being without symptoms, "a genius."
"I call him the Elon Musk of cancer," Taylor reportedly told The Times.
It's incredible to hear that Taylor is feeling better, but it's important to know the process hasn't been a comfortable one.
The Times explained how Taylor would have to sleep by himself for two weeks after receiving treatment as it makes him "radioactive for several days."
RELATED: Duran Duran Guitarist Andy Taylor Says Newly-Approved, Groundbreaking Prostate Cancer Drug Added 'Five Years' to His Life
Despite the side-effects, the musician, who had his first session last week, seems to be doing well with five remaining rounds of treatment. Each round is six weeks apart.
Recounting the tough times he's endured throughout his cancer journey, Taylor told The Times, "The lowest point is maybe six weeks after the diagnosis, when it really sinks in. You're gonna have to say goodbye to your family.
"You're not going to see your grandson's tenth birthday. Psychologically it's mind-blowing—you can't have therapy to remove the certainty of death.."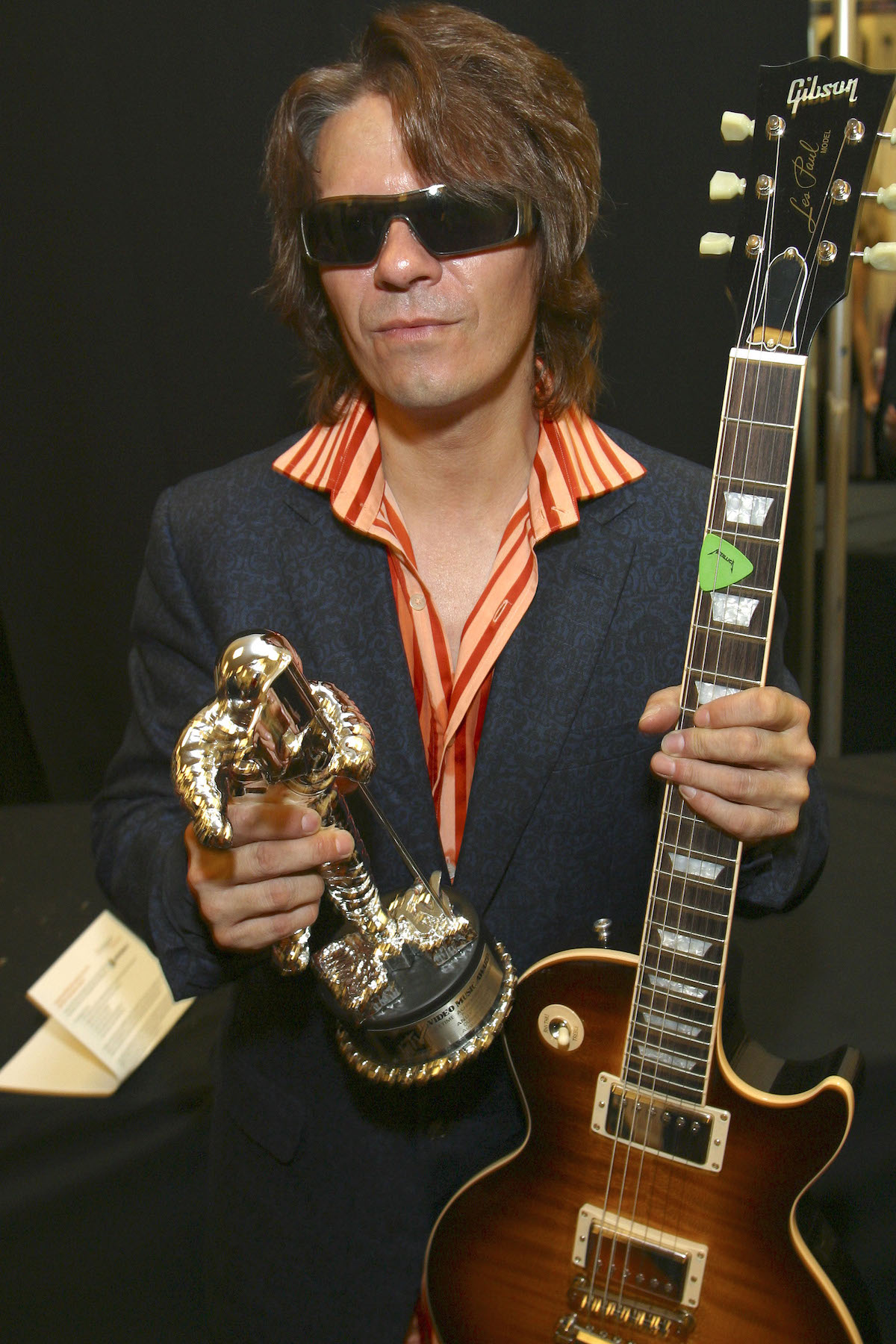 According to the Daily Mail, Taylor also told The Times how his treatment success comes after he previously denied chemotherapy in fear it would negatively impact the nerves in his hands, which would affect his guitar-playing.
The uplifting news comes about a week after Taylor took to his Instagram page to inform his fans he was heading into his second round of cancer treatment.
Alongside a photo of himself donning his hair in a bun, sunglasses, and a blanket-like sweater, Taylor explained in his caption, "Everything is going so very well. I'm so deeply touched by everyone's well wishes & love.
RELATED: Having A Hard Day? Read ABC's Robin Roberts' New Beautiful Message Of Hope
"I'm in good hands & just want to thank everyone for their kindness & strength, as a family we are beginning to feel whole again. ATX"
Andy Taylor's Battle with Prostate Cancer
Andy Taylor shared his prostate cancer diagnosis given his absence from Duran Duran's Rock and Roll Hall of Fame induction ceremony in Los Angeles in November 2022.
His bandmates read a letter he had written. In it, the English new wave band's original guitarist wrote, "Just over four years ago, I was diagnosed with stage 4 metastatic prostate cancer."
"Many families have experienced the slow burn of this disease and of course we are no different; so I speak from the perspective of a family man but with profound humility to the band, the greatest fans a group could have and this exceptional accolade," he said.
Taylor said that his treatment had allowed him "until very recently" to "rock on" and live life somewhat normally.
His letter continued, "Although my current condition is not immediately life-threatening, there is no cure.
"Recently, I was doing OK after some very sophisticated life-extending treatment, that was until a week or so ago when I suffered a setback, and despite the exceptional efforts of my team, I had to be honest in that both physically and mentally, I would be pushing my boundaries."
Thankfully, Taylor appears to be thriving amid his cancer treatment, thanks to the drug the innovative drug Pluvicto.
Understanding the Life-'Extending' Drug
On March 23, 2022, the Food and Drug Administration approved a new drug called Pluvicto (lutetium Lu 177 vipivotide tetraxetan), which specifically treats patients with a type of disease called prostate-specific membrane antigen (PSMA)-positive metastatic castration-resistant prostate cancer (mCRPC).
PSMA is a protein that is expressed in some prostate cancers that can be targeted with medication. Metastatic castration-resistant prostate cancer means the cancer has spread beyond the prostate and does not respond to hormone therapy.
This drug may be helpful for anyone with prostate cancer that has spread beyond the prostate and has not responded to hormone therapy.
Pluvicto, an intravenous radioligand therapy, is a medication that combines diagnostic and therapeutic capabilities (These medications are often called "theranostics"), These agents can identify the presence of a target (PSMA) on a patient's cancer cells and then treat it directly, minimizing exposure to normal tissues.
The approval had been lauded as a major win for precision medicine that will expand the possibilities for men with severe disease.
There's No One Definitive Symptom for Prostate Cancer, But There Are Clues
"The approval of lutetium is a major step in the development of personalized treatment for advanced prostate cancer," Dr. David Penson, of Vanderbilt University Medical Center, told SurvivorNet around the time of the approval.
"This agent specifically targets PSMA-positive metastasis and represents the first theranostic agent for use in castration-resistant metastatic prostate cancer."
RELATED: New Developments in Treating Late-Stage Prostate Cancer
The drug approval was based on the results of a landmark study called the VISION trial and the results of the trial showed:
That adding the drug to the current standard of care led to a nearly 40% reduction in the risk of death for patients with PSMA-positive mCRPC.
That adding the drug led to a 60% reduced risk of progression for these same patients.
Dr. Ghassan El-Haddad, associate member of the Diagnostic Imaging and Interventional Radiology Department of Moffitt Cancer Center who oversaw the VISION trial at the cancer center, previously explained to SurvivorNet that in order to use the drug, patients are first given a PET scan using a special imaging agent which aids in the detection of cancer cells in the body that are PSMA positive.
"The use of Pluvicto is coupled with a PET imaging agent that detects the PSMA-positive metastatic lesions throughout the body," he said.
"If the patients have PSMA-positive metastatic lesions on PET, then they would be eligible for the therapy. This combination of a (therapy that can deliver radiation to target cells) with an imaging biomarker positivity is a great example of precision medicine or what we call in nuclear medicine, theranostics (therapeutics + diagnostics)."
Dr. Stephen Freedland explains how hormonal therapy is used to treat advanced prostate cancer.
According to UChicago Medicine, "The idea behind theranostics is to harness the power of radioactivity, which can damage and kill cancer cells without indiscriminately attacking healthy cells in the body. Prostate cancer cells make something on their surface called PSMA, prostate specific membrane antigen.
"That PSMA is what the radioactive molecules lutetium-177 PSMA and gallium-68 PSMA attach to. In the case of gallium-68 PSMA, this radiotracer contains a low amount of radiation that lights up the cancer cells on a positron emission tomography (PET) scan so that we can see where the cancer has spread and whether it binds to the radiotracer.
"If the cancer cells do light up, that tells us they will also bind to lutetium-177 PSMA, which contains a similar PSMA tracer but a stronger type of radiation. During treatment, the PSMA grabs on to the lutetium-177 PSMA; the radiation it carries is absorbed into the cancer cell, damaging its DNA and ultimately causing cell death."
A 'Major Step' for Personalized Treatment
Currently, metastatic prostate cancer has a 5-year survival rate of less than 30%, but there is hope that with new targeted therapies – which aim to find and destroy cancer cells without killing other cells in the body – that rate can be improved. Until this new approval, mCRPC patients who continued to progress, despite different types of therapies, had very limited options.
RELATED: How Is Nubeqa Used to Treat Advanced Prostate Cancer?
Dr. Anthony Corcoran, a urologic oncologist at NYU Langone's Perlmutter Cancer Center, said that the new approval of Pluvicto for men with mCRPC "will revolutionize their treatment as it can target only prostate cancer cells with a radiation emitting molecule. This is precision medicine at its finest and this drug will expand the options for patients with more severe disease."
There are, however, side effects that may arise when taking this type of medication, with the most common being, fatigue, dry mouth, nausea, anemia, decreased appetite, constipation.
Which Options Are Available for Advanced Disease?
Treatments available to men with advanced prostate cancer vary depending on the person's current health status, type of disease, and how aggressive the cancer appears. However, other new treatments options such as PARP inhibitors and new androgen depravation drugs have led to a lot of hope in the field.
A Devastating Prognosis and a Revolutionary Treatment for Prostate Cancer with Zytiga
PARP inhibitors work to stop the activity of poly (ADP-ribose) polymerase, a protein involved in DNA repair. PARP inhibitors prevent DNA from repairing itself in cancer cells, which eventually leads to cell death. Currently, there are two PARP inhibitors available to treat metastatic castration-resistant prostate cancer: Lynparza (olaparib) and Rubraca (rucaparib).
Hormone therapies may also be used to manage advanced prostate cancer to prevent it from growing and spreading further. Androgen deprivation therapy is a type of hormone therapy that works by inhibiting androgen production, including testosterone, or blocking androgen receptors which can slow tumor growth.
Two newer androgen deprivation therapies for late-stage prostate cancer include Xtandi (enzalutamide) and Erleada (apalutamide). You can read more about treatment for advanced prostate cancer here.
Maintaining a Positive Mindset
Keeping a positive, grateful attitude through cancer, like Andy Taylor has, has been shown to help the journey, too, according to anecdotal evidence from experts.
Cedars-Sinai colorectal surgeon, Dr. Zuri Murrell tells, SurvivorNet in an earlier interview, "My patients who thrive, even with stage 4 cancer, from the time that they, about a month after they're diagnosed, I kind of am pretty good at seeing who is going to be OK. Now doesn't that mean I'm good at saying that the cancer won't grow."
"But I'm pretty good at telling what kind of patient are going to still have this attitude and probably going to live the longest, even with bad, bad disease. And those are patients who, they have gratitude in life."
Contributing: SurvivorNet Staff
Learn more about SurvivorNet's rigorous medical review process.
---