Emotional Robin Roberts Marks 10 Years Since Bone Marrow Transplant After Breast Cancer: 'All I Could Do Was Hope And Pray'
It's an emotional day for "Good Morning America" host Robin Roberts, 61, marking 10 years since since she underwent a life-saving bone marrow transplant.
The transplant was to treat a secondary blood cancer called myelodysplastic syndrome (MDS).
The MDS diagnosis came on the heels of her recovery from breast cancer, after being diagnosed and treated in 2007.
Roberts has since recovered, but is caring for her partner Amber Laign, 47, who is now battling breast cancer herself.
It was an emotional morning Wednesday for "Good Morning America" co-host Robin Roberts, 61, as she marked a milestone anniversary in her breast cancer journey.
It's been ten years since she underwent a life-saving bone marrow transplant to treat a secondary blood cancer called myelodysplastic syndrome (MDS) that came on the heels of her brave 2007 battle against breast cancer.
View this post on Instagram
Read More
"Ten years ago today, I was waking up in a hospital," she recalled. "It was one day after my bone marrow transplant. And all I could do was hope and pray that my body would accept my sister's stem cells." Roberts is known to her 800,000 Instagram followers for sharing her morning message and prayer in a video posting.
But it was the "Brighter By The Day" author's latest message on Instagram that saw Roberts holding back tears in a moment of reflection as she delivered words of hope and faith to her fans and followers.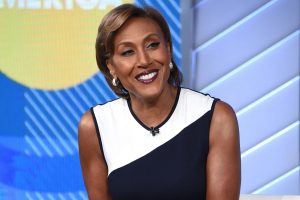 "Whatever you're going through, you've got to believe that this too shall pass," she said.
In response, one of the GMA star's fans commented: "Good Morning and thank you for sharing the daily blessing with us! Thank you for sharing your 10 year anniversary."
Another follower posted well-wishes too.
"It's good to see you back and congratulations on 10 years of cancer free. You're here for a reason that you inspire people who need that push."
Despite her own troubles, Robin has been waging another cancer fight with her partner Amber Laign, 47, who was diagnosed with breast cancer herself.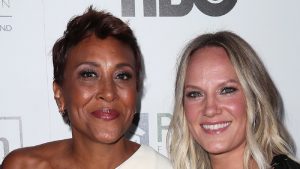 Related: Robin Roberts, 61, Says Partner 'Sweet Amber' Laign, 47, Had 'Challenging Week' Fighting Breast Cancer, Thanks Fans For Supporting Robin's Time Off
The New York City journalist recently took some time off work to be there for her love, as Amber was there for Robin when she battled breast cancer and a secondary blood cancer.
Robin's Cancer Battles
Roberts, a Tuskegee, Alabama native, went through treatment for breast cancer in 2007 after discovering a lump.
Ironically, she made this discovery while prepping for a news segment on performing self-checks, which shows just how important they are to perform at home.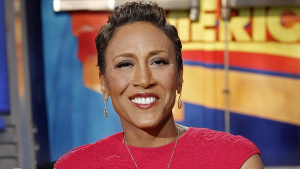 The journalist's early detection was a critical factor in her survival. Robin's initial cancer diagnosis came after she discovered a lump while preparing for a news segment on performing self-checks.
"At first I thought, 'This can't be. I am a young, healthy woman,'" Roberts said on 'GMA' at the time.
Roberts treated her breast cancer with surgery, eight rounds of chemotherapy, and six and a half weeks of radiation therapy.
Dr. Elizabeth Comen, a breast oncologist at Memorial Sloan Kettering Cancer Center, told SurvivorNet in a previous interview the path to deciphering treatment options is first looking through their pathology report and asking what the biology of the cancer is, how big is it, how many lymph nodes, etc.
"And that's really what makes treating breast cancer such an exciting and hopeful field today, is that there are so many different ways that we can target and think about treating breast cancer patients, no matter what stage of disease that they've been diagnosed with."
Following her cancer treatment, Roberts remained healthy until 2012, when she had to undergo a bone marrow transplant after developing the secondary blood cancer called MDS.
Myelodysplastic syndrome is a group of bone marrow disorders that affect blood cell production.  It is considered a type of blood cancer. When your body does not produce enough white blood cells, red blood cells or platelets, you can experience symptoms such as increased infections, anemia and blood clotting disorders. MDS can evolve into acute leukemia, the most aggressive type of blood cancer. This happens in about 1 in 3 cases.
Dr. Jun Choi, a hematologist/oncologist at NYU Langone's Perlmutter Cancer Center, explains MDS: "When there is a dysfunction in the bone marrow, there is a production of defective blood cells, and there is also a deep decrease in the production of blood cells. So the consequence of that is low blood cells in your bloodstream…MDS affects all types of blood cells and ultimately it is a considered a bone marrow failure disorder."
Roberts received a life-saving bone marrow transplant using donor cells from her sister, Sally Ann Roberts, after undergoing 10 days of extensive chemotherapy.
Roberts has been open in saying that her faith got her through both of her cancer battles, and now she is continuing to lean on her faith as she helps her partner Amber or "Sweet Amber" Laign through her own journey.
Amber's Cancer Fight
Roberts and Laign met through mutual friends on a blind date in 2005, as Roberts shared with TV host Ellen DeGeneres on The Ellen Show.
The couple has been together through many highs and lows over their 17-year relationship – including each of their battles with breast cancer.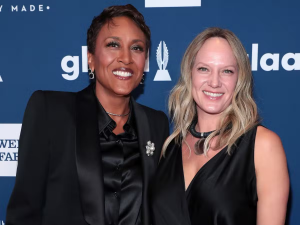 Laign has been private about the details of her breast cancer battle. But we know she's "had some complications with chemotherapy" and some "challenging" weeks before triumphantly completing her radiation treatments.
RELATED: 'She's Back And She's Strong!' Robin Roberts, 61, Cheers On Her Partner 'Sweet Amber,' 47, As 'GMA' Host Prays To Jesus In Her Dressing Room
In a post from July, Roberts shared the exciting news with fans.
"Sweet Amber completing radiation, a very important phase of her treatment!," Roberts wrote under a video of Laign ringing a bell to signify the end of radiation. "We both thank you for all your well wishes and prayers. Proud of her and all fellow Thrivers for your grit and grace during a challenging time. This is indeed my #mondaymotivation."
Since Amber's diagnosis, Roberts has been doing everything she can to support her throughout her cancer journey. That includes mentioning Amber numerous times in her morning prayer on Instagram.
"You may go through seasons when you're out of balance," she says. "You have a disappointment. A loss. Someone does you wrong, but God is going to settle your case. He has seen every tear that you have shed. He has seen every injustice, every dark place. You're not going to end up lonely, disappointed, or at a disadvantage, that is all temporary."
"I didn't realize how much I had blocked out during my journey, and it was because of sweet Amber—because she protected me and navigated for me," Roberts said in a previous interview with Ellen Degeneres. "So, I'm doing the same thing for her."
Roberts has openly expressed how grateful she is to be able to care for "Sweet Amber," as she so loving cared for her.
"When you're the patient you know what you're doing—by your treatment, you have your doctors, you have people watching over you that are helping you," Robin said, addressing how her own battle was much different than what she is experiencing now. "When you're on the other end as a caregiver, you feel helpless," she admits. "And that's what's been so difficult."
Learn more about SurvivorNet's rigorous medical review process.
---