Engineer's Sarcoma Cancer Leads to Leg Amputation
An engineer was diagnosed with soft tissue sarcoma after a lump grew on her leg, which was initially misdiagnosed as being caused by work stress. Her leg was later amputated due to her cancer.
The word sarcoma refers to an extensive array of bone and soft tissue cancers; those are then further broken down into more specific forms of the disease. There are more than 50 types of soft tissue sarcomas.
If you're not getting answers, meet with a different doctor and seek a second opinion. Keep pushing for answers until you get a correct diagnosis.
A 32-year-old mechanical engineer, Mitera Balkaran, was diagnosed with soft tissue sarcoma, a type of cancer, after being initially told she was suffering hives from job stress.
The cancer diagnosis resulted in Balkaran needing to have her left leg amputated to treat the sarcoma. Her cancer, diagnosed in August 2021, returned in May 2022. She has fought her cancer with chemotherapy, lung surgery, and amputation.
Read More
The cancer was detected – following her initial misdiagnosis by her doctor – by a different doctor after an ultrasound and MRI scan. Her specific type of soft tissue sarcoma is known as Undifferentiated Pleomorphic High-Grade Sarcoma (UPS).
After her diagnosis, the Belgium-based engineer, who is married to husband Konstantine, says, "I was in shock. I went into the consultation with the worst case scenarios in my head but amputation was never a thought I had."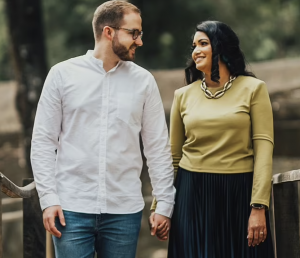 What is Soft Tissue Sarcoma?
Balkaran's soft tissue sarcoma initially presented in 2021 after a lump in her leg "grew bigger and bigger," reports The Daily Mail. When she first noticed the lump, which didn't cause her any pain, she went to her doctor, who told her it was "just hives due to work stress."
Six weeks later, Balkaran's lump grew in size and she lost sensation in her leg. She was later diagnosed with soft tissue sarcoma in August 2021. Sarcomas are cancers that arise from the cells that hold the body together. They can occur in muscles, nerves, bones, fat, tendons, cartilage or other forms of connective tissues.
"There are hundreds of different kinds of sarcomas, which come from different kinds of cells," Dr. George Demetri, director of the Sarcoma and Bone Oncology Center at Dana-Farber Cancer Institute and Harvard Medical School, tells SurvivorNet.
The word sarcoma refers to a large array of bone and soft tissue cancers; those are then further broken down into more specific forms of the disease. There are more than 50 types of soft tissue sarcomas.
"Unfortunately, most sarcomas don't cause many of the symptoms that may be associated with other cancers," Dr. Dale Shepard, director of the Cleveland Clinic Taussig Cancer Institute Phase I and Sarcoma Programs, tells SurvivorNet. Shepard also explains that this often leads to large tumors at the time of diagnosis.
"Soft tissue sarcomas are typically painless," he adds. "Bone sarcomas may be mistaken for orthopedic injuries. A mass the size of a golf ball or larger and growing should be evaluated as a potential sarcoma. It's important that patients who do have symptoms are not dismissive of them."
One Tough Cookie: Resilient 8-Year-Old Who Overcame Ewing Sarcoma Sells More Than 32,000 Boxes of Girl Scout Cookies To Break Record
Pushing for Answers & A Diagnosis
We love how Balkaran took the initiative to see a new doctor and get more answers, which led to her cancer diagnosis after a misdiagnosis of stress. Whether you are currently fighting cancer or fearing that you might have it, it's essential to be your own advocate, as Balkaran was.
When working with your medical team, tell them precisely what you feel and raise anything that may feel off to you. Every symptom should have a plan to address it, and if you feel like you are not being heard, continue to push and seek a second opinion if your concerns are not being addressed.
The only way to know this is to continue to push for answers, telling your medical team exactly what you are experiencing and demanding that you receive the best treatment for your specific situation.
"Every appointment you leave as a patient, there should be a plan for what the doc is going to do for you, and if that doesn't work, what the next plan is," Dr. Zuri Murell, director of the Cedars-Sinai Colorectal Cancer Center, told SurvivorNet in a previous interview. "And I think that that's totally fair. And me as a health professional– that's what I do for all of my patients."
"You Are Your Own Best Advocate" – Recognizing the Subtle Symptoms of Cancer
Contributing: SurvivorNet staff
Learn more about SurvivorNet's rigorous medical review process.