It's Never Too Late: Couple in Their 80s Ties the Knot
A couple in their 80s who have been together for 40 years decided to get married after one of them was diagnosed with terminal mesothelioma.
Mesothelioma is a rare cancer of the thin tissue that lines the lungs, chest wall, and abdomen; treatment options for this disease include surgery, radiation, and chemotherapy.
Coping with the loss of a spouse to cancer may mean leaning on friends and family support, or seeking professional help, like from a psychologist.
A couple in the UK has decided to get married at the ages of 86 and 83 after a cancer diagnosis. The Derby-based pair – Keith Turner, 86, and Rita Trickett, 83 – met as colleagues at the Red Cross in 1969.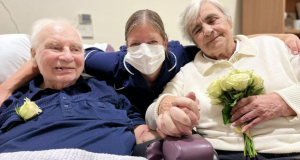 Turner describes to the BBC how "Rita was one of the executive officers at the time [at the Red Cross] and was my wife's best friend. When my wife passed away from cancer, Rita was there to look after me and we've been together ever since."
Read More
They never thought of getting married though, he says. "I didn't care too much about labels and we're both quite independent people," explains Turner. After Turner was diagnosed with terminal mesothelioma, Trickett and Turner decided to marry. They got married at Royal Derby Hospital, thanks to the supportive nurses there who helped them orchestrate the event during the pandemic.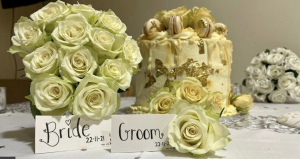 The staff at the hospital organized for a cake, some flowers, and a buffet to celebrate the loving pair's special day. "Nurse Amanda Broad, who acted as a witness, said she felt 'extremely privileged' to be involved," reports the BBC.
Turner was admitted to the hospital in November 2021, and the following week he was told that his cancer was incurable. After the diagnosis, Turner asked Trickett if she would marry him. They married in November 2021, and hospital staff spent three days helping to make preparations for the Big Day.
Understanding Mesothelioma
Mesothelioma is a rare cancer, and it's cancer of the thin tissue that lines the lungs, chest wall, and abdomen. Mesothelioma can often go undiagnosed until a later stage, experts tell us. Treatment options for this disease include surgery, radiation, and chemotherapy.
Related: Celebrated Professor, 62, Dedicated Her Life to Raising Awareness About the Dangers of Asbestos After Getting Diagnosed with Mesothelioma
Head of the Division of Thoracic Surgery at the University of Maryland School of Medicine, Dr. Joseph Friedberg,  explains in an earlier interview how mesothelioma's survival rate is generally no longer than one to two years. He also says that although it's one of the deadliest cancers, it's also rare.
Related: Remembering Singer-Songwriter Warren Zevon Who Died From Mesothelioma, a Rare Type of Lung Cancer
"So maybe a few thousand cases a year in the United States," Dr. Friedberg says. "It's the cancer which is—the overwhelming majority of the time–is caused by asbestos."
The most common symptom of mesothelioma is shortness of breath.  Dr. Friedbergy says, "Most often, they'll get diagnosed as having pneumonia or something else because someone listens to them, they have decreased breath sounds, they get treated So because it's such a rare cancer, it is often misdiagnosed for several months."
The link between Asbestos and Mesothelioma
Coping with Spousal Cancer Loss
Coping with a partner or spouse's cancer diagnosis, as Trickett and Turner have both done, takes time and emotional energy. Coming to terms with the reality of the situation may lead to feelings of intense grief, anger, and even despair.
Related: John Travolta On Grief 9 Months after the Loss of his Wife, Kelly Preston, to Breast Cancer: 'Mourning is Individual'
Many people find that leaning on friends or family while going through grief is helpful. Additionally, seeking professional support while mourning the loss of a spouse to cancer or coming to terms with their diagnosis is helpful. A psychologist or therapist can help you process your emotions in a safe, nonjudgmental environment, and help you to sharpen your "tools in your emotional toolkit" (and get new tools, too), while coping with grief.
The Toughest Conversations Losing a Spouse to Cancer
Learn more about SurvivorNet's rigorous medical review process.